Major Cold, the 24th solar term, is the last solar term on the lunar calendar, starting from January 20th to 21st of the Gregorian calendar each year. As a quote from a Chinese classic goes, extreme coldness is called Major Cold. During the Major Cold period, cold air currents move southward, and the weather becomes bitterly cold, the coldest throughout the year.
Yet, the end of Major Cold marks the beginning of a new year.

This year, Major Cold will start on January 20th, New Year's Eve. Spring Festival is just around the corner, and everyone starts to paste Fai Chun.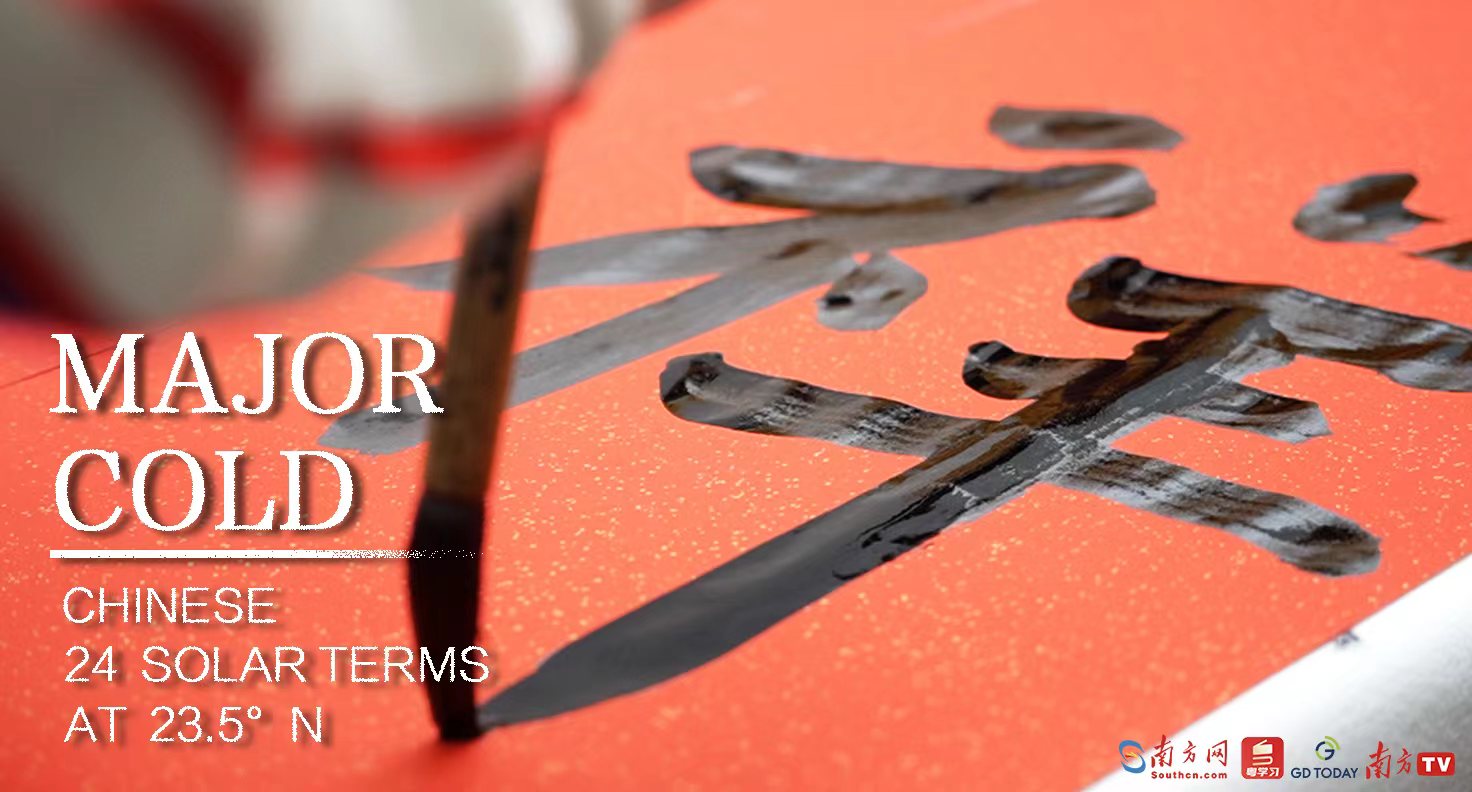 Fai Chun, the Cantonese name of Spring Festival couplets, is what people traditionally place on the main gate of their homes during this festival. Fai sounds the same as "辉" in Chinese, which literally means light and thus embodies a wish for good luck next year. At the point when the new year is coming, Chinese people write down their wishes on auspicious red paper in anticipation of a better new year.

Related news:
Minor Cold | Explore 24 solar terms along the Tropic of Cancer
Winter Solstice | Explore 24 solar terms along the Tropic of Cancer
Major Snow | Explore 24 solar terms along the Tropic of Cancer
Minor Snow | Explore 24 solar terms along the Tropic of Cancer
Start of Winter | Explore 24 solar terms along the Tropic of Cancer
Cold Dew | Explore 24 solar terms along the Tropic of Cancer
Autumn Equinox | Explore 24 solar terms along the Tropic of Cancer
White Dew | Explore 24 solar terms along the Tropic of Cancer
End of Heat | Explore 24 solar terms along the Tropic of Cancer
Start of Autumn | Explore 24 solar terms along the Tropic of Cancer
Major Heat | Explore 24 solar terms along the Tropic of Cancer
Minor Heat | Explore 24 solar terms along the Tropic of Cancer
Summer Solstice | Explore 24 solar terms along the Tropic of Cancer
Grain in Ear | Explore 24 solar terms along the Tropic of Cancer
Grain Buds | Explore 24 solar terms along the Tropic of Cancer
Start of Summer | Explore 24 solar terms along the Tropic of Cancer
Grain Rain | Explore 24 solar terms along the Tropic of Cancer
Clear and Bright | Explore 24 solar terms along the Tropic of Cancer
Spring Equinox | Explore 24 solar terms along the Tropic of Cancer
Awakening of Insects | Explore 24 solar terms along the Tropic of Cancer
Rain Water | Explore 24 solar terms along the Tropic of Cancer
Explore 24 solar terms at 23.5°N
Presented by Southcn.com & GDToday
Planning: Zhang Chunqing
Coordinating: Zhao Yang, Li Lin
Supervising: Xie Miaofeng, Zhu Jing, Ou Xiaoming
Script: Qin Shaolong, Ou Xiaoming
Director: Qin Shaolong
Filming: Eastbrook, Qin Shaolong
Video editor: Qin Shaolong
Poster: Lu Lu
English translation: Holly
English editor: Wing, Steven, Monica, Jerry