Today (June 21) marks the beginning of Summer Solstice.

Summer Solstice (Chinese: 夏至) is the 10th solar term of the year. On the Summer Solstice itself, the sun reaches the celestial longitude of 90 degrees and shines directly over the Tropic of Cancer, therefore it has the longest daylight in the whole year in the northern hemisphere.

Around Summer Solstice is also graduation season. Four years in college can give young people an impression that it's a long time. However, compared with the whole of life, it's just a short period. It's like the day of Summer Solstice, when the daylight is so long that we would make the mistake of thinking there is still time for us to play.

Nonetheless, the summer will end, graduation means separation, but we have many more summers in our life to come. One day, we will, again, meet and sing our songs together.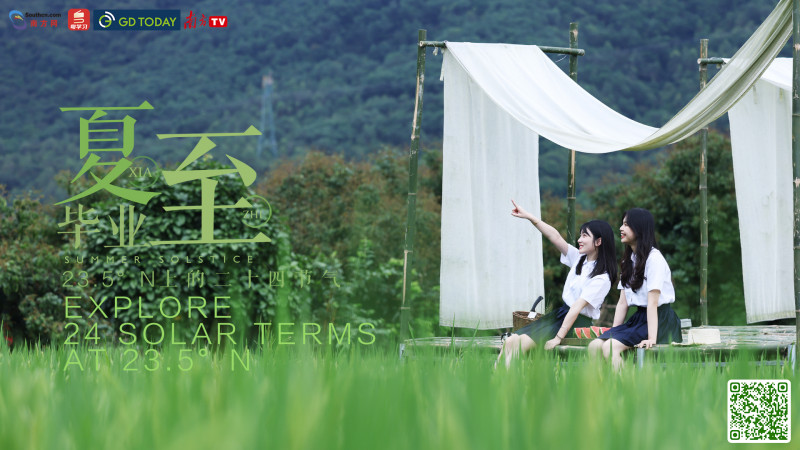 Related news:
Grain in Ear | Explore 24 solar terms along the Tropic of Cancer
Grain Buds | Explore 24 solar terms along the Tropic of Cancer
Start of Summer | Explore 24 solar terms along the Tropic of Cancer
Grain Rain | Explore 24 solar terms along the Tropic of Cancer
Clear and Bright | Explore 24 solar terms along the Tropic of Cancer
Spring Equinox | Explore 24 solar terms along the Tropic of Cancer
Awakening of Insects | Explore 24 solar terms along the Tropic of Cancer
Rain Water | Explore 24 solar terms along the Tropic of Cancer
Explore 24 solar terms at 23.5°N
Presented by Southcn.com & GDToday
Planning: Zhang Chunqing
Coordinating: Zhao Yang, Li Lin
Supervising: Xie Miaofeng, Zhu Jing, Ou Xiaoming
Script: Wang Peirong
Featuring: Ye Zeni, Kuang Shiqi
Filming: Zhang Qida, Li Jiangrui
Video editor: Zhang Qida
Poster: Wu Junli
English translation: Monica Liu
English editor: Wing Zhang, Jerry