Named "Guangzhou, Flower City in Bloom", city promo video of Guangzhou started displaying on the "China Screen" at New York Time Square on March 11, local time.
Named "Guangzhou, Flower City in Bloom", city promo video of Guangzhou started displaying on the "China Screen" at New York Time Square on March 11, local time.
The 30-second promo video features the beauty, energy, openness and amity of international metropolis Guangzhou through a series of Guangzhou elements, including city flower kapok, world-renowned landmark building Canton Tower, Pazhou Complex, and Nansha Port. It will be played with a certain frequency around the clock until March 17.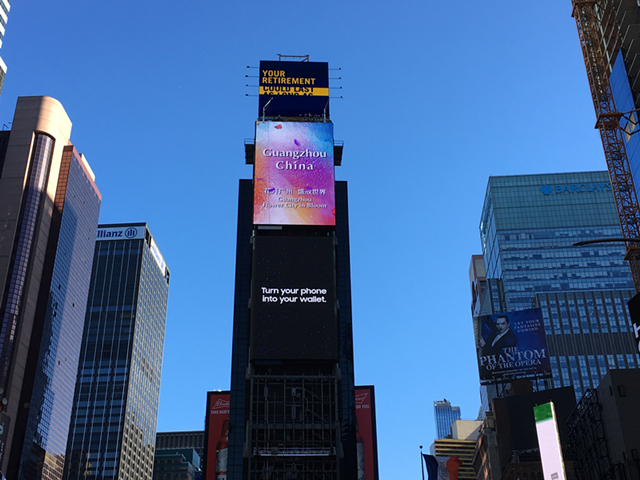 From March 13 to 14, local time, Guangzhou will hold roadshows for 2017 Fortune Global Forum in New York and Washington D.C. respectively, introducing the city to the representatives of Fortune 500 enterprises in the U.S.A.
It is learned that Cai Chaolin, deputy mayor of Guangzhou, will lead the representatives of leading enterprises from innovative technology, finance, e-business and automobile in Guangzhou to partake in the roadshows. They will meet with the former dignitaries of US Commerce Department and executives of leading enterprises in U.S.A., such as GE and Goldman Sachs, to talk about the openness and innovation of business environment.
Apart from two roadshows, Guangzhou will announce the establishment of its representative offices in Silicon Valley and Boston. This is the first time Guangzhou municipal government sets up agencies overseas. These agencies will serve as a "specially appointed envoy" and a bridge on exchanges and cooperation on technological innovation, scientists, and scientific projects.
Further Reading: Guangzhou's implementation of five development concepts
---
During the 13th Five-Year Plan Period, Guangzhou has been making great efforts to promote the city's connectivity, attraction, creativity, and competitiveness in the spirit of five development concepts: innovation, coordination, green development, opening up and sharing.
► Innovation
Guangzhou plans to establish three strategic hubs from 2016 to 2020, international science and technology innovation hub, international shipping hub, and international aviation hub. According to Guangzhou Science & Technology and Innovation Commission, the city will see an increase of over 1,000 high-tech companies and the R&D input will account for more than 2.7 percent of its GDP in 2017.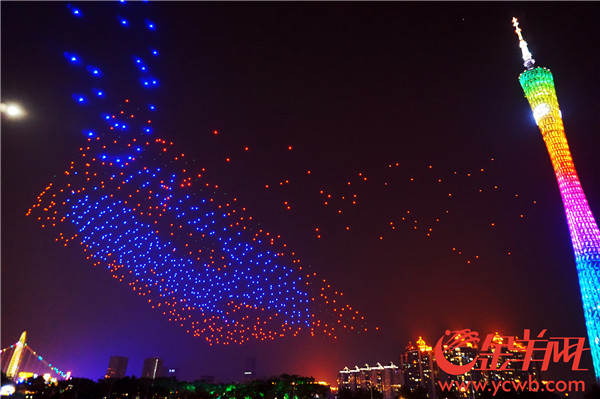 On the evening of Feb. 11, one thousand drones carrying lights under their main bodies lighted up Guangzhou's night sky on the Lantern Festival. The drones were the GHOSTDRONE 2.0 model created by a local brand, EHANG, and all of them are controlled by only one engineer with a computer. The GHOSTDRONE 2.0 model is claimed to be the easiest-to-use intelligent drone as it could be controlled by an app installed in the smart phone.
Related news: Guangzhou speeds up int'l science and technology innovation hub construction
1000 drones lightened lantern festival with local innovation in Guangzhou
► Coordination
Guangzhou puts forward "city drive village, promote agriculture through industry" to facilitate the coordinated development of all regions. It pushes the integrated construction of beautiful villages and urban and rural public infrastructure, enhances the infrastructure level of villages and towns, and brings more high quality public service resources to villages. It also drives the coordinated development of material civilization and spiritual civilization to build itself into a Lingnan culture center and world famous cultural city.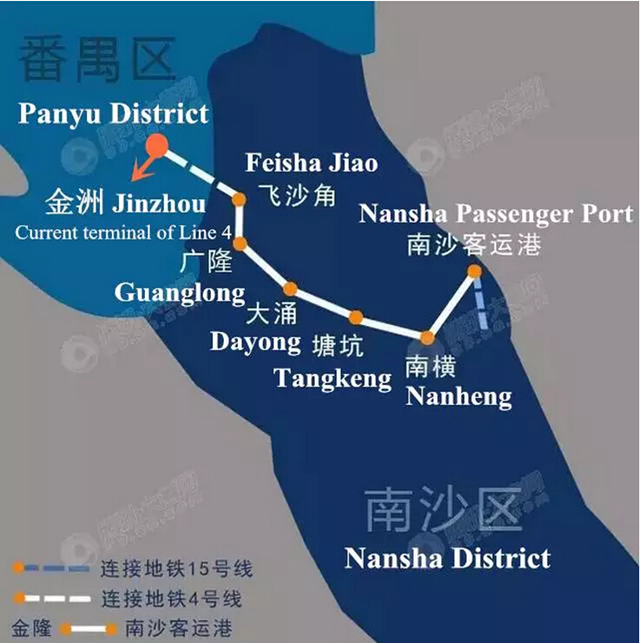 Guangzhou Metro announced an exciting news on its annual summary conference that by the end of 2017 they will present 4 new metro lines - Line 4, Line 9, Line 13 (phase one) and Line of China & Singapore Knowledge City, connecting peripheral districts like Nansha and Huadu with central Guangzhou. This will pave the way for coordinated development and regional economy of the peripheral districts, greatly contributing to Guangzhou's adjustment of urban spatial layout and rapid development of social economy.
Related news: GZ Metro Line 11 released 15 new station locations
It's confirmed! 4 metro lines will be opened by the end of 2017
The efforts behind Guangdong's less developed areas' catching up
---
► Green development
During the 12th Five-Year Plan (2010-15), Guangzhou registered an average annual growth rate of 10.1 percent, while energy consumption per unit of GDP dropped by 4.6 percent, and cumulatively fell 21.01 percent over the five-year span, outstripping the target of 19.5 percent set by the Guangdong government.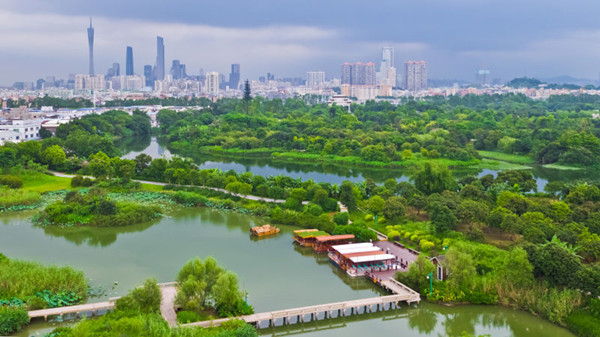 Haizhu Wetland Park is nestled amidst the hustle and bustle of Guangzhou. [Photo provided to China Daily]
The forest city has done a marvelous job of greening itself. As of today, Guangzhou has 42 percent of its urban land forested, raising its greening rate to 36 percent and its urban green coverage rate to 41.53 percent. That is about 16.5 square meters of green park space per resident.
Related news: Guangzhou embraces a green future
Guangzhou enjoyed good air quality for 310 days in 2016
► Opening up
Guangzhou quickens its establishment of internationally compatible open economy system and mechanism, takes the initiative to involve in the process of economic globalization and regional integration, optimizes foreign trade structure and deepens its cooperation with Hong Kong, Macao, and Taiwan.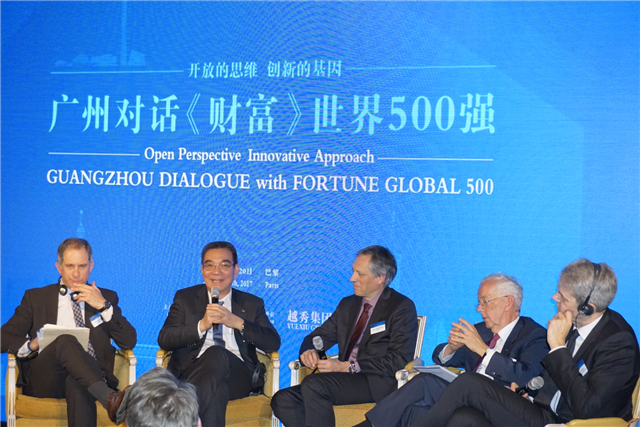 Guangzhou holds a promotion seminar in Paris on Jan. 20, kicking off its global roadshow in 12 different cities around the world for the upcoming event.
The 2017 Fortune Global Forum will be held in Guangzhou on December 6-8, with the theme as "Openness & Innovation: Shaping the Global Economy". This was officially announced at the 2017 Fortune Global Forum Press Conference in Davos, Switzerland on January 18. Later on, Guangzhou held a promotion seminar in Paris on Jan. 20, kicking off its global roadshow in 12 different cities around the world for the upcoming event.
Related news: The 2017 Fortune Global Forum to be held in Guangzhou
Guangzhou kicks off global roadshow for 2017 Fortune Global Forum
Hu Chunhua: Develop Nansha FTZ into a hub for high-level opening-up
► Sharing
Taking the people's livelihood as principal, Guangzhou is committed to improving education for al and health conditions, supporting the poor and benefiting all with its development achievement.