"If you're a big company and looking to put a new investment somewhere, you will find Nansha has the best environment in terms of supportive policies. It also has a particularly attractive geographical position in the Guangdong-Hong Kong-Macao Greater Bay Area (GBA)," said Hu Run, Chairman and Chief Research Officer of Hurun Report, at the 2022 Global Investment Promotion Conference for GBA.
In June 2022, the State Council issued a plan to promote cooperation with Hong Kong and Macao by further opening up Nansha. It highlights building industrial cooperation bases for sci-tech innovation in the district. As of today, more than 230 projects invested by Fortune Global 500 companies and over 700 high-tech enterprises have settled in Nansha.
Hu Run believed that policies and location are the two main advantages for investors interested in the sci-tech sector, saying "the government of Nansha District is very open to business and has favorable tax and related policies. And it's located in the heart of the GBA, which is convenient to ship around the country as well as the world. So it's cheaper and better."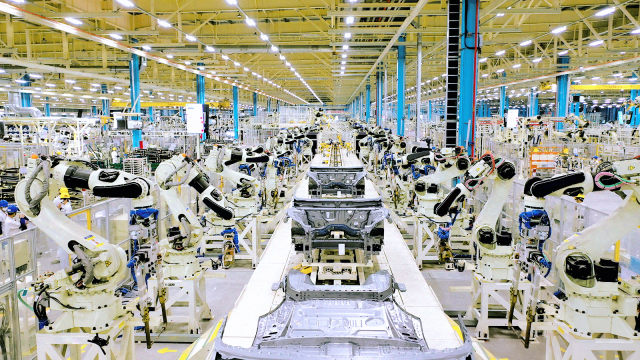 (Toyota production in Nansha/Photo provided to GDToday)
Since the launch of the State's plan, a preferential individual income tax policy for Hong Kong and Macao residents, a preferential income tax policy at a reduced rate of 15 percent for high-tech enterprises in sectors encouraged, and 16 supportive measures by the General Administration of Customs have been implemented.
"We have released supportive policies for semiconductor, integrated circuit, space, and metaverse industries to support enterprises in R&D and high-quality development," said Wang Jian, Director General of the Investment Promotion Bureau of Guangzhou Nansha Economic and Technological Development Zone.
Since 2018, the Nansha government has invested nearly 15 billion RMB in supporting enterprises and talent development. In the next five years, more than 20 billion RMB will be invested in supporting enterprises and talent for better development in Nansha, according to Wang.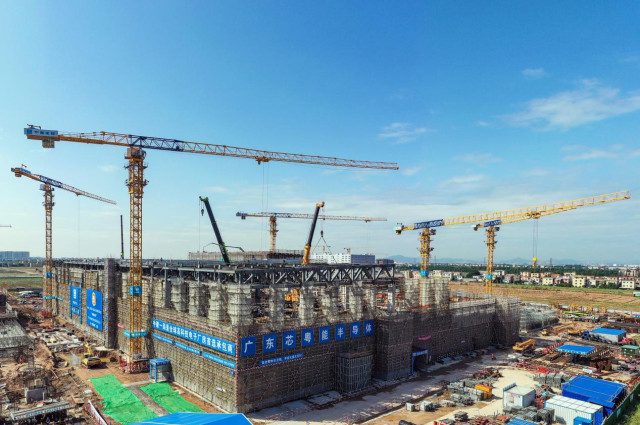 ( Xinyueneng Silicon Carbide Chip Manufacture Project/Photo provided to GDToday)

Settled in Nansha since 2015, CloudWalk Technology Co., Ltd. has developed into a high-tech enterprise with advanced achievements in such fields as visual recognition, audio recognition, character recognition, and natural language processing technologies.
"We have a large number of research and development scientists. Nansha provides them and their families with a lot of support, which is a great advantage when we hire employees," said Zhang Yuxin, Manager of Government Affairs of CloudWalk Technology Co. Ltd. He indicated the company also enjoys supportive policies covering rent and settlement of enterprise.
"Nansha is our first choice to establish the Guangdong Medical Valley (GMV), because we believe that biotechnology needs a very innovative environment," said Xie Jiasheng, Executive President of Guangdong Medical Valley.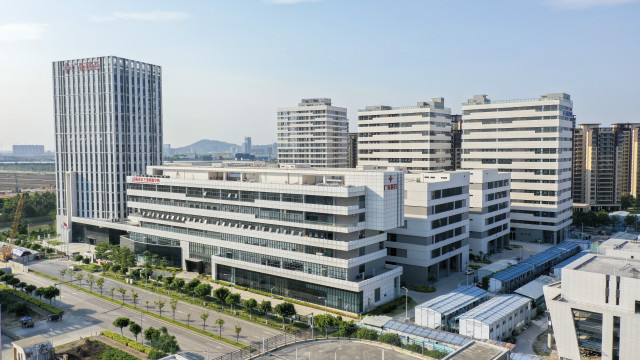 (Guangdong Medical Valley/Photo provided to GDToday)
Xie has witnessed the development of GMV, an incubator specializing in biomedicine and medical devices, since its settlement in Nansha in 2014. There have been more than 300 enterprises settled in GMV, most of which are high-tech projects covering such fields as cell therapy, high-end medical instruments, biomedicine, vaccine, and precision medicine.
According to Xie, Vesber's foldable capsular vitreous body, an exclusive type of medical product developed by an enterprise in GMV, has been sold to Europe, Australia, and Russia.
Wu Weien, President of MC Star Health Technology (Guangzhou) Limited Company and President of Macau International Investment Association, attributed the successful development of the sci-tech industry in Nansha to the local government's plan to attract sci-tech professionals in recent years.
"These high-end professionals do not just come by themselves. They bring their technologies, patents, and projects to Nansha as well, which is very helpful for us to develop high-end technologies," said Wu.
He stated that his company just signed a new project in the comprehensive health sector and high-tech sector at the 2022 Global Investment Promotion Conference in Nansha. He was expecting more communication with the Nansha District government as well as local sci-tech enterprises for further cooperation.
Author丨Nina, Lydia
Video丨Li Zhuoxuan
Editor丨Wing, Steven, Jasmine, Jerry