Today (April 20) marks the beginning of Grain Rain (Chinese: 谷雨), the sixth solar term.
Today (April 20) marks the beginning of Grain Rain (Chinese: 谷雨), the sixth solar term.
Grain Rain originates from the old saying, "Rain brings up the growth of hundreds of grains," and it is the last solar term of spring.
As the saying goes, "Spring rain is as expensive as oil," the Grain Rain signals a rapid rise in temperature with more rainfall, which is extremely important for the growth of crops. From now on, the cold weather basically ends in spring, temperatures will rise rapidly, and South China region will see more rainfall.
Qingming is too early for wine brewing in springtime, while the Start of Summer is too late, so the Grain Rain is the most appropriate time to do it. Many ancient Chinese poets had written poems on Grain Rain. Fan Chengda, for example, a poet in the Southern Song Dynasty (1127-1279), has said in his poem, "The silk-like rainfalls in the Grain Rain look like dust when dropping to the ground. Let's boil a bottle of rice wine, since this is the best moment to enjoy it." It mentions that it is the right time to make wine and enjoy wine in the following half month.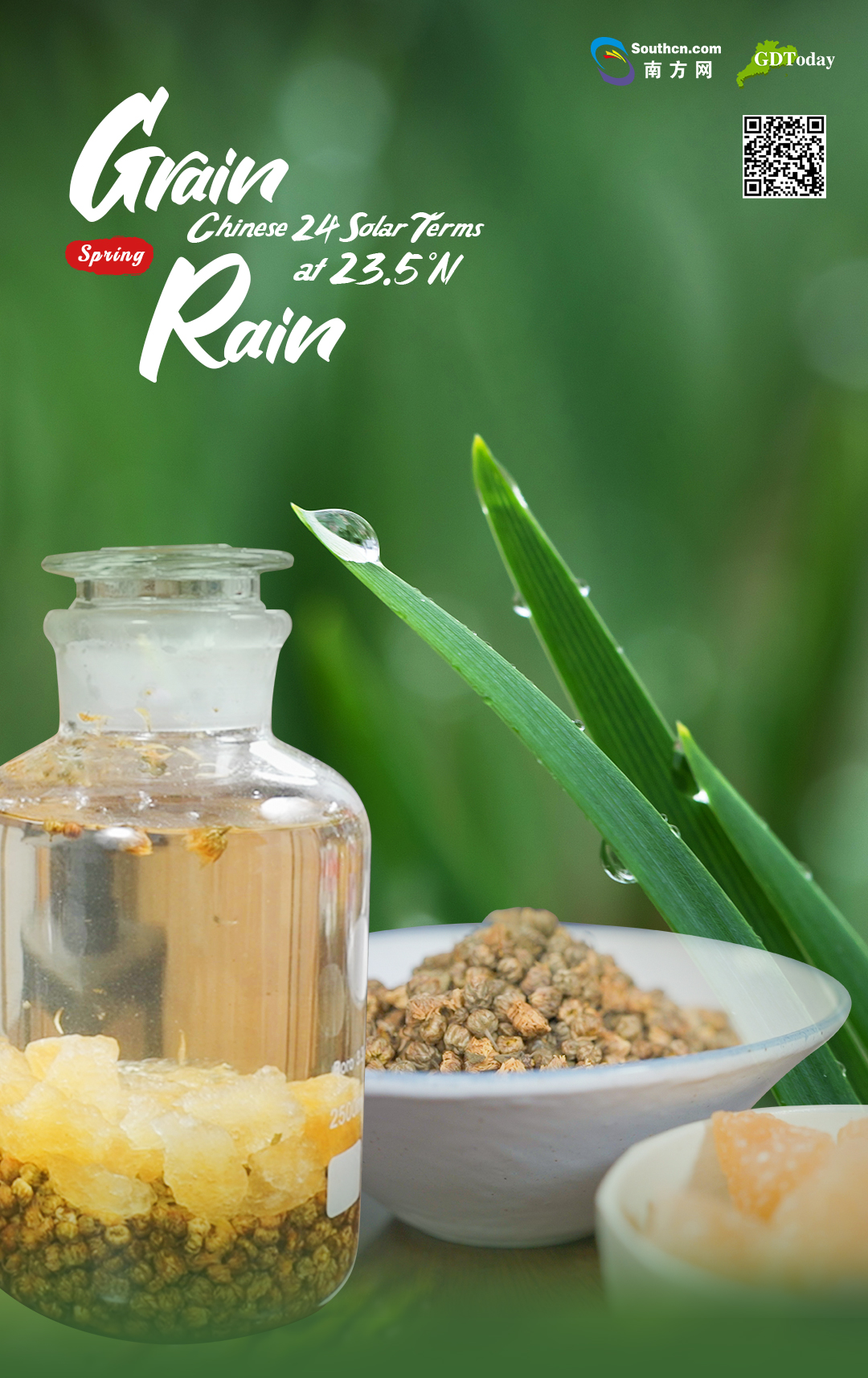 For contemporary brewers, "wines made in springtime are as expensive as gold." Dan, a private chef showed us how she makes osmanthus wine. Firstly, put rock candies and then dried sweet osmanthus into the porcelain pot, pour glutinous rice wine into the container, and finally store the pot in the granary. One month later, the wine will turn creamy yellow. As time goes by, the wine turns into brightly yellow in color, and its flavor being more fragrant. Before opening a jar of wine after a long time of storage and fermentation, the brewers always feel a bit nervous because they endeavor to "brew the most tempting drops of wine."
How about inviting several friends to enjoy fragrant wine and feel the sweet aftertaste, and hope the future is as sweet as that. We hope that the COVID-19 pandemic will end soon, pandemic-related lockdown will be lifted soon, and our health code can always keep green. At that time, we can reunite with our friends again to enjoy wines together in Guangzhou.
Related news:

Clear and Bright | Explore 24 solar terms along the Tropic of Cancer
Spring Equinox | Explore 24 solar terms along the Tropic of Cancer
Awakening of Insects | Explore 24 solar terms along the Tropic of Cancer
Rain Water | Explore 24 solar terms along the Tropic of Cancer
Explore 24 solar terms at 23.5°N
Presented by Southcn.com & GDToday
Planning: Zhang Chunqing
Coordinating: Zhao Yang, Li Lin
Supervising: Xie Miaofeng, Zhu Jing, Ou Xiaoming
Script: Axin, Marcus
Host: Marcus, Axin
Filming: Zhang Qida, Axin, Eastbrook, Qin Shaolong
Video editor: Axin, Marcus
Poster: Mia
English version: Monica, Nancy (intern)
English editor: Wing, Jerry