One year after Biden took office, how many promises has he fulfilled
Michelle Alyssa Go, an Asian American, died at the age of 40, after being fatally shoved in front of a New York subway car.
No provocation, no interaction. She was killed atrociously on a regular Saturday morning. Her death leaves the Asian American community on edge against a backdrop of increased hate crimes and attacks.
"To be Jewish in America. To be Muslim in America. To be a person of color in America. To be a woman in America. To be Native American in America. To be Asian American in America. Is to live wondering if you are next," quoted a netizen's comment on Twitter.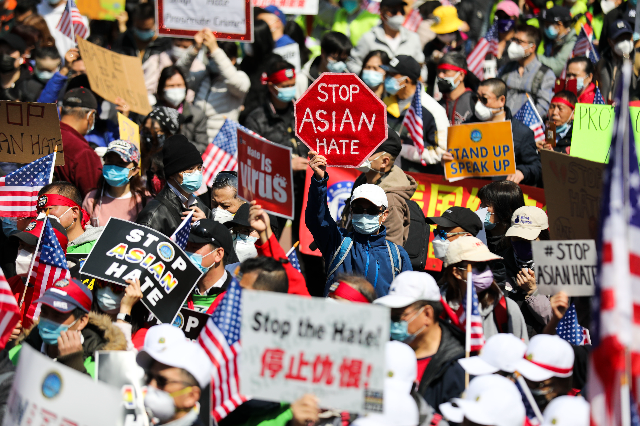 People rally against hate crime in New York. (Photo/Xinhua)
Biden has once made a similar list in his victory speech: "White, Latino, Asian, Native American", and especially the African American community. He listed to assure them of a unified nation and a supporting president. "They always have my back, and I'll have yours," Biden went on.
He made many commitments on that night in Delaware, swearing "to restore the soul of America" and to lead the US in six "great battles", including "the battle to achieve racial justice" and "to control the virus".
How are the "battles" going?
One year after Biden starts his administration, only 33% of Americans approve of his presidency, according to a Quinnipiac University poll.
Meanwhile, he is facing significant skepticism from the American public, with a majority of people disapproving his handling of a range of issues including health, student debt, immigration, economic recovery, gun violence and more.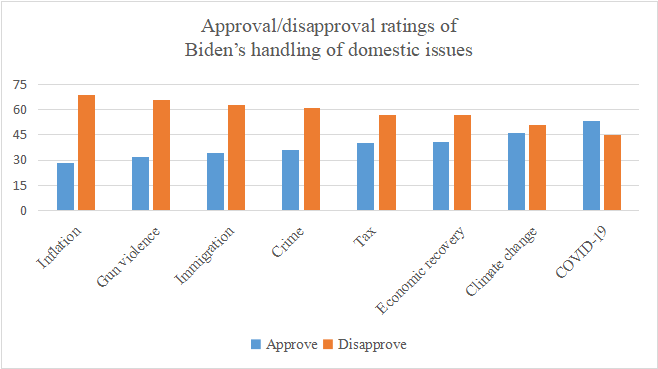 (Source: ABC News/Ipsos Poll in December 2021 )
Although a slim majority of Americans approve of Biden's response to COVID-19, it is still numerically at its lowest point in ABC News/Ipsos polling since he took office.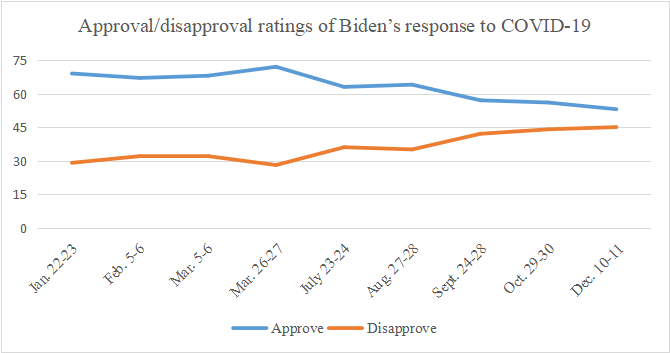 (Source: ABC News/Ipsos Poll in January to December 2021 )
However, Biden was voted by a significant majority of Americans in the 2020 election: He won over 81 million popular votes, more than any presidential candidate in US history and gained a victory margin of 7 million, the second largest since 2000.
It seems that Americans once believed he and his administration could bail the country out of the rampant pandemic and restore their pride for America's democracy.
But what has disappointed them?
Increased COVID-19 deaths in 2021
"Anyone who is responsible for that many deaths should not remain as president of the United States of America," Biden once commented on what were then 220,000 COVID deaths during one of the 2020 presidential debates.
Over a year later, not only US citizens, but also people around the world saw more than 1 million new daily cases reported in the US twice (on January 3 and 10 respectively), the highest daily total for any country in the world, and more people died of the virus in 2021 (451,475 deaths) than in 2020 (385,453 deaths), according to the US Centers for Disease Control and Prevention (CDC).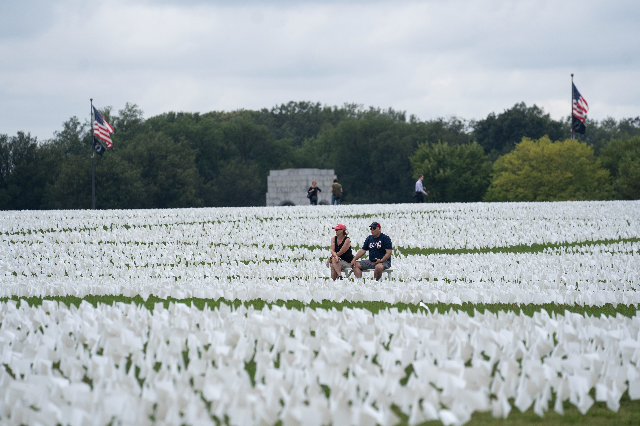 White flags on the US National Mall commemorate Americans who have died of COVID-19. (Photo/Xinhua)
While the infected cases are surging nationwide, US legislators have been limiting the power of public health officials, treating them as the enemy instead of the virus. A Kaiser Health News (KHN) and Associated Press investigation found in September, 2021 that since the start of the pandemic, legislators in at least 16 states have limited public health officials' ability to order mask mandates, quarantines or isolation. Moreover, 20% of Americans have lost a local public health leader between April 1, 2020 and Sept. 12, 2021. They have either resigned, retired or been fired.
"I think a lot of people who have been close to the issue are just feeling like the President used COVID to get elected and not much has changed," said Kristin Urquiza to NPR, whose father died of COVID-19.
It seems like Biden's "battle to control the virus" is ebbing away, despite his promise to "spare no effort -- or commitment -- to turn this pandemic around".
By the way, ethnic minorities are seriously impacted by a range of household problems caused by the uncontrollable COVID-19 in the community, according to the report joint conducted by NPR, The Robert Wood Johnson Foundation, and the Harvard T.H. Chan School of Public Health.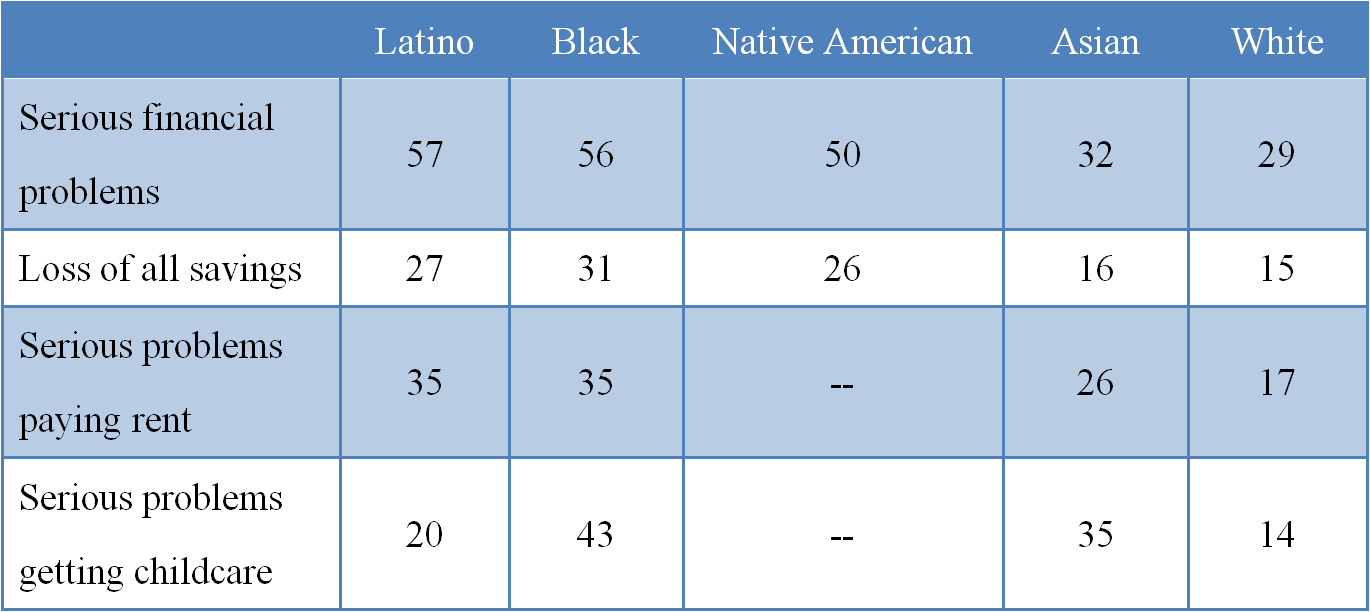 (Source: NPR/Robert Wood Johnson Foundation/Harvard T.H. Chan School of Public Health Poll in October 2021)
Bleak prospect of racial justice

Biden's intimate friend former US President Barack Obama once admitted: "Racial discrimination affects almost every system governing our lives. It exerts a profound impact and is part of our DNA," though the Declaration of Independence states that "all men are created equal".
According to Brennan Center for Justice, at least half of the states in the US have passed laws to restrict voting access between January 1 and December 7 in 2021. To the surprise of no one, much of the voting restrictions target at voters of color — in particular African American voters.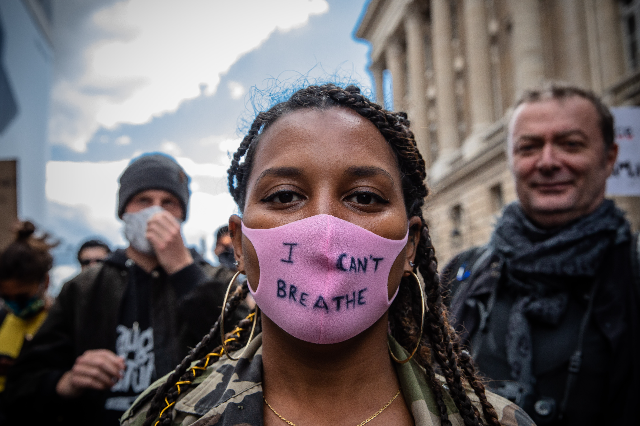 People protest agianst US racism in France. (Photo/Xinhua)
As racist bills being brought up and passed nationwide, hate incidents and crimes against Asian American and Pacific Islander (AAPI) persons have also been increasing. As of September 2021, nearly 6000 hate incidents against AAPI community were reported within the year of 2021, accounting for 55.7% of all reported in the US since March 19, 2020.
Especially in New York, "the city so good they named it twice", hate crimes have increased by 100% as of December 5, 2021. Asian community is the major victim of these crimes, where there has been a 361% increase from 2020.
A still divided nation
The division in racial issues is just the tip of the iceberg when it comes to the cleavage in the US society.
Biden, aware of how split the country is, has promised to unify the people and to bridge the division between red states and blue states, but he may have gone back on his words again.
According to The Polarization Index (PI), one year after the 2020 presidential election, the overall PI score has dropped only slightly from 85.1 to 82.5 on a scale of 1 to 100. Although the presidency has been transferred from Trump to Biden, not so many differences have been made: The US remains a divided society.
Taking the partisan divide for example, polls conducted by the University of Virginia's Center for Politics and Project Home Fire illustrated that: 80% of Biden voters and 84% of Trump voters believe that elected officials in the opposing Party present a clear danger to American democracy.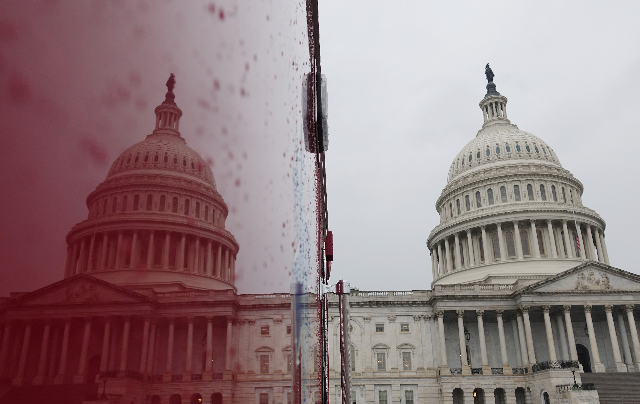 The US: A divided nation. (Photo/Xinhua)
Such divide or polarization has led the US to political dysfunction. Democrats are pitted against Republicans in Congress: The federal legislation to protect and ensure voting rights, namely the Freedom to Vote Act and the John Lewis Voting Rights Advancement Act, stalls; and Democrats are now plotting how to run midterm campaigns without the benefit of the Build Back Better.
What's more, the government was almost shut down and faced a debt default in October 2021 that could cost millions of jobs, jeopardize government benefits, and crash the financial markets.
However, it will not be the last time the government has faced this dilemma. A similar scenario has happened 21 times in the US since 1976, caused constantly by the discord between Democrats and Republicans.
It is self-evident that these two governing Parties of the US are not making a government "for the people", but one only for the interest of their own cliques.
Voting defines democracy?
One year after inauguration, dose Biden have anything to pay back his voters?
What we see now is a country wrestling with skyrocketing number of new COVID-19 cases every day, struggling in inflation rates not seen in decades, being trapped in a seemingly endless battle against systemic racism, and desperate for a cure for the widening wound of a divided society.
Yet its administration's solution is to divert people's attention away from the mire of domestic problems by pointing fingers and playing the blame game.
Does democracy have the one and only definition which is monopolized by the US-led western countries?
The answer is obviously no. Democracy can take many forms, but there is no one-size-fits-all approach to it.
China is often demonized and scapegoated for the US' own problems, whereas as long as you take a closer look into China's society, you will find out these facts: It is getting the pandemic under control and respecting public health academics; it has resumed work and production in a timely and orderly way; it delivered its promise and lifted more than 800 million people out of poverty.
Whether a country is democratic depends not only on whether they have been given verbal promises in elections but, more importantly, how many of these promises are fulfilled after elections.
While reviewing the promises Joe Biden made during his election campaign, how many of them has been fulfilled since Joe ascended to the throne?
Author | Lydia Liu, Steven Yuen
Editor | Zhao Yang, Wing, Jerry