Editor's note:
A group of female NPC deputies are dedicated to Guangdong's rural revitalization. They have brought into full play their wisdom, strength and technology, striving to improve the environment, industry, and people's life in the rural areas. On the occasion of the International Women's Day, GDToday and Nanfang Rural Newspaper launched a series "Go! Ms Farmer", recording GDToday host Alysa Kees's visit to counties in Guangdong and her exploration into the stories of three female farmers.
In this episode, Alysa Kees visited Shen Yanfen, a post-90s farmer in north Guangzhou. Shen is now in charge of a local agricultural machinery cooperative union. "Regardless of the opinions and doubts of others, Yanfen made the choices that were right for her, and then went on to influence and impact," said Alysa.
Cyber driver in the field
In Guangzhou's Zengcheng District, dozens of farmers are driving tractors over thousands of acres of farmland to and fro. As the machines pass by, the originally dry and hard soil is turned into loose clay.
Amongst the farmers stands out a young and thin girl. She hops into the orange tractor, puts it in gear and starts it up, sort of like a cyber agricultural manipulator.
She is Shen Yanfen, a post-90 new farmer and a deputy to the National People's Congress.
Return to hometown
"No problem. We will roll out a schedule, and we promise you that we won't let you miss the spring farming season." Shen Yanfen kept smiling when reassuring the villagers about the use of farm machinery again and again.
Back in university, being a farmer was never on Shen's life career list. Majoring in modern enterprise management, she chose to work in the advertising industry in Shenzhen after graduation.
It was her father who made her decide to return to her hometown and take over the agricultural machinery cooperative he had founded. "My father was getting older. He hoped we could return to help run the cooperatives and make it stronger."
"Little did I know that such a simple decision would become a very big turning point in my life."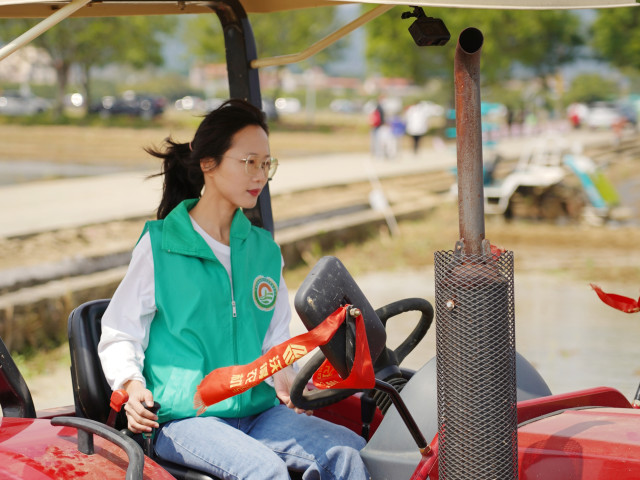 Reclaiming 3000-mu abandoned farmland
"First, I drew up a lot of rules and regulations about modern business management for the cooperative at first, such as a field responsibility system and personnel management system. My father just glanced over it and said they were all empty talks." Just as Shen Yanfen was thinking big about the cooperative's future, the different mindsets between the two generations once upset her.
Later, Shen Yanfen followed her father to meet the elderly farmers and asked for suggestions on her plans. She gradually gained the trust of her family and villagers. Based on her father's previously-founded cooperative, she teamed up with the surrounding towns and villages, and established Guangzhou's first agricultural machinery union, Guangzhou Zengcheng Xingji Agricultural Machinery Professional Cooperatives, of which she is the president.
The union provides farmers with one-stop services such as planting guidance, agricultural machinery scheduling, material procurement and sales. Over the past three years, Shen Yanfen has led her team to reclaim more than 3,000 mu of abandoned land. Today, the union serves an area of more than 100,000 mu a year and over 4,000 farmers.
Shen Yanfen and her team have also mechanized the whole process of rice planting and introduced a series of high-tech machines including rice planters, harvesters, drones.
"If we use cows to plough the fields,we may only plough 1 mu of land a day. Now, large machines can do 100 mu per day." Shen Yanfen explained.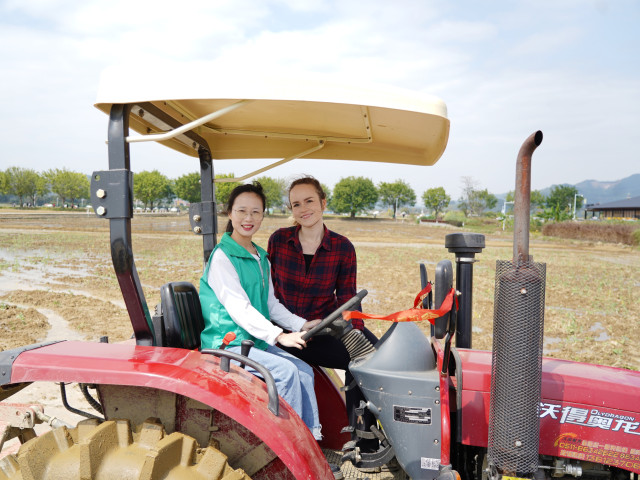 Help develop a clear career path for farmers
Harrowing, seedling, fertilizing...The life of farmers is always busy throughout the year. However, Shen Yanfen feels that "it is pretty interesting to immerse yourself in something that you desire for." And as a newly elected NPC deputy, she hopes to make greater contribution to the rural community, especially the machinery manipulator group.
"I want to make suggestions on the machinery manipulator's skills training and professional title assessment," Shen Yanfen said.
For Shen Yanfen, the countryside should not be a career retreat for young people, but a bigger platform to pursue their dreams and attain self-fulfillment. "I hope the society can support people like us. Rural farmers should have a clear career path so that they can have a greater sense of achievement and are more willing to stay in rural area."
Go! Ms Farmer | Connect Mandarin orange with the world
Presented by GDToday & Nanfang Rural Newspaper
Coordinator | Ouyang Yan, Zhang Ying, Zhou Xiaofeng, Mai Qianming
Planning | Hu Nan, Chen Jinxia, Bao Rui, Han Yuke, Lin Xiaolan
Reporter | Chen Jinxia, Feng Huiting, Bao Rui, Liu Lingzhi
Video | Ou Xiaoming, Zhang Zhiyi, Kerm
Host | Alysa Kees
Poster | Wang Yue
Special thanks to Guangzhou Zengcheng Xingji Agricultural Machinery Professional Cooperatives Union