Editor's note:

A group of female NPC deputies are dedicated to Guangdong's rural revitalization. They have brought into full play their wisdom, strength and technology, striving to improve the environment, industry, and people's life in the rural areas. On the occasion of the International Women's Day, GDToday and Nanfang Rural Newspaper launched a series "Go! Ms Farmer", recording GDToday host Alysa Kees's visit to counties in Guangdong and her exploration into the stories of three female farmers.
Alysa Kees is a vlogger from America, and has lived in Guangdong for more than 20 years. In this episode, She visited Guangdong's Deqing county and met Chen Hui, a farm girl who runs an orchard there. Chen Hui's entrepreneurship story in rural areas impressed Alysa so much. "It was exciting to see that no matter what she encountered, she just kept going," Alysa said, "Chen Hui is a perfect example of why we need interdisciplinary women equipped with soft skills who can connect different cultures and build the future together. "
Chen Hui: Sweet dream chaser
Chen Hui grew up in a city in Guangdong. She plays the piano and speaks English very well, her growing seems to have nothing to do with agriculture. She couldn't tell the difference between Mandarin orange and Tribute Mandarin. She couldn't understand the rural dialect, and the countryside was strange to her. However, she has now become a farmer who manages a thousand acres of orchards in Zhaoqing, Guangdong, and is also the heroine in a Tribute Mandarin commercial.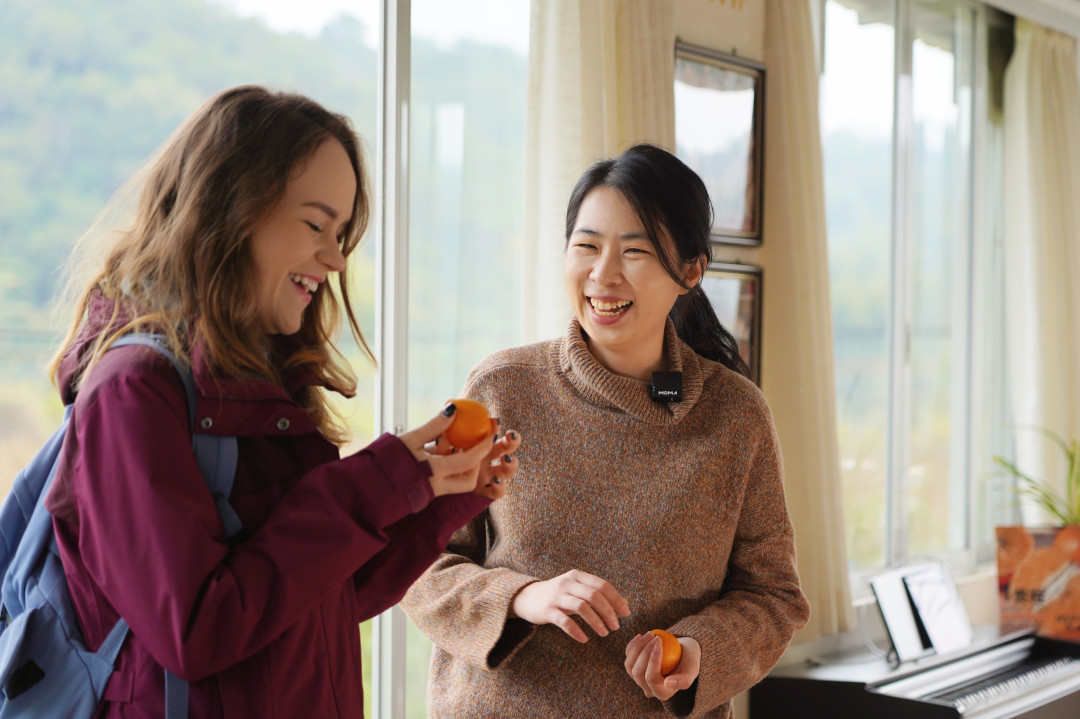 In 2013, Chen Hui graduated from Sun Yat-sen University. She followed her father to Qingyuan and Zhaoqing's Deqing for research. Vibrant countryside and sweet Tribute Mandarin attracted Chen Hui.
"Deqing Tribute Mandarin has a thousand-year cultivation history. The Tribute Mandarin here had been a tribute to the emperor from the Song Dynasty. I heard this and decided to come here," said Chen Hui. Chen is now the general manager of TOPCP, an agricultural technology enterprise located in Deqing County, Zhaoqing City.
"Tribute Mandarins here are planted on a large scale, but the development of industrial agriculture was backward, and agricultural transformation is necessary." After Chen Hui came to Deqing, she found that the Tribute Mandarin here had a good harvest, but there was no good market. Therefore, she and her father established a modern ecological agriculture cooperative company, which led local farmers to promote ecological farming in their orchards.
Chen Hui gradually began to learn about planting. She held meetings with farmers, learned to drive a leather truck, mastered planting skills, and gradually became proficient in planting Tribute Mandarin. The ecological farming technical regulations from TOPCP are also accepted by more and more farmers. She purchased Tribute Mandarins from fruit farmers at a price higher than the market, helping them increase their income. In 2014, Chen Hui established her own Tribute Mandarin demonstration base.
Around 2015, citrus greening disease, known as "citrus cancer", raged, and the citrus industry in Deqing County suffered greatly. Citrus trees have shriveled and yellowed leaves and produced small or misshapen fruits with unpalatable flavors. And the Tribute Mandarins planted by Chen Hui did not avoid the disaster.
"2018 was the worst time, and the trees were all yellow. During the Chinese New Year, my mom sent a message asking me when I would go home. I sat in the office and really didn't want to go home. At that time, I only had 0.13 RMB left. It was embarrassing to go home, because I had already sold many of my family's assets to invest here. So at that time, I had no way out but could only move on."
Later, Chen Hui and her father started with all aspects of planting, carried out consultation and experimental research. After five years of ecological farming, the ecology of the orchard has recovered, and the fruit trees have also returned to green. Last year, TOPCP's Tribute Mandarin production reached 750,000 kilos.
"In fact, there is still a lot to learn, and I have been studying this for many years." Chen Hui recalled when she was treating citrus greening disease.
After learning a lot in the field of planting, Chen Hui began to pay attention to the international market.
On 1 January 2022, RCEP entered into force. Chen Hui realized that this was an important opportunity. So, she sold the Tribute Mandarins to Thailand, Vietnam, Cambodia and other RCEP member countries, as well as to the Netherlands, Germany and other EU countries. Previously, TOPCP obtained GLOBALGAP certification and was allowed to enter the European market.
In order to make Deqing Tribute Mandarins known to more people in the world, Chen Hui operated an account on TikTok to share the comfortable rural life in the orchard, which attracted many foreigners. One of the fans once commented that Chen Hui's pastoral life was fake. "I told him that the current Chinese countryside is like this, and you can see for yourself," Chen Hui said.
At present, Chen Hui has also developed the deep-processing products of Tribute Mandarins, including tribute mandarin peel, tribute mandarin wine, spices and so on. She is expanding the types of products grown, making TOPCP well-known in both domestic and international markets. "In the past 10 years, I spent a lot of time learning how to grow Tribute Mandarins. In the next 10 years, I will spend more energy on exploring the international market. Because I really want to bring our Tribute Mandarins to more countries," Chen Hui said.
Presented by GDToday & Nanfang Rural Newspaper
Coordinator | Ouyang Yan, Zhang Ying, Zhou Xiaofeng, Mai Qianming
Planning | Hu Nan, Chen Jinxia, Bao Rui, Han Yuke
Reporter | Feng Huiting, Lin Xiaolan, Liu Lingzhi
Video | Ou Xiaoming, Kerm
Host | Alysa Kees
Poster | Wang Yue
Special thanks to TOPCP Agriculture Co., LTD