A city is not only shaped by its food and climate but also by its people and culture. Where are the favorite spots of local youth? And what makes it great to live here? Let's discover what's fun for you in Guangzhou!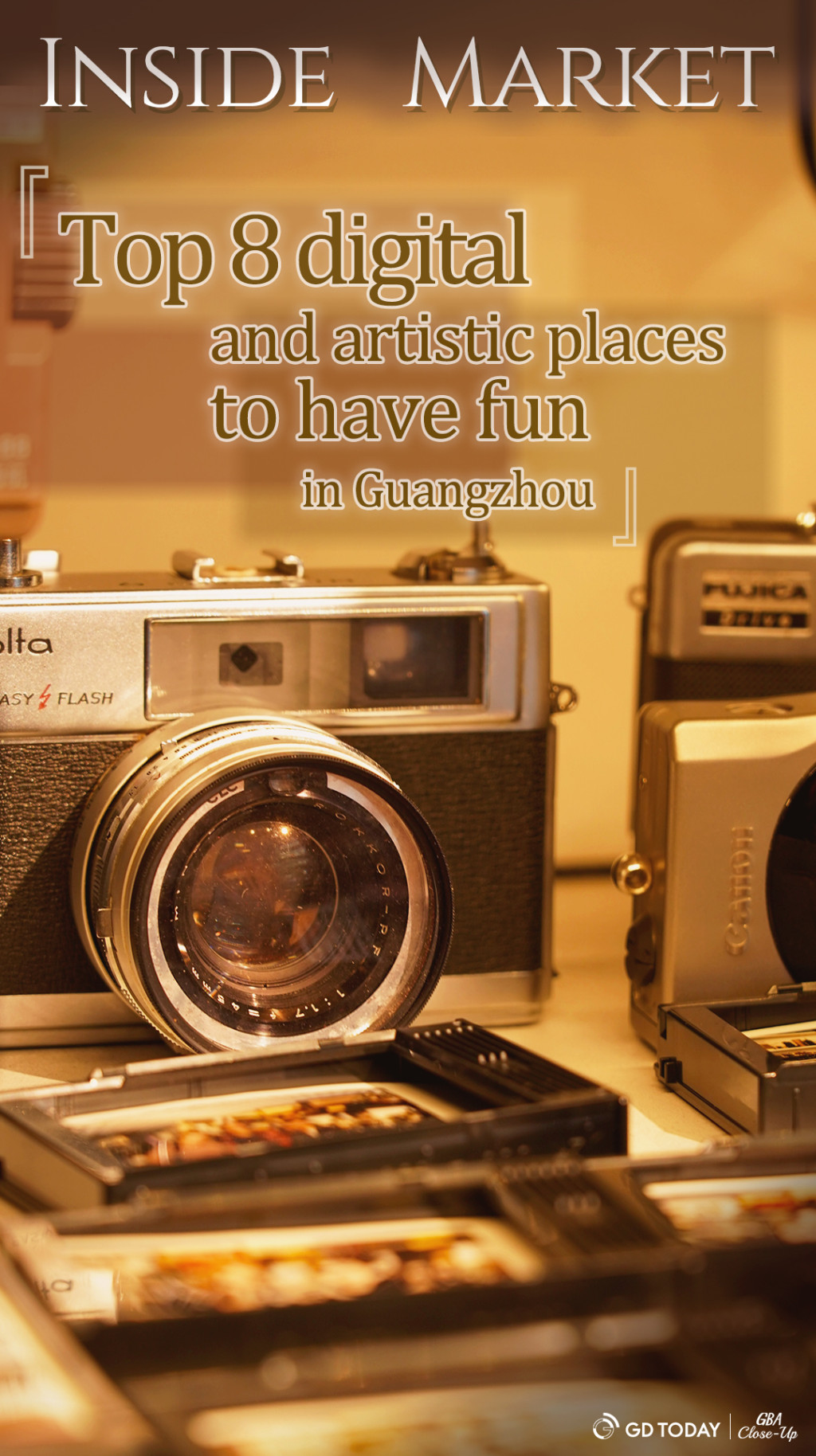 1. Shenxian Dashatou ---Second-hand Camera & CD

Dashatou is one of the most famous second-hand wholesale markets for cameras and photographic equipment. If you are running low on budget, here is your top option.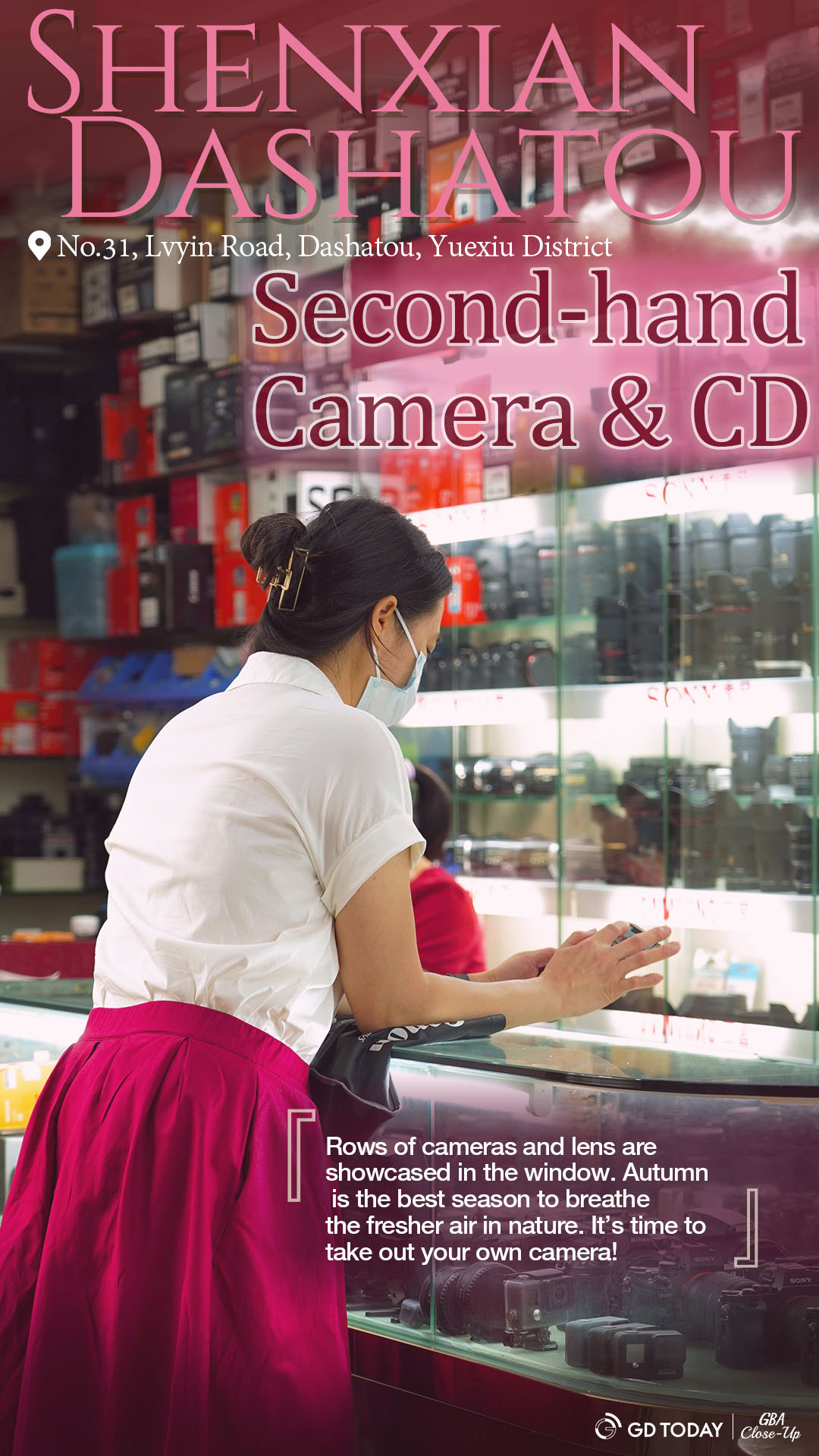 Famous camera brands are lined up in glass cabinets. The lens of camera look just like the brand-new ones. When strolling down the stalls, you can also see the owners are cleansing and repairing the recycled cameras.
Besides, if you keep going upstairs, you will surprisingly find the stores selling CDs and vinyl records in wholesale prices. The most popular Cantonese songs are played in sound system, which immediately brings back their childhood memory.
Address: No.31, Lvyin Road, Dashatou, Yuexiu District, Guangzhou, Guangdong Province
How to get there: Exit B2, Donghu Station, Metro Line 6
2. Jiangjun East --- DVD player & TV Stereo
Located in the city downtown, this market was built in 1998. Walking in the first floor, you will immediately hear the music from different types of DVD players and TV stereos.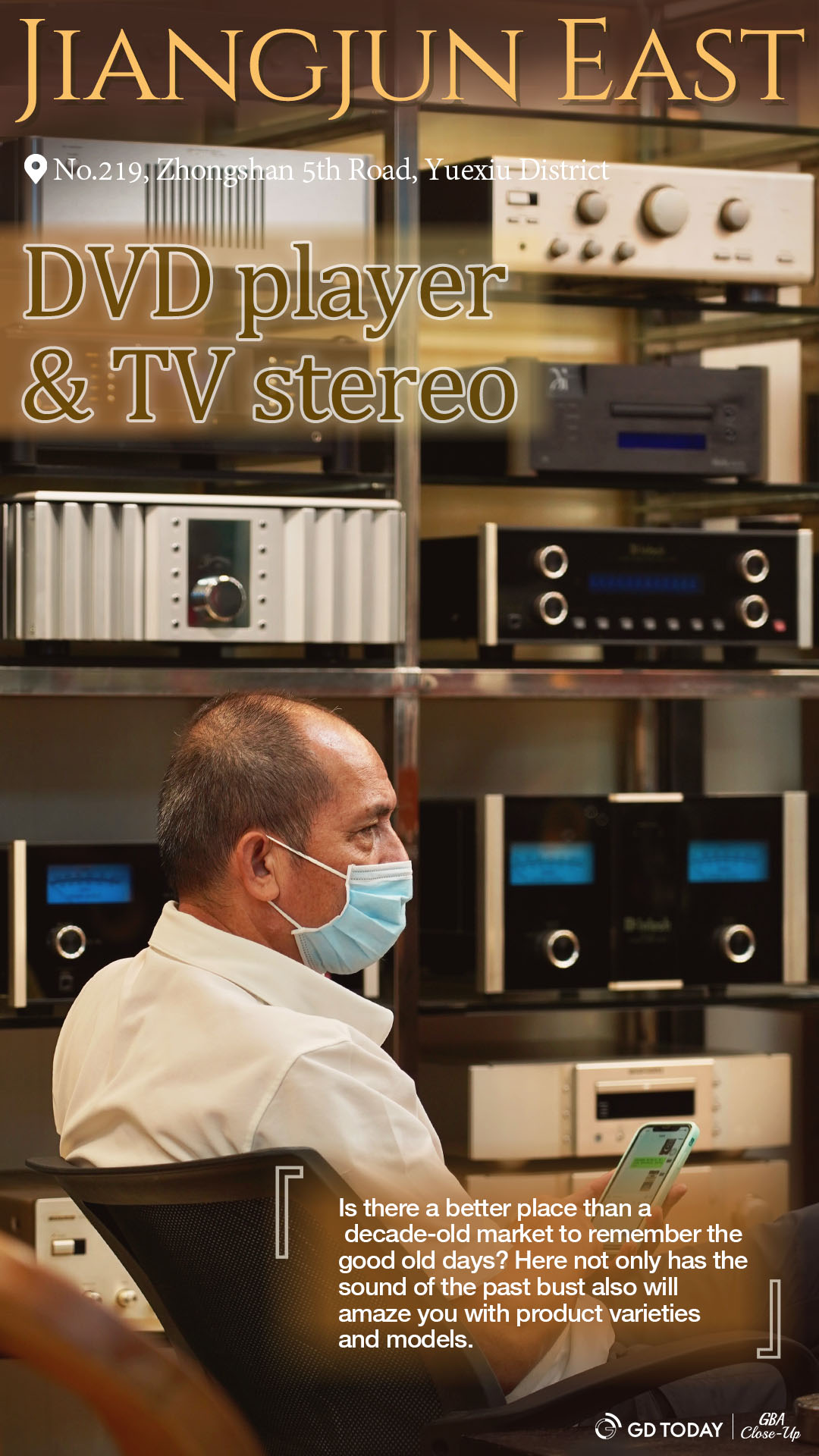 Taking the escalators downstairs, it opens a new world in B1. Bustling with people, it is also tinged with something in the past. Whether it is the products clearly marked with prices or the soft lights, you will feel more at ease here, especially for the elder generations.
B1 is connected with the Metro and other shopping malls, so it is very convenient to pay a visit there during the weekends. There are also some catering service areas.
Address: No.219, Zhongshan 5th Road, Yuexiu District, Guangzhou, Guangdong Province
How to get there: Exit A, Gongyuanqian Station, Metro Line 1
3. Wende Road --- Calligraphy & Painting
Guangzhou is not only a metropolitan city but also a place with a long historical standing. If you want to see another side of the city, Wende Road is the right place.
Wende Road specializes in brushes, drawings and painting framing and mounting. Different stores are situated next to or right across each other. Some of the paintings are drawn, while others are embroidered.
If you need to buy brushes for drawing or calligraphy, you can come here and take your pick. Some of the owners will allow you to try before buying.
Address: No. 10, Wende Road, Yuexiu District, Guangzhou, Guangdong Province
How to get there: Exit A, Peasant Movement Institute Station, Metro Line 1
4. Hualin International --- Jadeware
With a total investment of 3 billion RMB, Hualin International aims to build the world's first-class professional market of jewelry and jadeware.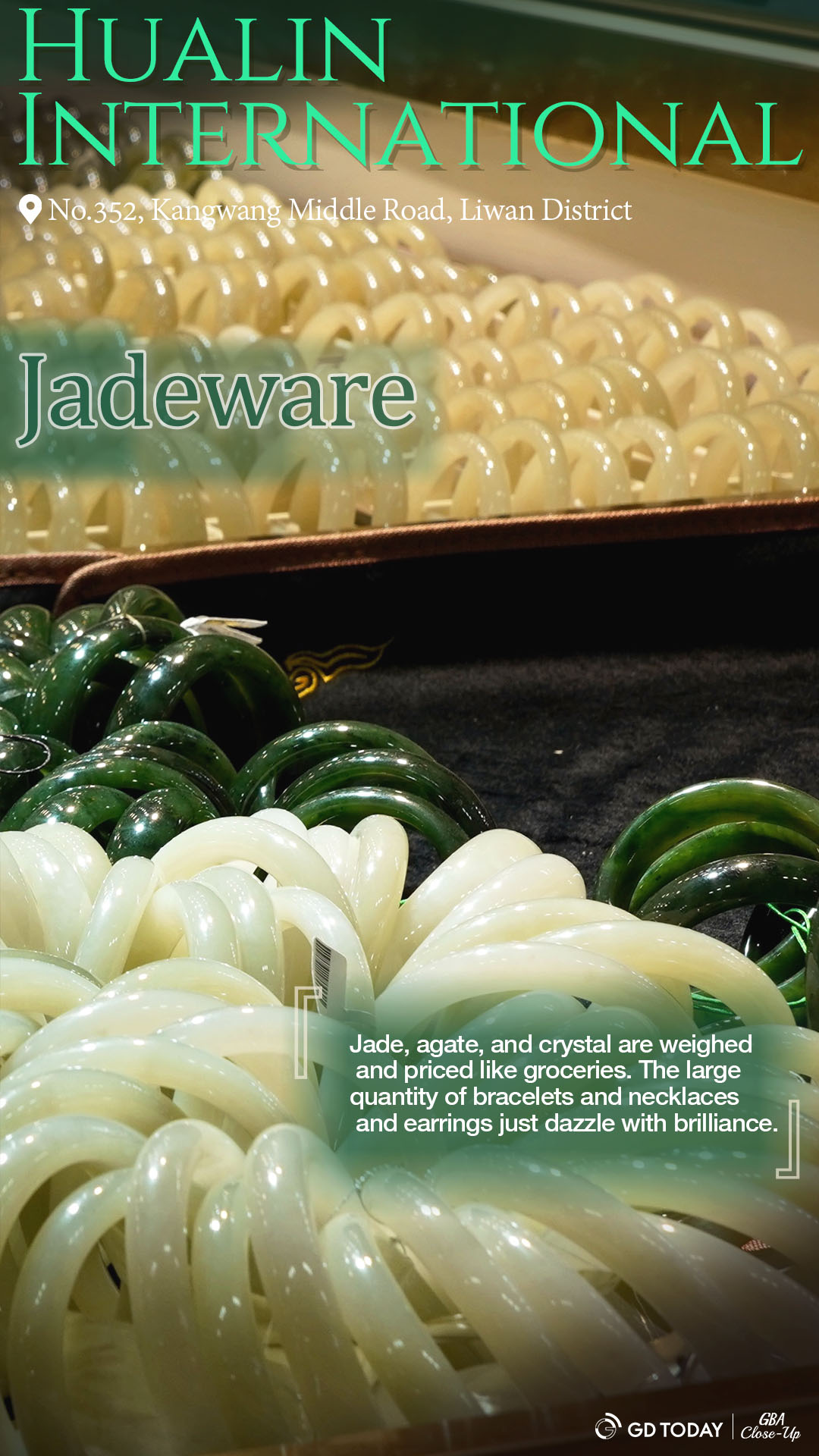 Adjacent to Shangxiajiu Pedestrian Street and Hualin Jadeware Street, it has four venues - A, B, C, and D. Among them, Venue C is the most popular site. You can find all kinds of trinkets and jewelries made with Jade, agate, and crystal.
If you like wearing jade, Hualin International market offers everything you need. So, don't hesitate to make your way here!
Address: No.352, Kangwang Middle Road, Liwan District, Guangzhou, Guangdong Province
How to get there: Exit C1, Hualinsi Buddhist Temple Station, Metro Line 8
5. Xiguan --- Antique
Xiguan, with a distinct culture, is one of the hot scenic spots in Guangzhou. There are many attractions, for instance, Yongqing Fang historical alleyways, iconic local restaurants like the Panxi Restaurant and one of the top 10 antique cities in China - Guangzhou Xiguan Antique City.
Located next to Liwan Lake Park, the Antique market is large and full of art treasures. Walking inside is like visiting an art gallery or museum. A wide range of paintings, calligraphy works and ceramics are displayed at the doorway.
The operation time is from 9 am to 6 pm. So, if you're planning a visit, the recommended time is during the late afternoon (2pm - 4pm).
Address: No. 94, Longjin West Road, Liwan District
How to get there: Exit B, Changshou Lu Station, Metro Line 1
6. Fangcun New World --- Flowers, Birds, Fishes and Insects
It is said that this market is highly sought-after by the new residents in Guangzhou. After the relocation back in the late October of 2020, it has also attracted some customers from Foshan.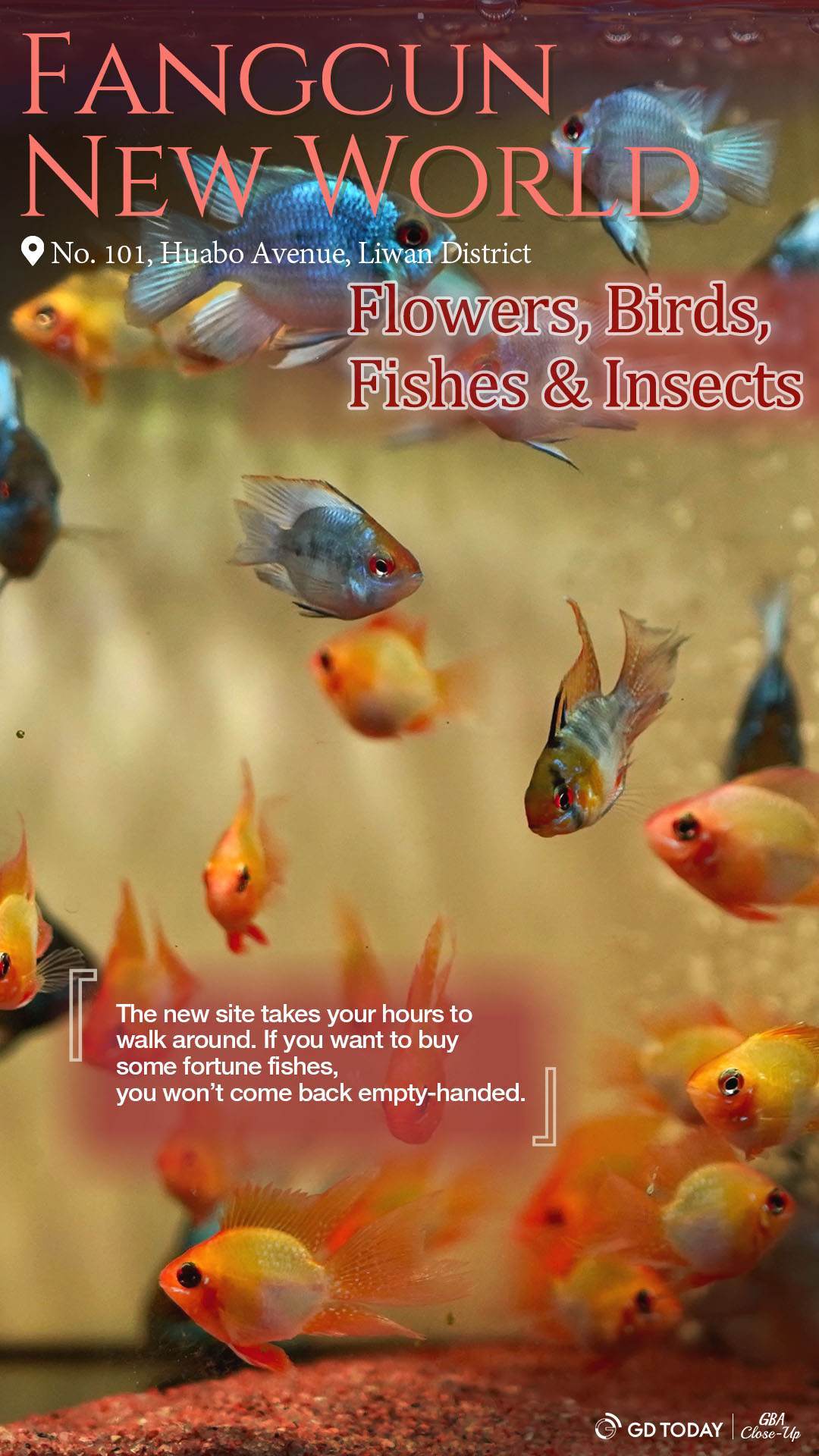 There are a good range of flowers, birds, fish and insects. In the aquarium building, you will see goldfish on the wall and bagged small fish on the floor.
The new site will take you hours to walk around. So, you have to be fully prepared with a pair of comfortable shoes.
Address: No. 101, Huabo Avenue, Liwan District
How to get there: Exit A, Jushu Station, Guangzhou-Foshan Metro
7. Gangding --- Computer & Digital Product
Located in Tianhe District, Gangding area is known as the local's first choice to buy digital products in Guangzhou. There are lots of large and small digital shopping malls and stores offering electrical and digital products retail and wholesale.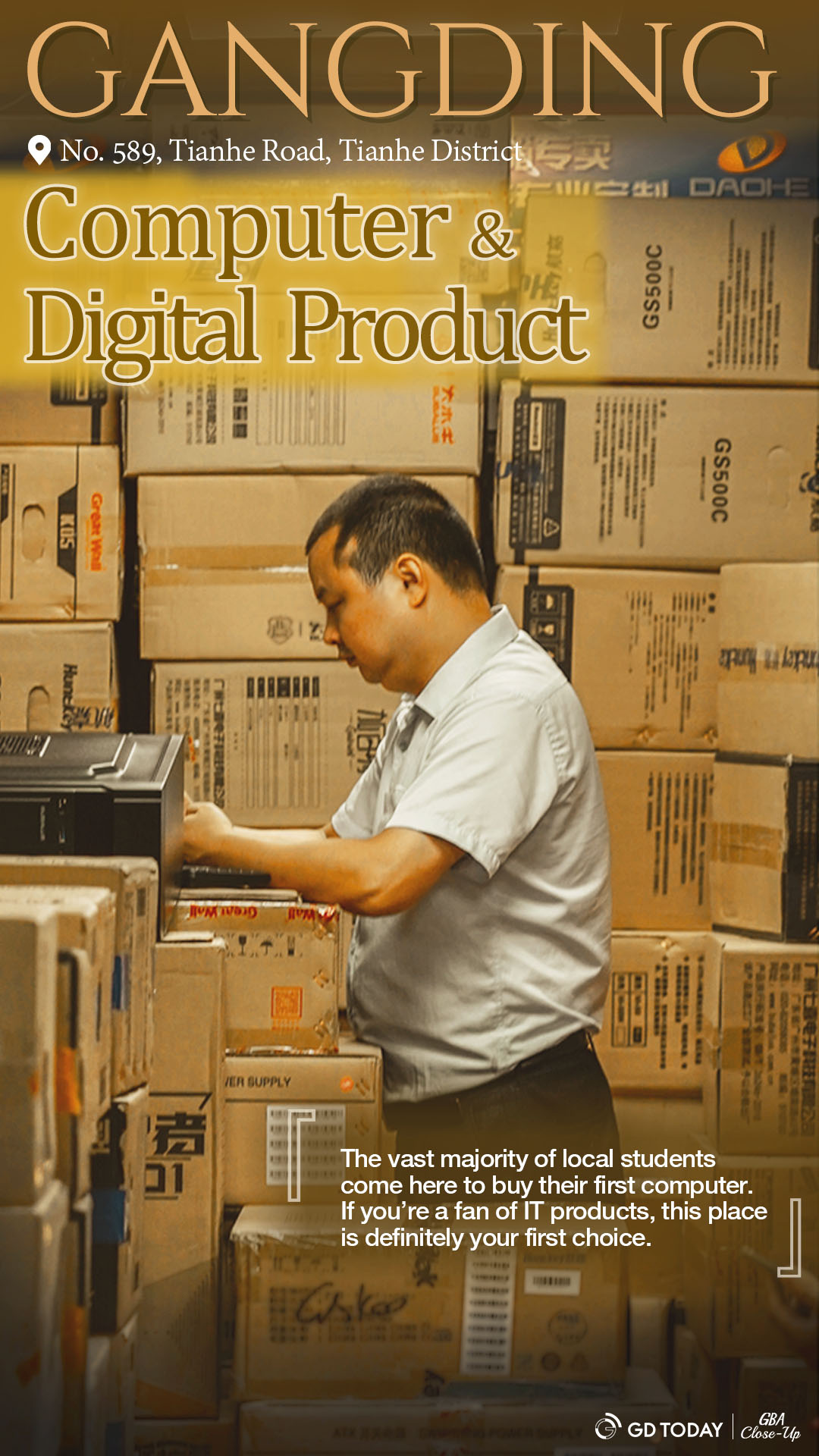 From computers, laptops, smart phones to earphones, USB cables and other peripheral products, almost everything you need can be found here, including the computer repair services. The three must-visit places are Galaxy Computer Plaza, Buynow Computer Mall, and Pacific Digital Square.
For the vast majority of the 70s and 80s generations, Gangding, one of the most bustling places in Guangzhou, makes them recall their youth. While for the generation of the 90s and 00s, they come here to buy their first computer before going to college.
Address: No. 589, Tianhe Road, Tianhe District, Guangzhou, Guangdong Province
How to get there: Exit C, Gangding Station, Metro Line 3
8. Highsun --- Electrical Appliance
Highsun, located in Dashatou Road, Yuexiu District, is not very far from Shenxian Second-hand market.
Home appliance are necessities when moving into a new apartment. It is said that Highsun is one of the local foreigners' favorite spots. And it seems really so because you will happen to see some of your foreign friends shopping like locals.
You will see branded TV, refrigerator, air conditioner, electric cooker, and washing machine here. Stacks of them are displayed, so keep your eyes open and feel free to get a budget from the owners!
Address: 1st Floor, Haiyin Square, Dashatou Road, Yuexiu District, Guangzhou, Guangdong Province
How to get there: Exit B2, Donghu Station, Metro Line 6
Related news:
Inside market | Do you know where to find these specialized wholesalers in Guangzhou?
Inside Market | These food wholesalers you can't miss in Guangzhou
Author | Fanny

Photo | Guo Guo
Poster | Lu Lu
Editor | Wing, Steven, Will, Jerry