From snacks to seafood, fruit to pastries, and kitchen to dinner table, everything you need can be found in these wholesale markets.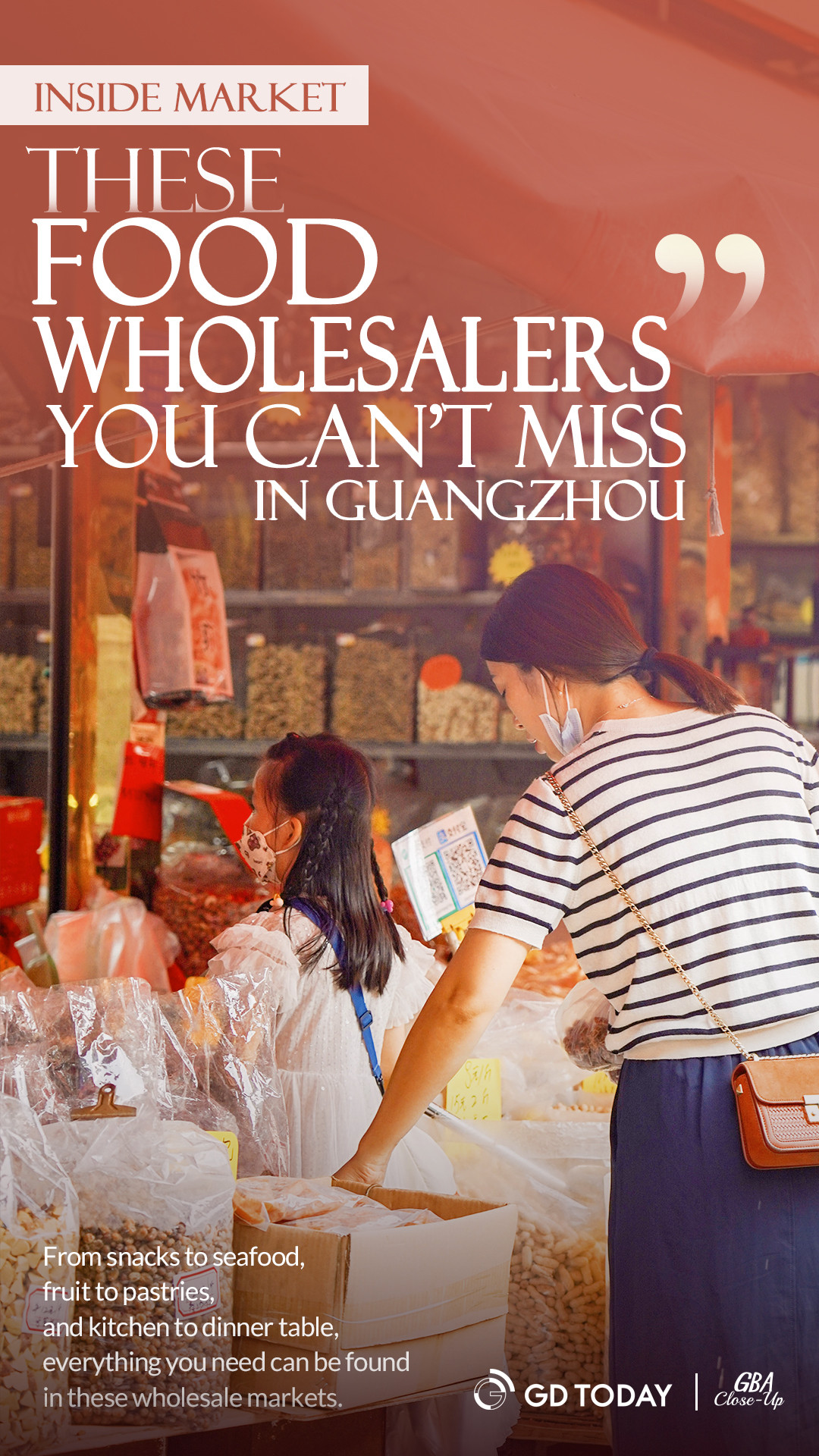 Here are the highlights:
1. Fortune Wholesale Market
As a traditional historical business street, Yide Road is animated by the hustle and bustle of Guangzhou. It is an east-west road with traditional arcades on both sides.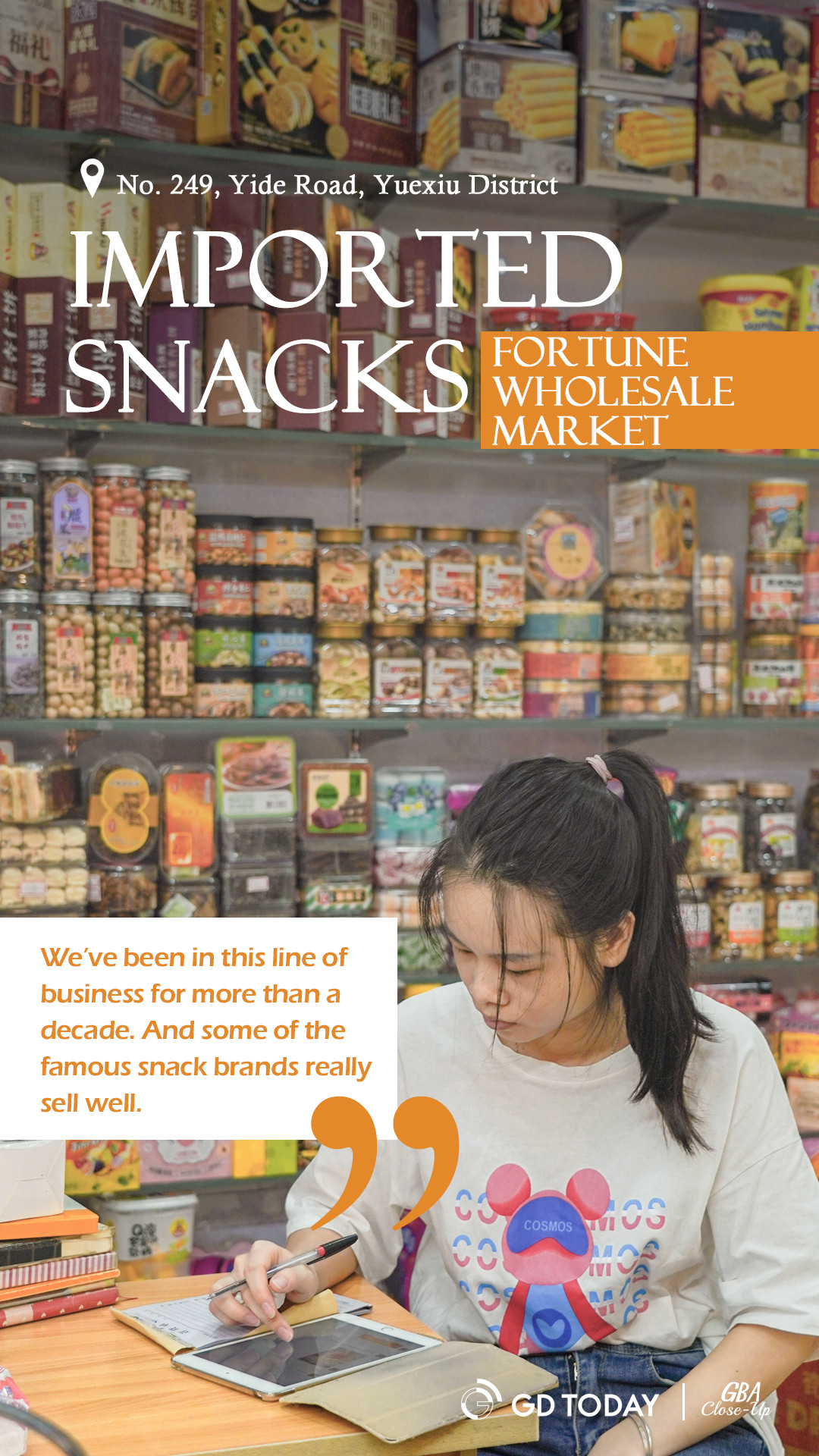 There are many wholesale markets, including dried food, toys, seafood, and imported snacks. The imported snack wholesale market is situated right across the Shishi Sacred Heart Cathedral. After doing the shopping, you can take a walk to one of the famous scenic spots in Guangzhou.
Walking in the market, all kinds of snacks around the world can be found here, including TAO KAE NOI (Thai snack: nori), UHA Puccho (Japanese gumdrops), KDV Kpokaht (Russian chocolate candy), No Brand Butter Cookies (Korean cookie), SAMYANG Hot Chicken Flavor Ramen (Korean spicy instant noodles).
Address: No. 249, Yide Road, Yuexiu District, Guangzhou, Guangdong Province
How to get there: Exit B, Yide Road Station, Metro Line 6
2. Jiangnan Fruit & Vegetable Wholesale Market
Jiangnan Fruit & Vegetable Wholesale market is the largest fresh fruit and vegetable distribution center in China and even in Southeast Asia.
It is primarily wholesale-based. There are rows of stalls, surrounded by a large number of trucks. The vegetable section is hidden right behind the fruit stores. You can shop around to pick up the best ones.
Nearly all kinds of fruits can be found here, such as Chilean blackcurrant, Australian Sweet Sapphire Grapes, Thai Monthong Durian, mangosteen, pitaya, and coconut.
Address: No. 196, Zengcha Road, Baiyun District, Guangzhou, Guangdong Province
How to get there: Zengcha Road North Station, Bus 521/527/705/563/198A, then walk 450m to the south
3. Huangsha Aquatic Products Market
In Huangsha Aquatic Products Market, raw fresh seafood is always ready to order and cook. There are a variety of recipes, which help the gourmets from all over the world to get the best dining experience.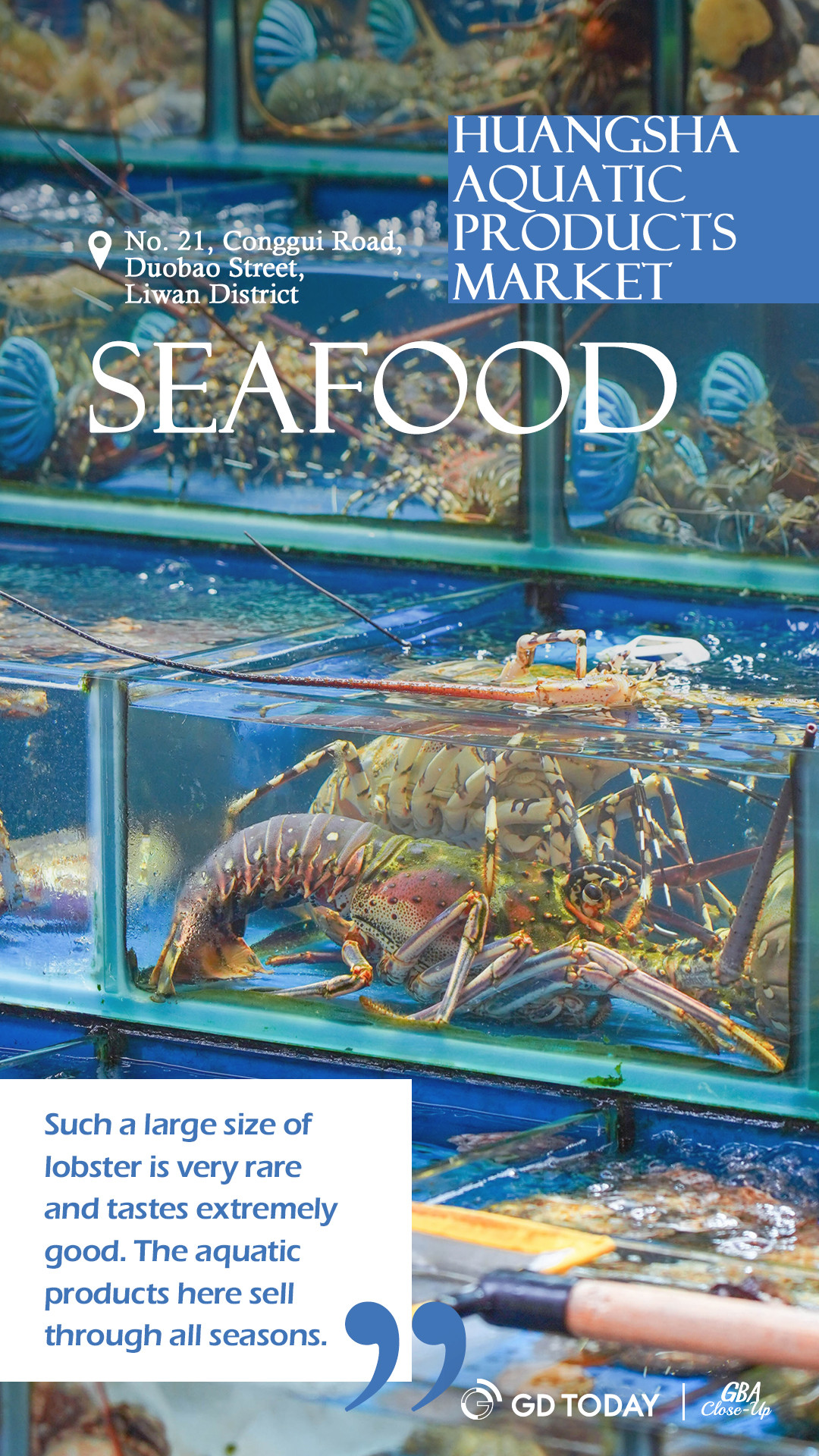 It is a seafood market that opens around the clock (24 hours a day and 7 days a week), filled with numerous stalls operating day and night. The flashing lights illuminate this market before the sun rises, signaling the start of a day. At 10 am, freshwater fish unloading peaks, while between 2-3 pm, seafood is at its freshest.
You can buy the freshest scallops, abalone, grouper, water snake, bread crab or lobsters at different stalls, some of which will be delivered to the big restaurants downtown for processing and cooking as soon as possible.
Address: No. 21, Conggui Road, Duobao Street, Liwan District, Guangzhou, Guangdong Province
How to get there: Exit F, Huangsha Station, Metro Line1 & 6
4. Cantonese-style Dim Sum & Pastries Wholesale Street
The sidewalks are bustling with people even in the early afternoon. Located right across from a Starbucks in Longjinzhong Road, this wholesale street stands apart with its remaining sense of history and time.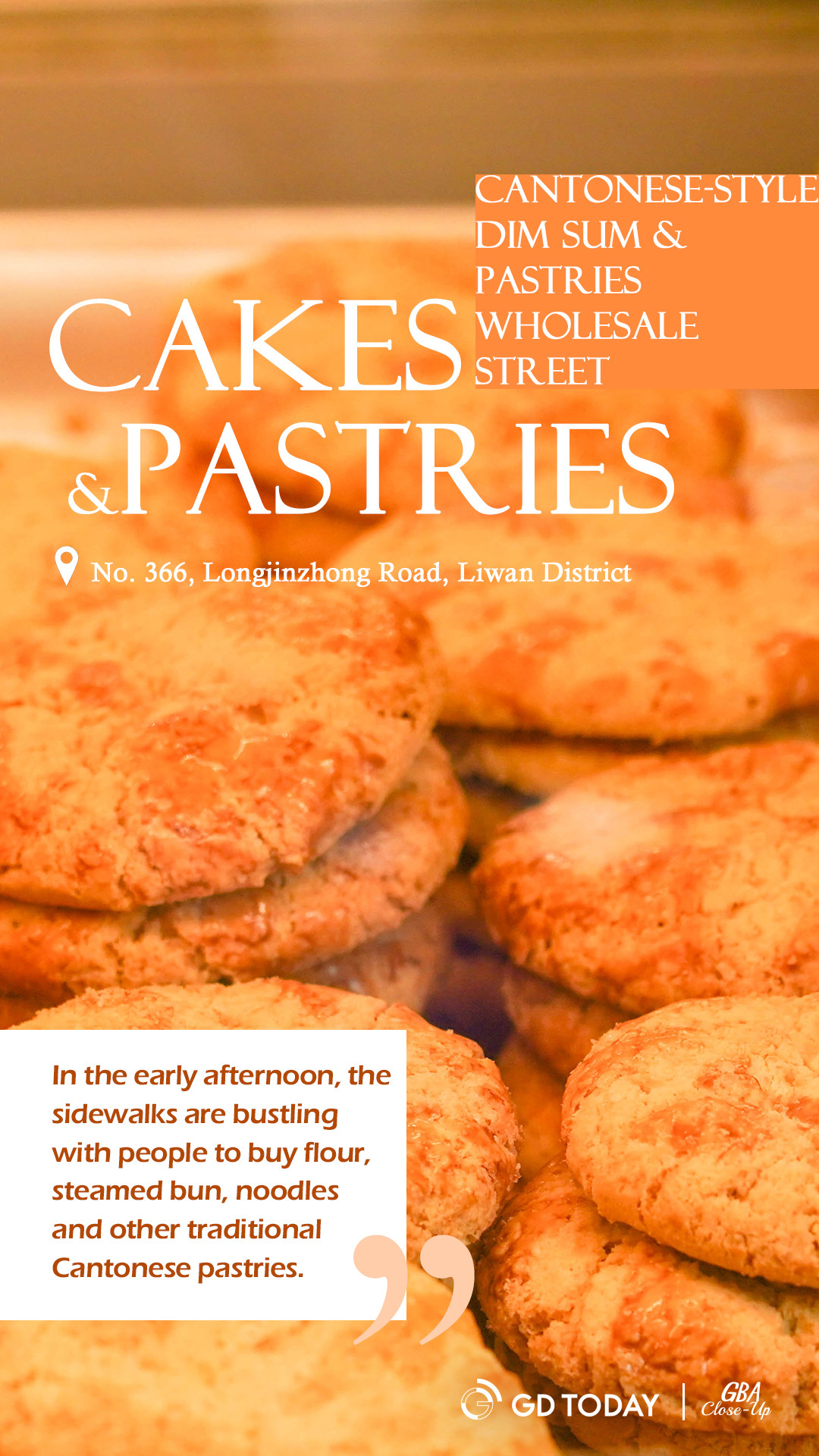 The main commodities in the wholesale market can be mainly divided into three categories: steamed buns, pastries, and noodles. Whether you like it sweet or salty, you can take your pick of any product on the shelf.
From steamed buns stuffed with barbecued roast pork to Cantonese sponge cakes, and from sticky rice in lotus leaf to cart noodles, almost all varieties of rice and noodle foods can be found here, and they are all sold at wholesale prices.
Address: No. 366, Longjinzhong Road, Liwan District, Guangzhou, Guangdong Province
How to get there: Exit A, Chen Clan Ancestral Hall Station, Metro Line 1
5. Funcun Tea Plaza
Covering an area of nearly 36,000 square meters, Guangdong Funcun Tea Plaza combines tea culture with tea economy, and has gradually developed into the largest tea wholesale market and distribution hub in the country.
The first floor of the tea plaza sells the national famous tea, such as Tieguanyin of Anxi from Fujian, Dahongpao from Wuyi, Pu'er from Yunnan, and black tea of Qimen County from Anhui.
The second floor specializes in selling tea sets, teabags and tea food, while the third and fourth floors are dedicated to building the largest and most influential well-known tea brand exhibition platform in the country. For example, the first tea culture exhibition hall in the country was established on the third floor.
Address: No. 508, Fangcun Avenue Middle, Liwan District, Guangzhou, Guangdong Province
How to get there: Exit D, Fangcun Station, Metro Line 1
6. Lilang Agricultural and Sideline Products Comprehensive Wholesale Market
Lilang is one of the largest and most comprehensive agricultural and sideline products wholesale markets in Guangzhou. It's highly popular in local communities.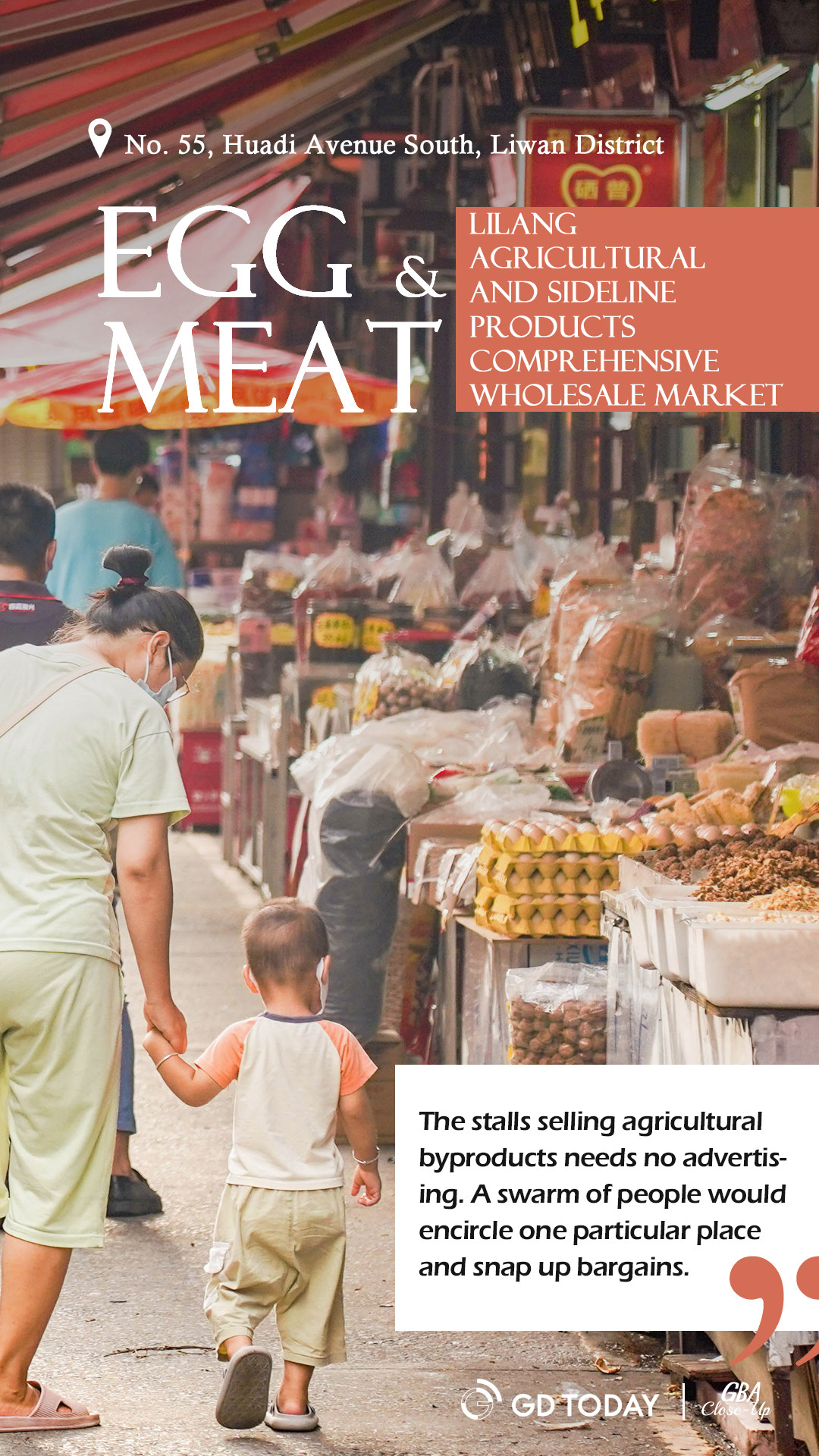 This market is divided into several different sections with very long passageways. Even in the late afternoon, the vegetables and meat look still very fresh and purchasable. The most visited ones are stalls selling meat, eggs and aquatic products with wide varieties and reasonable prices.
As the saying goes, "The earlier the better". Many locals go there to buy fresh foodstuff early in the morning. Whether you are a restaurant owner or a housewife, this market is worth a visit. Fresh and cheap ingredients will definitely fill your shopping bags and food baskets.
Address: No. 55, Huadi Avenue South, Liwan District, Guangzhou, Guangdong Province
How to get there: Exit A, Xilang Station, Metro Line 1
7. Nantai Daily Necessities Wholesale Market
A well-displayed meal can always whet your appetite. So, where can you find a special set of bowls and plates to add to your current kitchenware?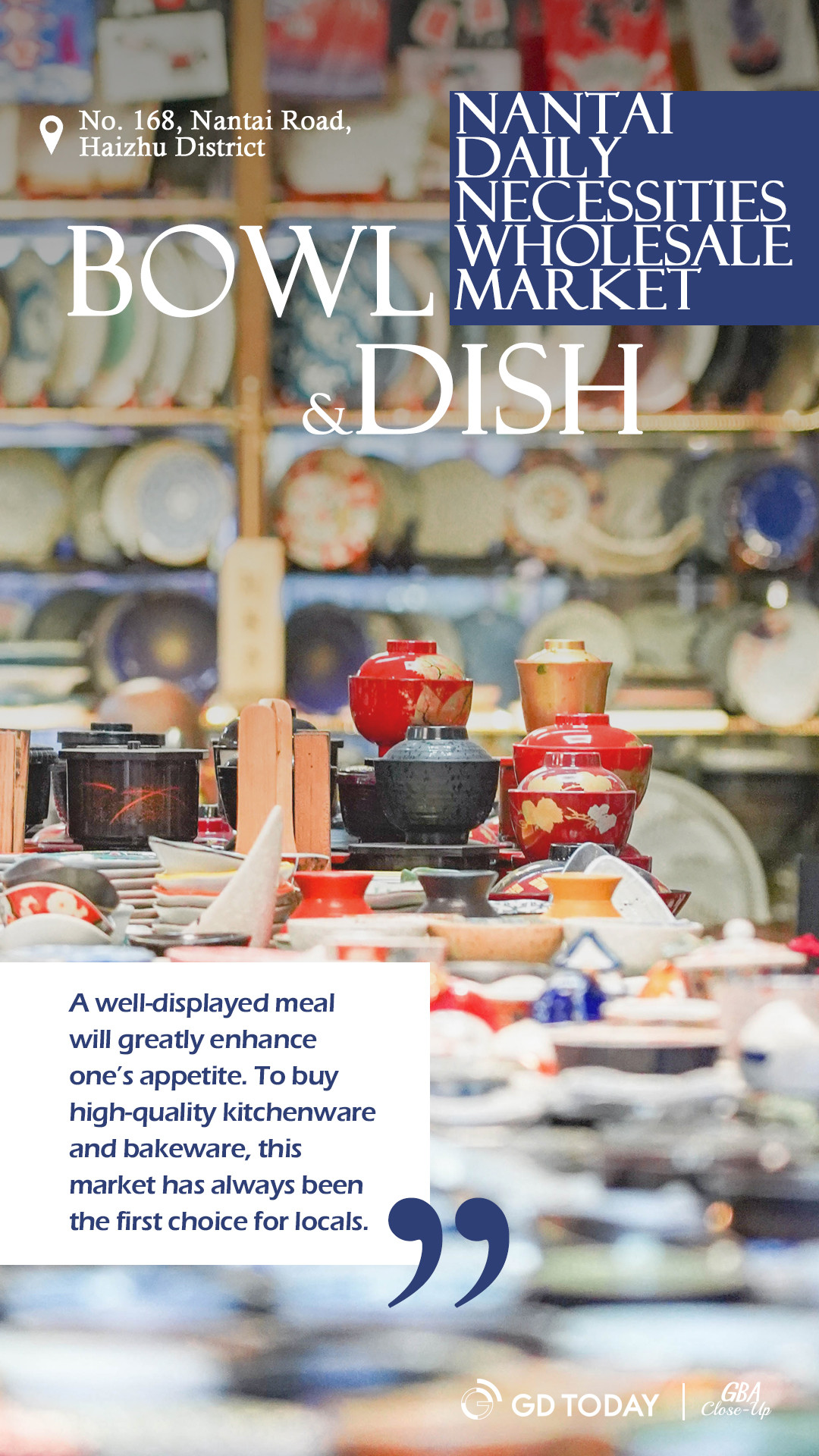 Nantai Daily Necessities Wholesale Market has nearly 400 shops, selling a wide range of goods, including ceramic products, baking ingredients, hotel supplies, beverages and snacks.
Among them, affordable and creative tableware is the most attractive. Bowls, spoons, sauce plates, flat plates and water cups are different in sizes and styles. Some of them are snapped up online, some are made in a Japanese dish style while there are others with lovely designs.
It is also a paradise for baking lovers. The tools and ingredients used during the baking process are all available here. Everything can be retail or wholesale, and please feel free to choose whatever you like.
Address: No. 168, Nantai Road, Haizhu District, Guangzhou, Guangdong Province
How to get there: Exit C, Jiangtai Lu Station, Metro Line 2
Relevant news:
Inside market | Do you know where to find these specialized wholesalers in Guangzhou?
Author| Fanny, Jolie (Intern), Catherine (Intern)
Poster| Mia, Alice
Editor| Wing, Steven, Will, Jerry