Grain in Ear (Chinese: 芒种) begins on June 6 this year and ends on June 20.

It is the 9th solar term of the 24 solar terms in a year. When the sun reaches the celestial longitude of 75°, the Grain in Ear period starts. There is an old saying: "Seize the day in spring, while seize the hour in summer." It says people are busy with both planting and harvesting in summer, especially during the period of Grain in Ear.

The 24 solar terms were created by the ancient Chinese to carry out agricultural activities. During the period of Grain in Ear, it is time to sow rice in the south and to reap wheat in the north. It also coincides with the period of gaokao, or national college entrance exam. Like Grain in Ear, gaokao is also a time to sow and to reap for the seniors in high school.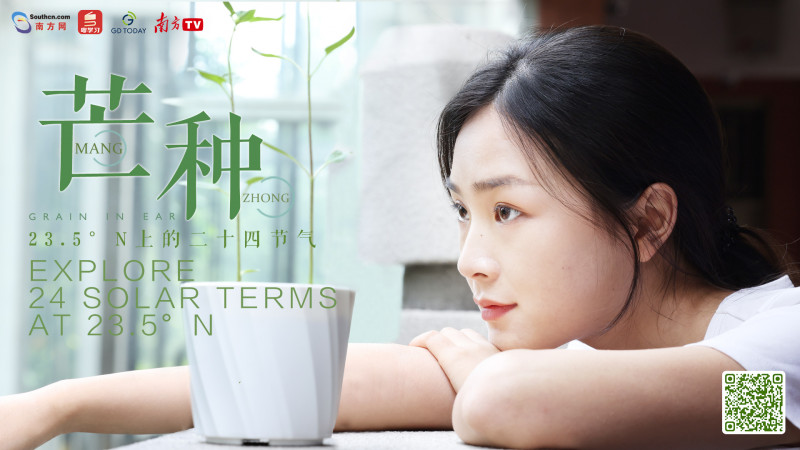 Related news:
Grain Buds | Explore 24 solar terms along the Tropic of Cancer
Start of Summer | Explore 24 solar terms along the Tropic of Cancer

Grain Rain | Explore 24 solar terms along the Tropic of Cancer

Clear and Bright | Explore 24 solar terms along the Tropic of Cancer

Spring Equinox | Explore 24 solar terms along the Tropic of Cancer

Awakening of Insects | Explore 24 solar terms along the Tropic of Cancer

Rain Water | Explore 24 solar terms along the Tropic of Cancer

Explore 24 solar terms at 23.5°N

Presented by Southcn.com & GDToday

Planning: Zhang Chunqing
Coordinating: Zhao Yang, Li Lin
Supervising: Xie Miaofeng, Zhu Jing, Ou Xiaoming
Script: Huang Aiming, Wang Peirong
Actress: Yang Zhengfang
Filming: Zhang Qida, Li Jiangrui

Video editor: Zhang Qida
Poster: Wu Junli
Coordinator: Lin Ruoyun
English translation: Monica Liu
English editor: Wing Zhang, Jerry Grey
Special thanks to Guangdong Guangya High School