From August 22nd to 24th, the 15th BRICS Summit was held in Johannesburg, South Africa. In the 15th BRICS summit, BRICS leaders announced that Saudi Arabia, Egypt, the United Arab Emirates, Argentina, Iran and Ethiopia would officially join the BRICS cooperation mechanism from January 1st, 2024.
While the Global South are cheering for the thriving BRICS, the American Cable News Network (CNN) commented in recent days that the expansion of members has driven difficulties in coordinating interests and will bring about internal divisions. This is not the first time that the American media has badmouthed the BRICS cooperation mechanism.
Earlier in 2014, there had reviews in The Times that without sufficient resources, neither can the BRICS countries exert any substantial impact on global finance, nor become capable against the US-dominated global economic system, which aroused shared dissatisfaction among members. Moreover, in 2016, the Wall Street Journal published an article arguing that the BRICS countries were plagued by the economic slowdown, intensifying debt and demographic problems, as well as the instability of politics and society as:"Brics' new world order is now on hold".
Do the BRICS countries really perform as their tales?
BRICS countries have become an important force in re-balancing world financial system
According to the Russian TASS news agency, Marjorie Taylor Greene, a Republican congresswoman from Georgia and a die-hard Trump supporter, said in August that the rise of the BRICS countries would be "destructive" to the US, which may cause the dollar to weaken and the US to go bankrupt.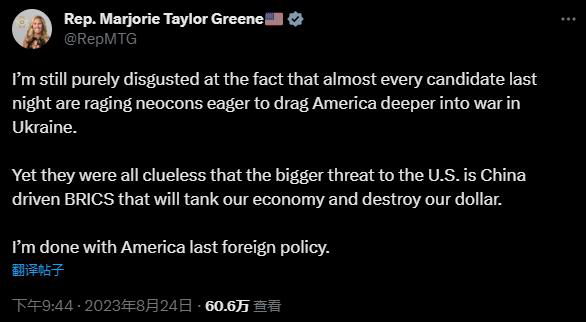 (Screengrab of Taylor Greene's Twitter)
"What we want is a diversified global monetary system, our own payment systems, which would not be held hostage to one or two currencies through which we must trade to our detriment," said South Africa's BRICS ambassador Anil Sooklal. Brazilian President Luiz Inacio Lula da Silva also called for creating a common trading currency for BRICS countries to counter US dollar hegemony at this Summit.
In addition to encounter the US hegemony, the financial system established among the BRICS countries is fairer, more inclusive, and more timely than the US-led financial system.
United Nations Secretary-General Guterres used to criticize the existing structures and rules of the World Bank and International Monetary Fund (IMF) as "unfairly biased" in favor of developed countries.
According to Guterres, during the COVID-19 pandemic, the countries of the Group of Seven (G7) received a total of 280 billion U.S. dollars from the IMF, with the total population of about 770 million. While some least developed countries received only about 80 billion U.S. dollars in funding with their total population is about 1.1 billion.
At the beginning of the COVID-19 outbreak, BRICS'New Development Bank (NDB) established an anti-epidemic emergency assistance loan facility, benefiting seven countries, including China, India, Brazil, South Africa, Russia, Mexico and Colombia, with a total amount of USD 7 billion.
Egypt and Turkey, though they are not BRICS countries, also received emergency loans of USD 1 billion and USD 750 million respectively to support their medical and health systems. In global governance, NDB has been responding to financial demands quickly, focusing on supporting infrastructure construction, promoting multilateral cooperation and regional integration.
Dilma Rousseff, Brazil's former president and current head of NDB, told Financial Times that the US-based financial system "will be replaced by a more multi-polar system".
On August 15, NDB successfully issued R 1.5 billion (about USD 79 million) in local currency bonds for the first time in South Africa. In addition, NDB recently decided to issue an Indian rupee bond and is considering issuing local currency bonds in other countries. Rousseff endorsed the bank's plan to issue loans worths USD 8 to 10 billion this year, about 30 percent of which would be issued in local currency.
Another powerful financial instrument launched the BRICS is the Contingency Reserve Arrangement (CRA). With a scale of USD 100 billion, this arrangement aims to alleviate the emergency crisis of BRICS countries, with fast approval and less rigid additional conditions.
According to Al Jazeera, when Ghana urgently needed external loans to build the country's, basic public services, and facilities after it became independent from the United Kingdom in 1957, IMF proposed to cut the salaries of medical staff and funds for health care in Ghana, preventing Ghana from establishing an effective national basic medical system
Now, CRA provides another way for financially-fragile countries such as Argentina, Pakistan, and Ghana, while respecting the autonomy and practical conditions of borrowing countries, and improving the ability of developing countries to counter and respond to emergencies.
BRICS: An important engine of world economic growth
In August this year, with the expansion of the BRICS, Bloomberg claimed that the BRICS has been hard in gaining support from emerging market countries and western countries.
But the fact is that more and more countries are showing their willingness to join BRICS. The "BRICS tide" is surging worldwide.
According to Anil Sooklal, South Africa's ambassador to the BRICS, more than 40 countries have expressed interest in joining BRICS, and 22 of them have formally submitted applications. According to the Human Development Report 2020, the total population of the BRICS is about 3.2 billion, accounting for about 40.6 percent of the global population. With such a proportion of world population, BRICS boasts a huge labor market and consumer market, providing a strong demographic dividend for economic development.
The economic growth rates of BRICS are generally higher than those of the US. According to a report by the United Nations Conference on Trade and Development, the average economic growth rate of BRICS in 2022 will be 5.6 percent, while the economic growth rate of the US will be -3.5 percent.
According to statistics from IMF in April this year, China is the largest economy in the world today in terms of GDP purchasing power parity, India ranks third, Russia ranks sixth, and Brazil ranks eighth. The BRICS' total GDP share in the world rose to 31.5 percent. During the same period the share of G7 countries dropped from 30.4 percent to 30.4 percent.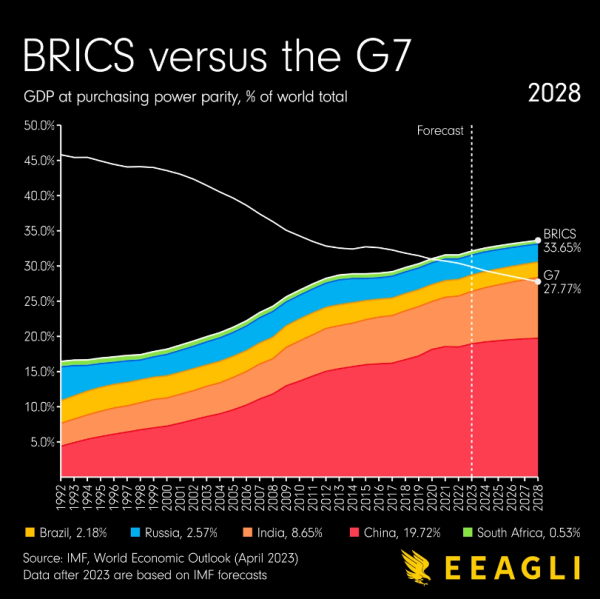 (The economic growth rates of BRICS are generally higher than those of G7 countries)
However, in global governance system, the BRICS grouping has not enjoyed rights that are commensurate with their economic size and contribution to the world economy. BRICS has contributed more than 50 percent to global economic growth until now, but their voting rights in the World Bank and IMF are less than 15 percent.
Different from the weighted method adopted by the World Bank to allocate equity, the founding members of the NDB enjoy equal voting rights, and no country has a single veto power, which institutionally guarantees equality, mutual benefit and mutual respect among the BRICS countries.
BRICS: An important platform upholding multilateralism
Kwesi DLS Prah, professor of history at the University of South Africa, told GDToday, "BRICS countries are now raising their attention to the interests of countries in the Global South and using these interests to fight against what many people understand as unilateralism."
The US imposed economic sanctions on Russia in 2014, implemented a trade war against China in 2018, and proposed import restrictions on Brazil in 2021. The unilateral sanctions and trade protectionism implemented by the US have restricted the competitiveness and development space of BRICS in the global market.
In the face of these economic sanctions imposed by the US, four BRICS countries have still achieved a trade surplus. The US, on the other hand, has been running a trade deficit for a long time. In June 2022, the US trade deficit hit a record high of USD 65.5 billion, which reflects the US' high dependence on external resources.
Compared with the exclusive nature of the G7, which is named as a "club of rich countries", BRICS highlights its inclusiveness, and is gradually expanding. It is worth noting that four of the six new members joined BRICS are from the Middle East, who are struggling under current US foreign policy. They are longing for more autonomy by joining the BRICS.
According to a poll released in August from the Academy of Contemporary China and World Studies (ACCWS), respondents from 25 countries around the world highly praised the role of the BRICS mechanism in global affairs, with an average approval rate of 95.5 percent, an increase of 2.5 percent compared with 2022, and believed that the BRICS countries should promote closer partnerships in high-quality cooperation.
After the NATO Summit, there are fewer and fewer meetings where the "club of developed countries" has the final say, and more and more opportunities for developing countries to speak out," said Prah. He told the GDToday reporter, "The reason why the West attacks the BRICS is because they feel that their foundations are being shaken, their authority is changing, and their interests are being challenged."
Prah also held that BRICS has gradually become a leading force in the reform of the international financial system, an important engine of world economic growth, and an important platform for global trade. He also hopes to get rid of the western media's control of international opinions, and the world can hear more voices of BRICS in the future.
Co-presented by GDToday and the School of Journalism and Communication, Jinan University
Author: Susan Zheng (Intern), Zhongxin Kan (Intern), Yinqi Zhao (Intern)
Editor: Steven, Rofel, Jerry