The drama "Huo Dong Bian Ren Xing (活动变人形)", winner of Best Drama of the fifth Chinese Theatre Award, will be staged at Guangzhou Opera House on May 13 and 14. Do you want to get a closer look at the costumes and the ingenious design of the sets and props? Follow our video to find out!
About "Huo Dong Bian Ren Xing"
This drama is adapted from a novel of the same name, unveiling the contradictions and cliché as well as some progressive perceptions emerging during the ups and downs of Chinese society in the 20th century.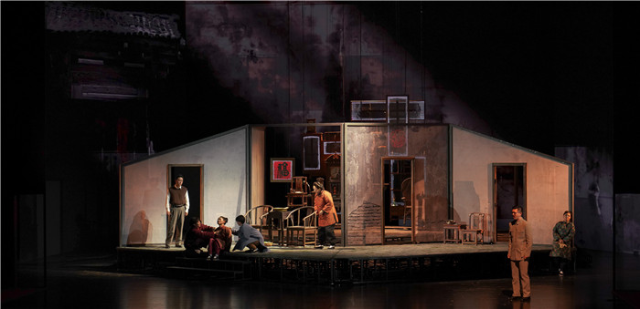 A stage photo of Huo Dong Bian Ren Xing (Photo provided to Newsgd.com)
Ni Wucheng, one of the protagonists of the drama, is a Chinese intellectual born in the 20th century when traditional Chinese ideas conflict with western ones. After returning from his studies abroad, Ni determines to upgrade his wife of an arranged marriage with western thoughts, to cultivate his children in the ways he learns from the western world and to lead a more civilized life with his family. Unfortunately, at the backdrop of a turbulent society at that time, he fails his attempts over and over again.
Author | Holly
Video | Axin
Editor | Wing, Olivia, Monica, Will, Jerry