Editor's Note: Guangdong's 2023 Two Sessions kicked off on January 10. According to the 2023 Government Work Report delivered at the sessions, Guangdong will optimize the foreign trade structure, encourage more foreign investment, improve outsourcing quality, develop close international economic relations, and attract more global talent. Many multinationals in Guangdong have seen great development opportunities. Now GDToday is launching a special series "Boss Talk on Guangdong". Please stay tuned.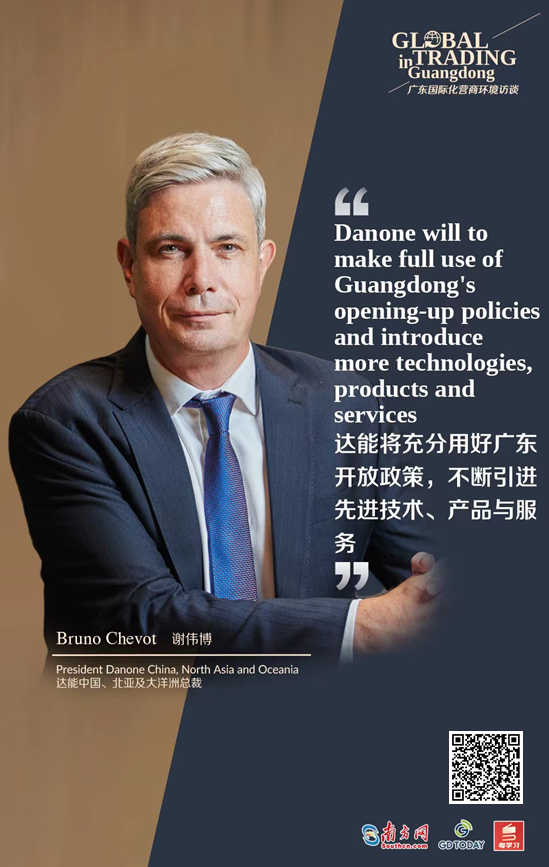 "Danone's investment in China started in Guangdong. In recent years, Danone's various businesses in Guangdong have developed well, especially the beverage division, which has made significant progress. Based on the beverage business headquarters, we continue to increase investment in Guangdong", Bruno Chevot, President Danone China, North Asia and Oceania, told GDToday, expressing his confidence in investing in Guangdong.

Danone has a long history of involvement in Guangdong and has already produced a number of fruitful results. In August 2019, Danone's Early Life Nutrition Division set up its first self-owned cross-border e-commerce warehouse in Nansha, Guangzhou. In June 2020, Danone China Beverage established its South China Sales Headquarters in the Guangzhou Development Zone.
Last month, Danone (China) Food & Beverage Co., Ltd. has been recognized as one of the first regional headquarters of multinational corporations in Guangdong. "It is a recognition of Danone's roots in Guangdong, and it also encourages Danone to continue to deepen its development in the Guangdong-Hong Kong-Macau Greater Bay Area," Chevot said.
At the same time, Chevot was listed as one of Guangdong's second batch of global investment consultants at the 2022 Global Investment Conference for the Guangdong-Hong Kong-Macao Greater Bay Area. Guangdong hopes consultants can help promote the business environment of Guangdong, convey business information to the global community, and attract top projects and talents across the globe to invest and settle in Guangdong.
Chevot has been deeply impressed by Guangdong's strong business environment. "Guangdong boasts a favourable business environment, and government departments at all levels are pragmatic, efficient, open, and transparent. We are truly impressed by the efficient service and support offered across government departments in Guangdong Province."
Speaking of Danone's plans in Guangdong, Chevot said that his company would continue to make full use of the policies, including the free trade zones and the cross-border e-commerce comprehensive pilot zones, seize the opportunity of the integrated development of the GBA, continue to introduce advanced technologies, products and services, meet the growing consumer demand for healthy living, and achieve better development in a more open and stable business environment.
Reporter丨 Nan
Editor丨 Wing, Olivia, James