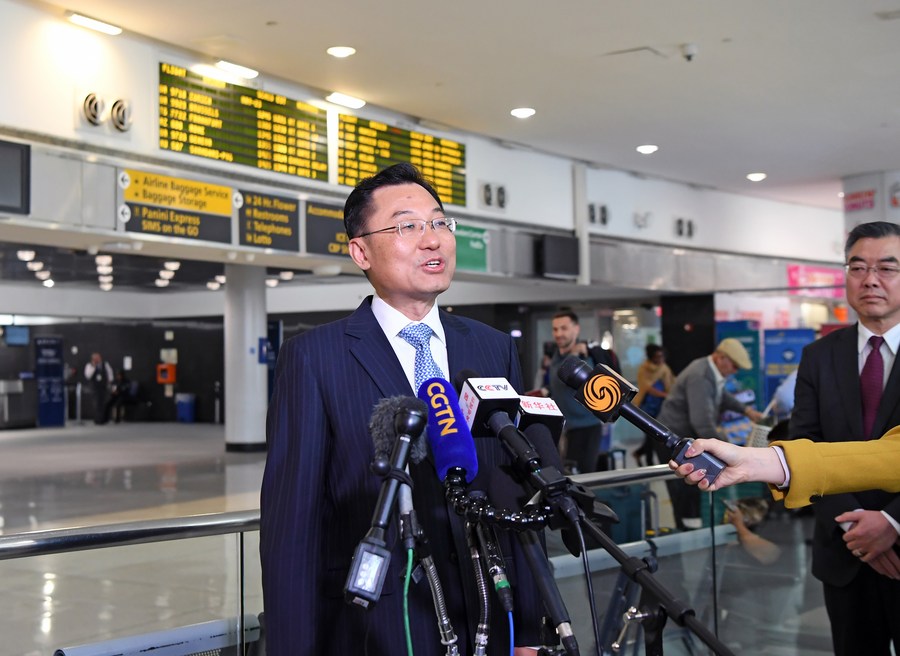 Xie Feng, China's new ambassador to the United States, delivers brief remarks to the media upon his arrival at the John F. Kennedy International Airport in New York, the United States, on May 23, 2023. Xie Feng on Tuesday urged Washington to work with China to enhance dialogue, manage difference and promote cooperation, so as to bring China-U.S. relations back to the right track. (Xinhua/Li Rui)
Bringing China-U.S. relations back onto the right track of sound and steady development is an arduous task that brooks no failure.
Only by embracing the essence of mutual respect, peaceful coexistence and win-win cooperation and with genuine sincerity, as New Chinese Ambassador to the United States Xie Feng has pointed out, could China-U.S. relations be brought back to the right track.
The Chinese envoy's Tuesday arrival in the United States to take up the ambassadorship comes at a time when the China-U.S. relationship is at its lowest ebb in decades.
Xie's landing, in the wake of a string of recent high-level meetings and exchanges between the two countries, is widely viewed as a sign of detente that is pulling the strained relationship from the brink.
In recent years, hawkish Washington decision-makers have got ever tougher on China, bringing already heightened tension to a head. These warmongers, oblivious to the interdependence and complementarity of the two economies, have chosen to turn a blind eye to the win-win nature of their cooperation, attempted to define the immensely significant relationship with "zero-sum" paranoia, and wilfully trod China's red line by manipulating the Taiwan question.
At this critical juncture, both in bilateral and global terms, great political wisdom and sensible judgment are needed more than ever to fathom the big picture of China-U.S. relations, and to choose mutual benefit over zero-sum game or the I-win-you-lose approach.
The three principles, set forth by Chinese President Xi Jinping in handling China-U.S. relations, represent the fundamental and right way for the two countries to get along with each other in the new era.
The two countries should respect each other's social systems and development paths, respect each other's core interests and major concerns, and respect each other's right to development.
That entails treating each other as equals, properly handling their differences, and seeking common ground while reserving differences.
Washington has lately been bent on toxic demagoguery, not least by peddling the so-called "democracy versus autocracy," a fallacious and deceptive narrative only to stir up ideological confrontation and hostilities between the two sides.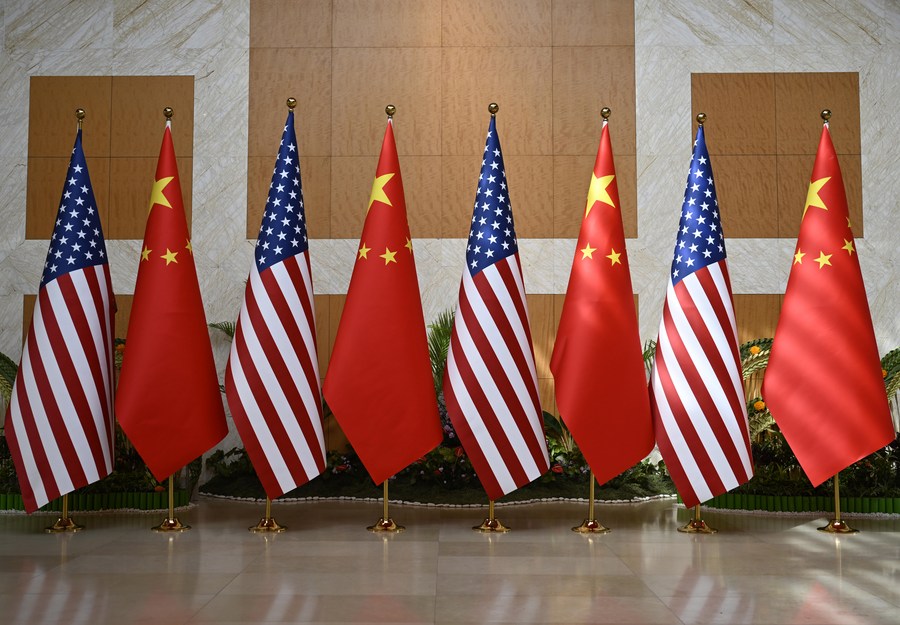 Photo taken on Nov. 14, 2022 shows the national flags of China and the United States in Bali, Indonesia. (Xinhua)
Also an imperative is for both sides to work together with genuine sincerity to ensure their peaceful coexistence. With their interests deeply intertwined, China and the United States stand to gain from cooperation and lose from confrontation.
In fact, over the decades, cooperation in various sectors has generated great dividends for the two peoples. And despite heightened tensions and the ill-willed decoupling rhetoric, two-way trade in goods hit a record 690.6 billion U.S. dollars last year.
And in this age of hyper-interdependence, a sound and stable China-U.S. relationship would serve as a bulwark in the world's collective fight against climate change, an existential challenge that concerns the very survival of humanity.
Now that the two sides have kept their lines of communication open, the United States needs to take cognizance of the fact that talk for the sake of talk will do little to remove the obstacles in the path of a sound relationship. It should also be aware that Beijing will not buy its double-dealing ploy of seeking cooperation and communication while containing China in the name of "competition."
Bringing China-U.S. relations back onto the right track of sound and steady development is an arduous task that brooks no failure. What the future holds for the two countries and the world at large hinges on whether Washington will, with enough sincerity, refrain from damaging mutual trust, avoid misunderstanding and miscalculation, and take concrete steps to deliver on its promises.