''China has offered Pacific Island countries a different kind of aid from that provided by traditional donors such as Australia and New Zealand,'' said David Morris, Vice President of UN Asia Pacific Sustainable Business Network, ''China tends to invest in infrastructure that the local community needs, instead of giving grand aid.''
''China has offered Pacific Island countries a different kind of aid from that provided by traditional donors such as Australia and New Zealand,'' said David Morris, Vice President of UN Asia Pacific Sustainable Business Network, ''China tends to invest in infrastructure that the local community needs, instead of giving grand aid.''
He called upon the major powers in the region to collaborate in helping the Pacific Island countries (PICs) and not to be driven by ''geopolitical imperative that we must see each other as threats''.
David Morris is a former Australian and multilateral diplomat. Until recently, he was based in Beijing representing the Pacific Islands Forum as Pacific Trade and Investment Commissioner, promoting the sustainable development of Pacific Island countries.
China offers a different approach to helping PICs
From Morris's perspective, the aid from traditional donors such as Australia and New Zealand has been helpful and welcomed by PICs, but it has also strengthened the countries' dependency on the aid, instead of helping with the establishment of self-sufficiency and sustainability.
''There is an old saying: You can give someone a fish which helps to feed them that day, but if you want to help them, you need to teach them how to fish. The aid has been of assistance. In a sense, in the Pacific Islands, we've been giving lots of fish,'' Morris elaborated.
''This is where China comes in with a very interesting different model where it tends not to give grand aid, but often to lend money that is to be invested in infrastructure,'' he furthered, ''If you help to build infrastructure that the local community needs, that will help with industry development and infrastructure connectivity. As we've seen across Asia, it is one of the keys to development.''
According to Fact Sheet: Cooperation Between China and Pacific Island Countries released by the Chinese Foreign Ministry in May, in recent years, China has helped accelerate the connectivity of PICs by carrying out a series of key infrastructure projects, including the Independence Boulevard in Papua New Guinea, Malakula island highway in Vanuatu, renovation of Tonga national road and Pohnpei highway in Micronesia.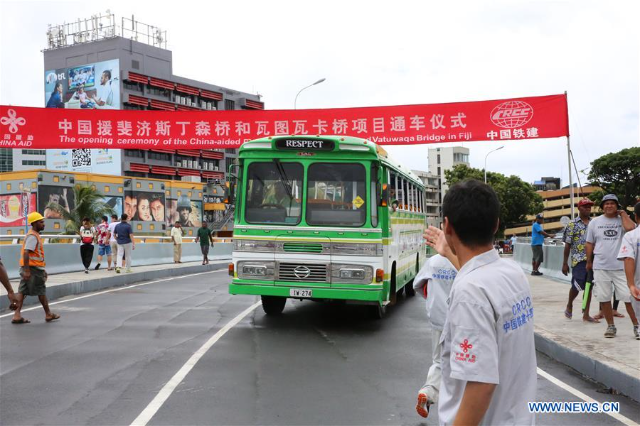 The Stinson Parade Bridge and Vatuwaqa Bridge in Fiji's Suva are aid projects funded by China, in a bid to ease the traffic congestion and make Fijians' life easier and better. (Photo/Xinhua)
Morris also suggested all the donor countries should build channels of communication and collaborate. ''This not only helps the region better but will also help our whole process of aid as well,'' Morris said.
''Australia has long looked at the world through American eyes''
On June 17, Australia's new Foreign Minister Penny Wong met Solomon Islands Prime Minister Manasseh Sogavare, which is her third visit to the South Pacific region in less than a month since taking office. Sogavare has sought to reassure Australia there will not be a military base in PICs as a result of its security pact with China, media reported.
''There are some isolated security risks that will arise from time to time in the Pacific Island countries. It's understandable that the leaders will want to try and address the risks.'' Morris added, ''As China's economic interests are more and more global, we could expect it will also look to protect its own security more in the future, including having security cooperation in Pacific Islands.''
Australia and US have recurrently expressed their ''concerns'' over China's security cooperation with PICs, especially the security agreement between China and the Solomon Islands, although Chinese State Councilor and Foreign Minister Wang Yi emphasized China had come to the South Pacific region to build roads and bridges, not to station troops or build military bases, during his 10-day diplomatic tour of the South Pacific.
Morris pointed out that China's cooperation with PICs would cause anxiety to Australia and the US, because they regard themselves as the traditional protectors of the region. ''In the Pacific, we need to find ways to understand each other better and to not be driven by geopolitical imperative that we must see each other as threats,'' Morris warned.
He mentioned Australia's joining in the AUKUS as ''a breach of trust with the region''. ''I think the criticisms from the Solomon Islands that Australia didn't consult on AUKUS is quite fair,'' Morris went on, ''It came as a shock to Australians. Even the opposition in Australia was only given 24-hour notice of the announcement.''
In Morris's view, Australia has long looked at the world largely through American eyes, rather than through Australian eyes. ''This has been a risk in the past, and poor government decisions have taken Australia into wars in Iraq and Vietnam to please the United States.''
He expects that the new Australian government will again pay attention to multilateralism and develop a more collaborative and cordial relationship with its neighbors.
''Again, it'll be the kind of country that China will want to get along with, rather than to be in dispute with,'' Morris said.
Author | Lydia Liu
Video | Qin Shaolong
Poster designer | Mia
Editors | Wing, Steven, Jasmine, Jerry