The three-day International Finance Forum (IFF) 2022 Annual Meeting concluded on Dec 4 in Guangzhou's Nansha. Focusing on the new opportunities brought by the national strategy and the Nansha Plan (the Overall Plan for Promoting Comprehensive Cooperation among Guangdong, Hong Kong and Macao by Further Deepening Opening-up in Nansha District of Guangzhou), industry experts, economists, and academics from home and abroad attended and shed light on the industrial upgrading and the construction of an international financial hub in Nansha.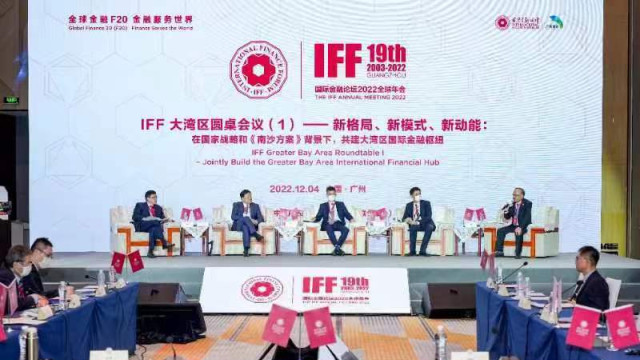 (Photo provided to GDToday)
Nansha announced at the event that it will establish and operate the Global Green Growth Center as well as Guangzhou Nansha cross-border wealth and asset management service platform, through which the Nansha offshore financial center will also be established.
According to the strategic cooperation framework agreement signed by the Guangzhou Nansha Economic and Technological Development Zone, Beijing International Finance Forum, and BNR Global Limited (Republic of Korea), the Global Green Growth Center aims to gather global resources to boost Nansha's industrial competitiveness in green finance, climate investment and financing, and carbon finance. The project will introduce international organizations, multilateral and international financial institutions as well as world-renowned green finance enterprises to build a platform for international exchanges and cooperation.
In addition, the Financial Work Bureau of Guangzhou Nansha Economic and Technological Development Zone and International Finance Forum (Guangzhou) Co., LTD signed a strategic cooperation framework agreement on the event. Both sides will jointly promote the construction of the Guangzhou Nansha cross-border wealth and asset management service platform.
The platform will exchange and introduce financial resources from Hong Kong, Macao, and overseas markets, undertake investment and financing functions at the district level, and provide investment consulting and intermediary services. The platform is a basic service facility for global wealth management and operation, based on data intelligence and blockchain technology.
According to the Nansha government, the IFF Annual Meeting has been held in Guangzhou for six consecutive years since 2017, providing a platform for global dialogues in the financial sector.
Nansha's added value of the financial sector reached about 13 billion RMB in the first three quarters of 2022, a year-on-year growth of 14.3%. Thus far, nearly 7 thousand financial enterprises have settled in the district.
Antony Leung Kam-sung, Vice Chairman of the International Finance Forum, said that Hong Kong has a well-developed financial regulatory system that is familiar to most investors, as well as plenty of international and domestic financial professionals and institutions. He recommended giving full play to the advantages of Hong Kong, and gradually expanding the use of RMB cross-border financing.
Bai Hexiang, President of the Guangzhou Branch of the People's Bank of China, said that the financial support for scientific and technological innovation will be strengthened to accelerate the construction of a sci-tech innovation industrial base in Nansha.
Author丨Nina, Yang Yanping
Editor丨Wing,Steven, Jasmine, Jerry