Guangdong's exports reached a record high of more than 2.55 trillion RMB in the first half of the year, increasing by 3.6 percent year on year, data from Guangdong Sub-administration of the General Administration of Customs of the People's Republic of China (GACC) showed.
During this period, the province's foreign trade volume numbered 3.86 trillion RMB, with an import volume of 1.31 trillion RMB.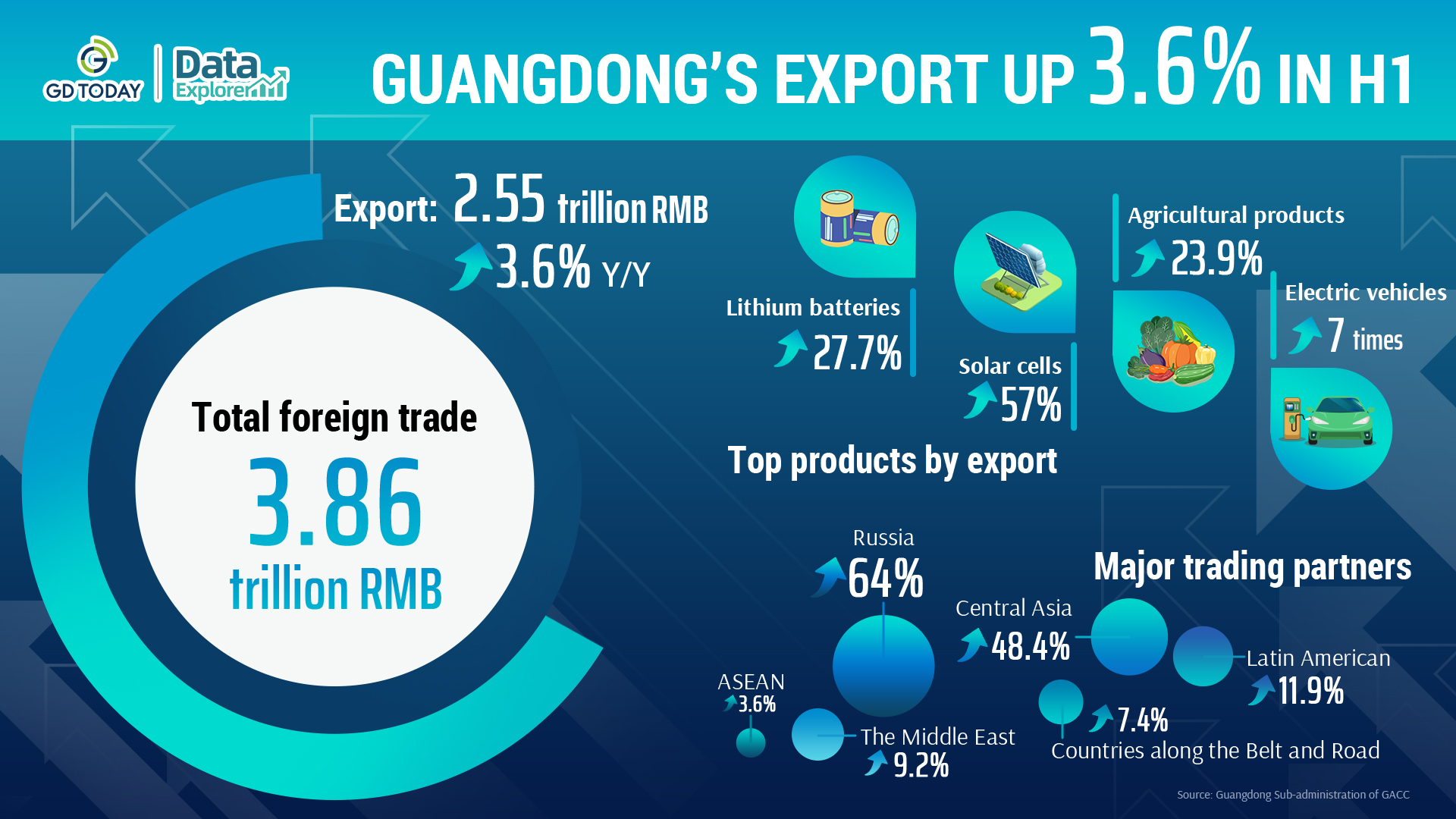 According to the Guangdong Sub-administration of GACC, Guangdong's exports to BRI-related countries saw year-on-year growth of 7.4 percent in the first half of 2023, 8.7 percentage points higher than the province's overall growth rate.
Guangdong's exports to Russia, Latin American countries, Middle Eastern countries and Central Asia countries also saw a year-on-year increase of 64 percent, 11.9 percent, 9.2 percent and 48.4 percent, respectively, during this period, the authority revealed.
In addition, the province's foreign trade volume with the ASEAN reached 639.16 billion RMB, up year-on-year by 3.6 percent, accounting for 16.6 percent of the province's total foreign trade volume, according to Customs.
Moreover, the top three products by exports—electric vehicles, lithium batteries and solar cells—increased sevenfold, 27.7 percent and 57 percent, respectively, from January to June.
Guangdong's exports of agricultural products also saw a year-on-year export growth of 23 percent in the previous six months. Among them, exports of dried and fresh fruits and vegetables increased by 56.1 percent and 8.3 percent, year-on-year.
Reporter | Nancy Ye
Poster | Mia
Editors | Olivia, Nan, Monica, James