Recently, the 2023 Fortune Global 500 List was released. A total of 25 companies are from the Guangdong-Hong Kong-Macao Greater Bay Area (GBA).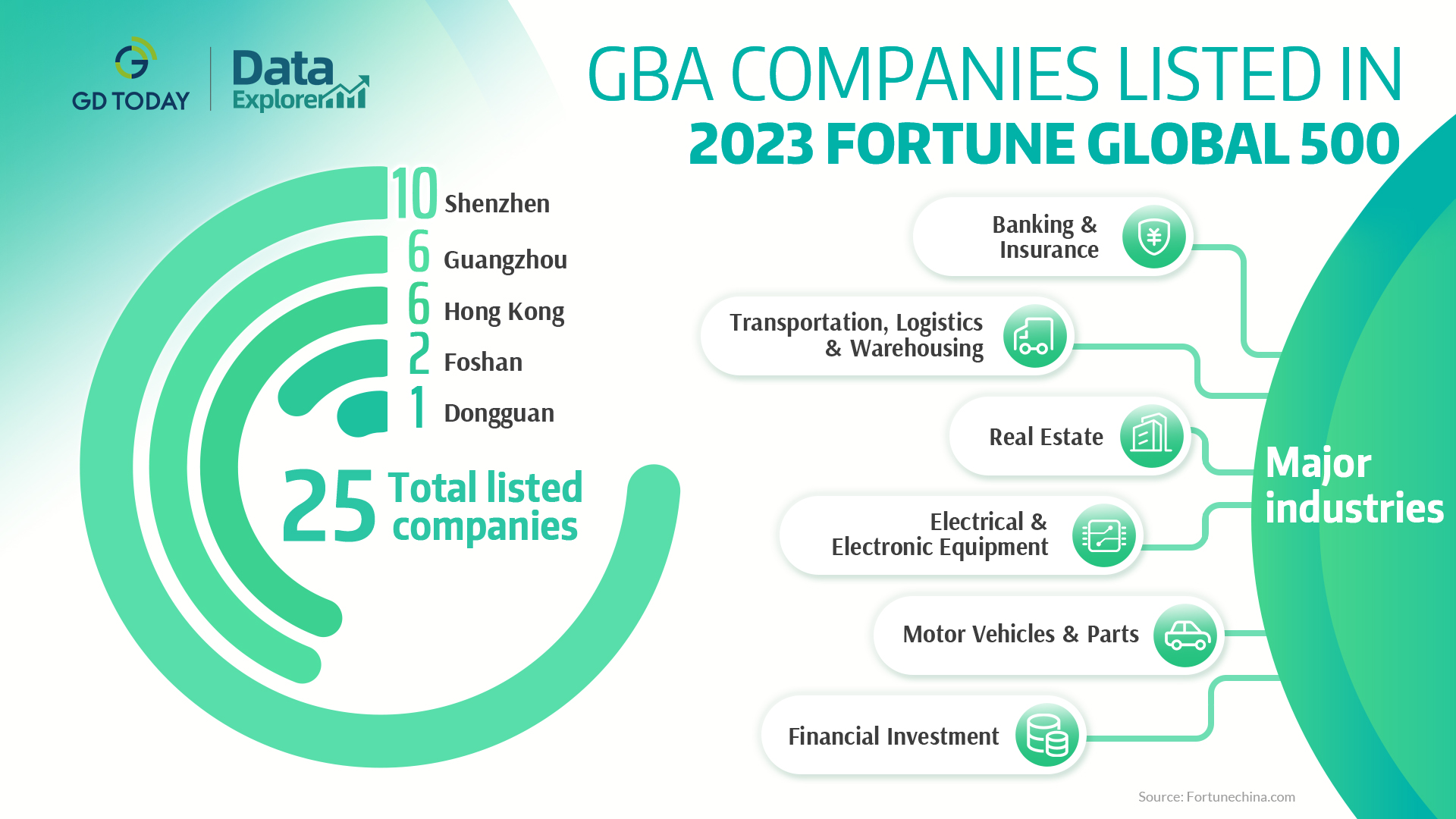 Among these GBA companies, 19 are from Guangdong. Shenzhen boasts 10 of these companies, ranking first in the GBA, followed by Guangzhou (6), Hong Kong (6), Foshan (2), and Dongguan (1).
This year, there are three newcomers, Guangzhou Industrial Investment Holding Group, Guangdong Guangxin Holding Group Ltd., Luxshare Precision Industry Co., Ltd., two of which are based in Guangzhou and one in Dongguan. The industries involved are machinery, finance, electrical and electronic equipment respectively.
According to the list, the top-ranking company of GBA is Ping An Insurance, ranking 33rd, followed by China Resources (Holdings) Co., Ltd. and China Southern Power Grid Co., Ltd., ranking 74th and 83th respectively.
The listed enterprises cover a number of sectors, such as banking and insurance, financial investment, motor vehicles & parts, real estate, electrical and electronic equipment, transportation, logistics and warehousing.
The total revenue of the Fortune 500 companies this year was about 41 trillion USD, up 8.4 percent year-on-year.
The threshold (minimum sales revenue) to enter the ranks soared from 28.6 billion USD to 30.9 billion USD. Meanwhile, with 142 companies on the list, China continues to lead the company count on the Fortune Global 500 list.
Reporter | Fanny, Rina (Intern)
Poster | Mia
Editor | Olivia, Nan, Monica, Jerry