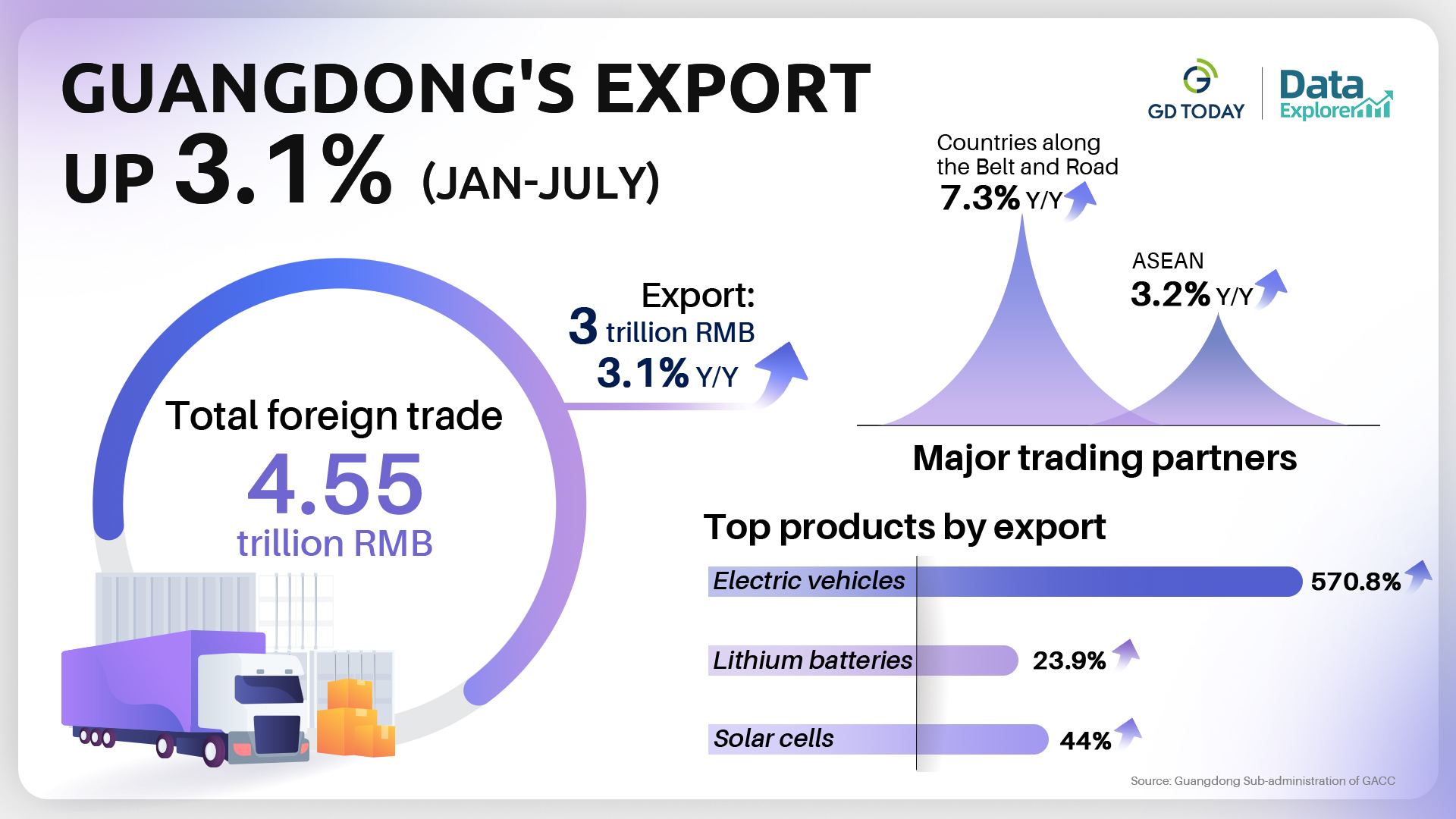 Guangdong's import and export volume reached 4.55 trillion RMB in the seven months ending July this year, representing 19.3 percent of the country's total, data from Guangdong Sub-administration of the General Administration of Customs of the People's Republic of China (GACC) showed.
Specifically, Guangdong's exports grew year-on-year by 3.1 percent to hit 3 trillion RMB, hitting a record high on a year-on-year basis.
According to the Guangdong Sub-administration of GACC, Guangdong's foreign trade with the countries along the Belt and Road (B&R) hit 1.3 trillion RMB in the first seven months, up year-on-year 7.3 percent, accounting for 28.6 percent of the province's total.
The province's foreign trade with the Association of the Southeast Asian Nations (ASEAN), its biggest trade partner, reached 745.6 billion RMB in the first seven months, up 3.2 per cent year-on-year, the authority revealed.
This year marks the 10th anniversary of the Belt and Road Initiative and the second year of Regional Comprehensive Economic Partnership (RCEP). ASEAN countries provide more export preferential policies to China. Take Indonesia as an example, based on the China-ASEAN Free Trade Area, the country has granted zero-tariff treatment on over 700 additional Chinese products, and granted zero-tariff treatment on 65.1 percent of taxable items originating in China. These policies attract more Guangdong-based foreign trade enterprises to explore market in Indonesia.
Electric vehicles, lithium cells, and solar cells still serve as the main growth driver of Guangdong's foreign trade, according to the authority, which increased 570.8 percent, 23.9 percent and 44 percent, respectively, from January to July.
To further promote the export of electric vehicles, lithium cells and solar cells, on August 20, the Guangdong Sub-administration of GACC unveiled 20 measures to boost stable foreign trade growth and optimize the business environment, highlighting that the customs will support the expansion of exports of new energy vehicles and energy storage products, providing more freight trains for export.
Reporter | Nancy Ye
Poster | Mia
Editors | Olivia, Nan, Monica, Abby, Jerry, James