In the first half of 2023, the nine cities in Guangdong province's Pearl River Delta (PRD) accelerated the implementation of various major manufacturing projects to promote industrial transformation and upgrading despite a complex and changing international economic situation.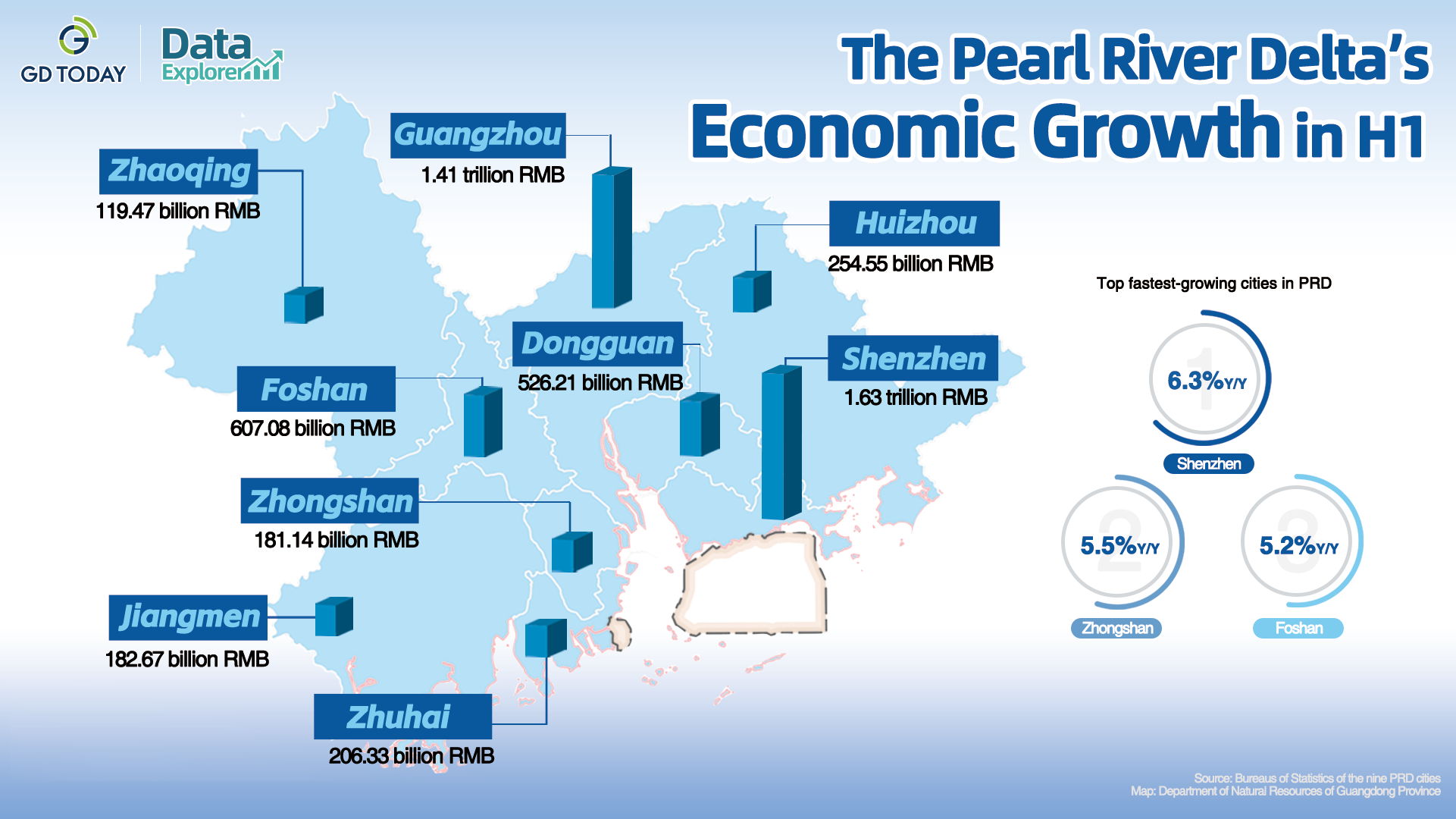 The total GDP of the nine PRD cities, including Guangzhou, Shenzhen, Zhuhai, Foshan, Huizhou, Dongguan, Zhongshan, Jiangmen and Zhaoqing, also nine Guangdong-Hong Kong-Macao Greater Bay Area (GBA) cities in Chinese mainland exceeded 5.12 trillion RMB, accounting for more than 80 percent of the province's total.
Shenzhen takes first place in Guangdong in terms of economic output, with its GDP surpassing 1.6 trillion RMB, followed by Guangzhou with a GDP of more than 1.4 trillion RMB.
With a growth rate of 6.3 percent year-on-year, Shenzhen is also among the top three fastest-growing cities in the province. The other two cities - Zhongshan and Foshan - witnessed a growth rate of 5.5 percent and 5.2 percent, respectively.
Furthermore, Zhuhai, Huizhou and Jiangmen also achieved an economic growth rate higher than that of the whole province during the same period.
In recent years, Guangzhou has been committed to developing ten key industries such as new generation information technology, new energy vehicles, intelligent connected vehicles, intelligent equipment, high-end equipment and bio-medicine.
In the first six months, the output of new energy vehicles increased by 1.1 times, and the number of charging piles also increased rapidly by 21.3 percent in production.
Besides, Shenzhen is gradually becoming a new energy city. Currently, there are about 24,000 new energy-related enterprises in the city, accounting for about 15 percent of its GDP.
The economy of the PRD is characterized by a big volume, a large number of enterprises, and a developed export-oriented economy.
In the future, the industrial chain, supply chain, innovation chain and value chain of the GBA will be further adjusted and integrated with the opening or construction of infrastructure projects, including the Shenzhen-Zhongshan Link, Guangzhou-Dongguan-Shenzhen intercity railway, and Nansha Bridge.
Reporter | Fanny, Rina (Intern)
Poster | Lu Lu
Editor | Olivia, Steven, Nan, Will, James