"May you have prosperity every year! (祝大家年年有余)" Rafael Saavedra and Neslihan Kilavuz, two foreign content creators from Venezuela and Turkey send their warm Chinese New Year blessings to people from all over the world with fried golden pomfret fish cutlet they made in Zhanjiang, the westernmost city in the province of Guangdong.

Zhanjiang, known as the capital of golden pomfret in China, is the largest golden pomfret aquaculture base in China. The city's annual production of golden pomfret reaches 100,000 tons, accounting for about 40 percent of the national total.
In the first three quarters of 2022, the export volume of golden pomfret products in Zhanjiang has reached 201 million RMB, a year-on-year increase of 60.35 percent. The fish can now be found in supermarkets and restaurants in Europe, America, and RCEP member countries.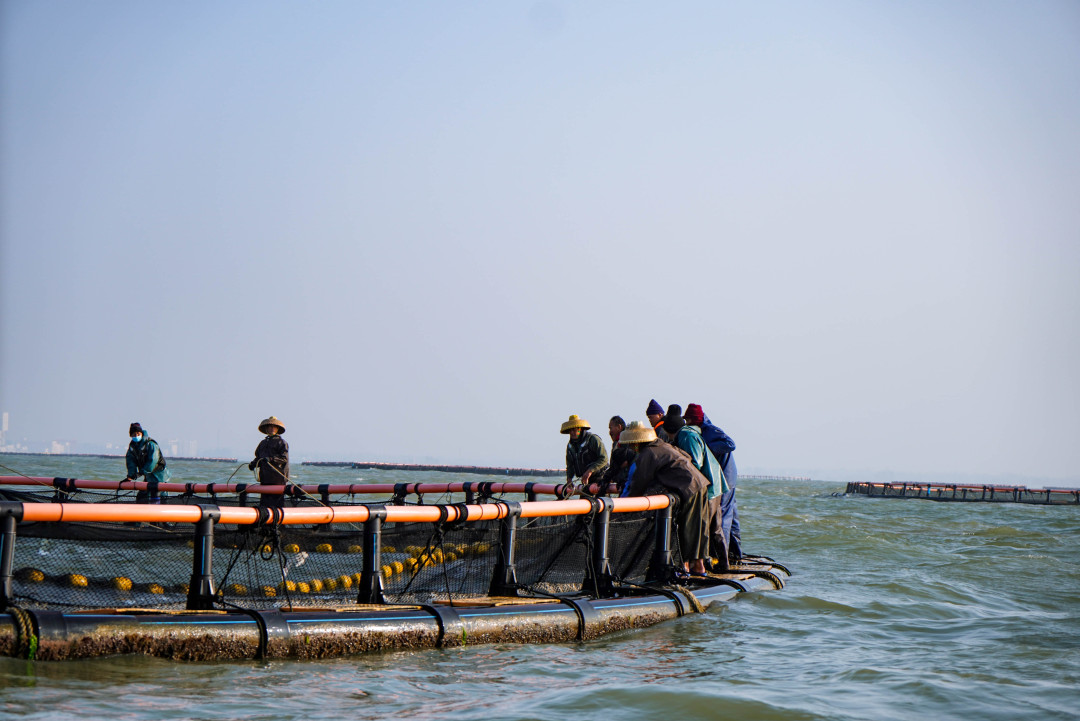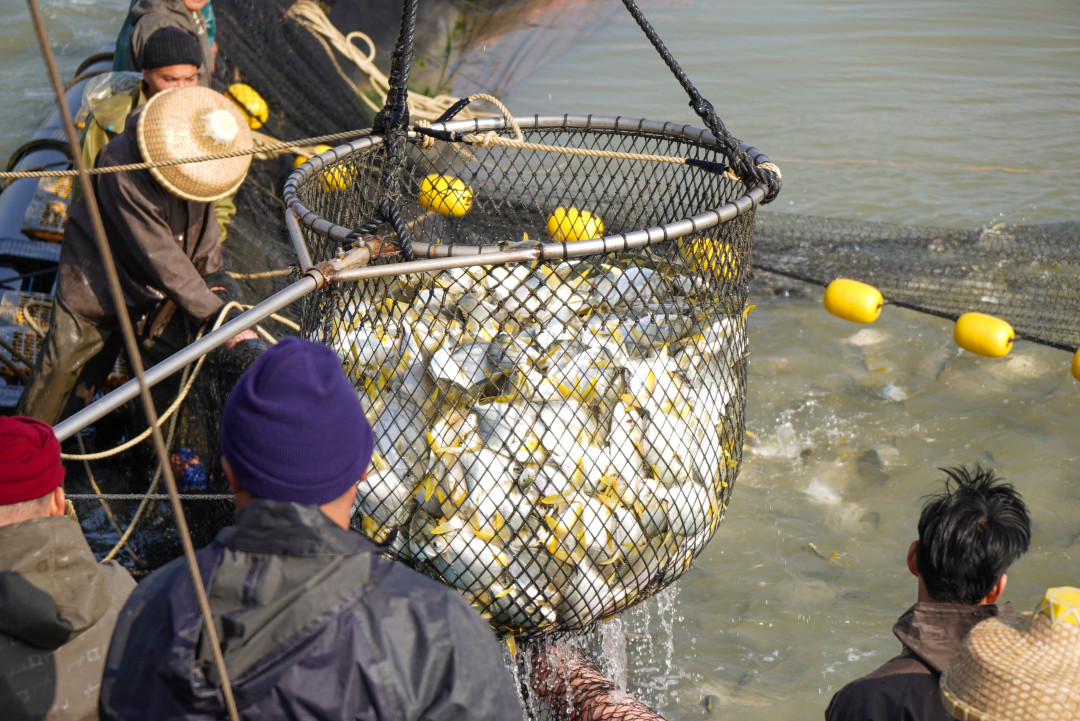 Deep-sea breeding cages in Zhanjiang (Photo: Alice)
Nowadays, the number of deep-sea breeding cages for Zhanjiang golden pomfret has exceeded 3,700. "These fishermen can catch 400kg of golden pomfret in a single net!" Rafael exclaimed when he saw the breeding cages.
And Haiwei No.1, Zhanjiang's famous marine ranch as well as the first deep-sea mariculture platform in the region, has made them even more excited. It is equipped with an advanced balance system, a wide operating platform and cameras above and below water to monitor fish activities in real time, more conducive for researchers to carry out aquaculture experiments.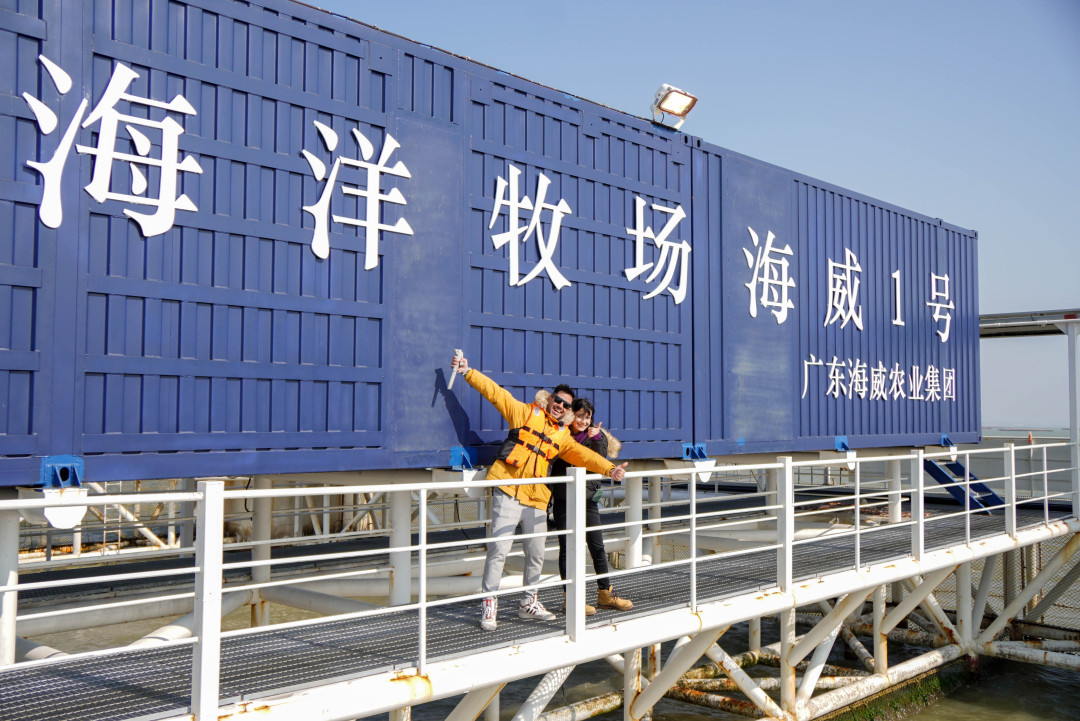 Haiwei No.1 (Photo: Alice)
For the families who want to taste chef-prepared flavor, Zhanjiang have developed about 200 varieties of golden pomfret pre-prepared dishes. In 2022, Zhanjiang golden pomfret pre-prepared dishes was exported to RCEP member countries. "It takes only 5 minutes to make such a complicated dish." After experiencing making golden pomfret pot in the Evergreen Group, Neslihan Kilavuz raved, "So simple to become a Chinese chef!"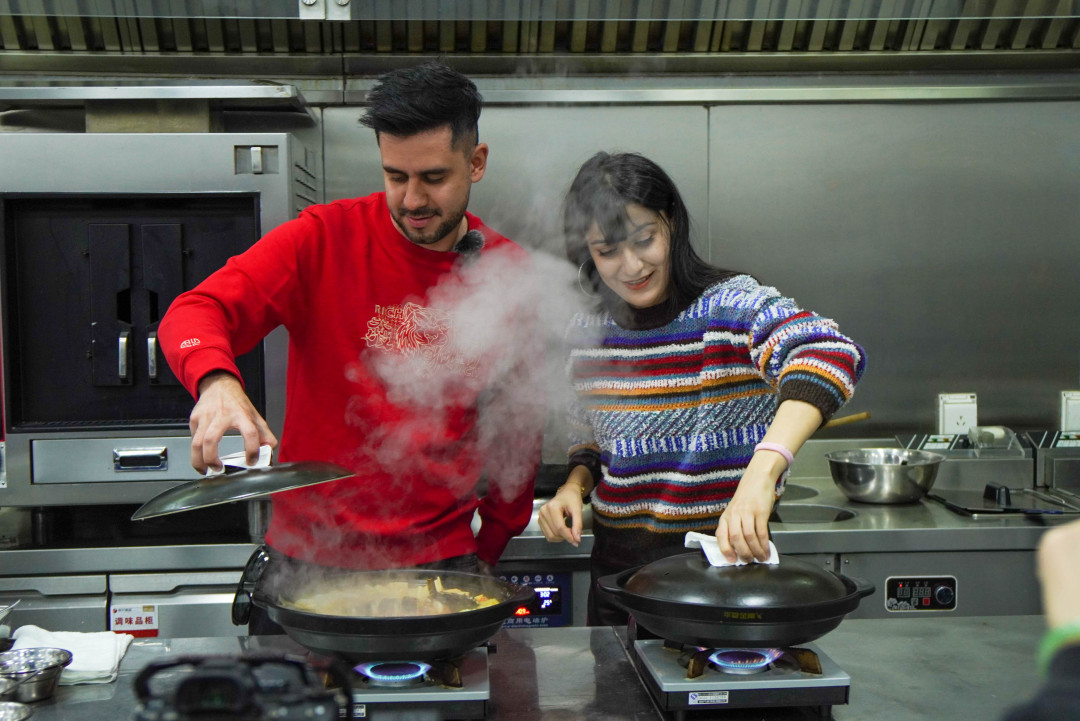 Rafael Saavedra and Neslihan Kilavuz make the golden pomfret pre-prepared dishes
In Zhanjiang, fish is not only a delicacy and economic income, but also one of the symbols of the traditional culture of the Chinese New Year. Fish, a must-have for the traditional Chinese New Year's Eve dinner, carries Chinese people's sincere hope for a better life, which Guangdong now hopes to share with the world, spreading the tradition of Chinese New Year and the common yearning for a better future to global friends.
How did Rafael Saavedra and Neslihan Kilavuz discover the charm of Chinese New Year Fish in Zhanjiang? Click the video to find out now!
Author | Alice, Amber(intern)
Video | Abby, Alice
Editor | Wing, Olivia, Steven, Abby, Jerry