"Have you ever heard that song from a distance, from the other side of the ocean? It is calling on us to set sail." As a steamer blows its whistle, it changes into a peace dove that is flying across the Pacific Ocean. Teenagers from the Guangdong-Hong Kong-Macao Greater Bay Area (GBA) and New York presented a virtual chorus together.
The International Day of Peace, observed around the world annually on 21 September, was adopted by a resolution of the United Nations General Assembly. Meanwhile, the 3rd Guangdong-Hong Kong-Macao Greater Bay Area Culture & Arts Festival fired up the passion for art in the GBA. As a part of the festival, Nanfang Media Group and the Guangdong People's Association for Friendship with Foreign Countries jointly launched the Arts Talk among Global Bay Areas Program.
In the 1st Global Bay Areas Choral Bridge Project, top choirs from the bay areas of both China and the US – Guangdong Experimental Middle School Choir from the GBA and Young People's Chorus of New York City – were invited for the first time to join the Online Chorus to perform the theme song called "A Wish from Across the Sea".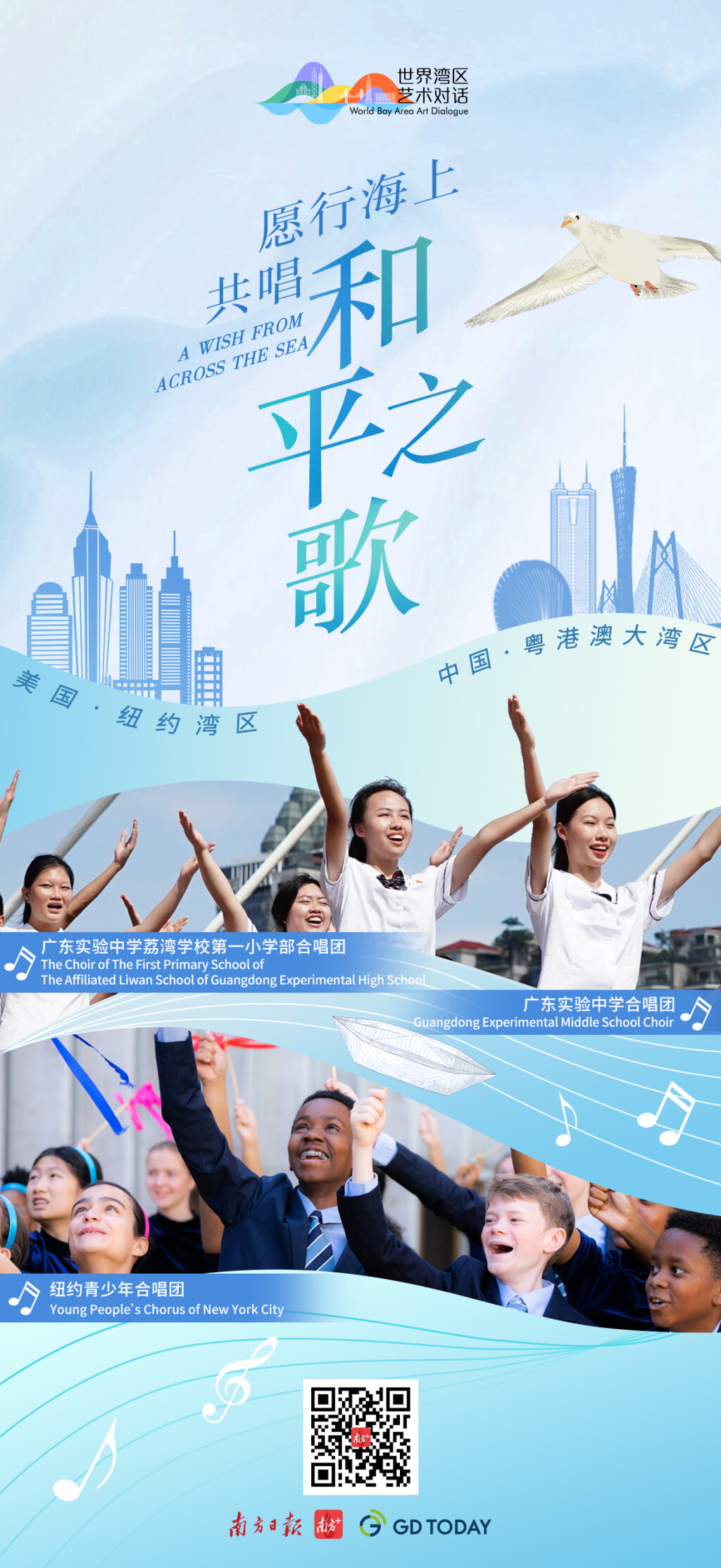 The song is composed by Chen Si'ang, a composer from Guangdong and associate professor of the Composition Department of Xinghai Conservatory of Music. The lyrics were written by young composer Chen Yang and performed by two choirs. It took them half a year to create and complete this lively and fairytale-like song, which conveys their sincere wish for world peace.
This was an intercultural dialogue between two bay areas. The music video of the song shows the young choristers singing at landmarks in the GBA and New York, such as the Haixin Bridge, the Hong Kong-Zhuhai-Macao Bridge, Times Square, and Central Park. With their songs, they built a bridge of friendship across borders to facilitate good-faith dialogues and promote the essence of arts and culture of bay areas through an artistic dialogue.
Chief planner: Huang Can
Producer: Li He, Cao Si, Zhao Yang
Coordinator: Li Pei, Bi Jiaqi, Miao Miao
Production managers: Bi Jiaqi, Zhang Zhe, Zhang Xilu
Script writer/director: Huang Kunyuan, Chen Wenxia, Li Pei
Writing/stage management: Huang Kunyuan, Wang Hanqi, Xu Ziming, Li Runyu (intern)
Filming: Chen Wenxia, Ou Yingzhi, Deng Honghua, Luo Yongqi, Liang Jianlong, Zhang Jiahao
Documentary director/filming: Zheng Yijian, Ye Yongkang, Yang Yangqi.
Animation design: Ye Jingxiong, Huang Zewei, Chen Mingji
Video editing: Chen Wenxia
Communication: Xu Ziming, Wang Hanqi
Graphic Design: Gan Zhanping, Tan Wei, Chen Le
Operation: Ding Xiaoran, You Lichuan, Tang Jiaxin, Zhang Peng
English translation: Li Jingyu
English editor: Olivia, Monica, Holly, Jerry