Got into a hollow tree, planted potted succulents in the desert, took a closer look at the vegetation and scenery of the tropics and polar regions in only two hours. On September 16, 28 international students from 16 countries took a study tour at the South National Botanical Garden (SCNBG) in Guangzhou, Guangdong province.
Guided by a professional commentator, the students visited five green houses and enjoyed a fun study tour at the Garden. Danilo from Brazil said that this experience is great, the garden has many kinds of plants and the vegetation is totally different from those in Brazil. April from Germany said that the garden is really beautiful and she will definitely come back.
"I can see many plants that I hadn't seen before, and they're beautiful. I think the botanical garden had done a great job (in protecting the species) because it has protected over 10,000 plants in this greenhouse," said Vincent, a student from Indonesia.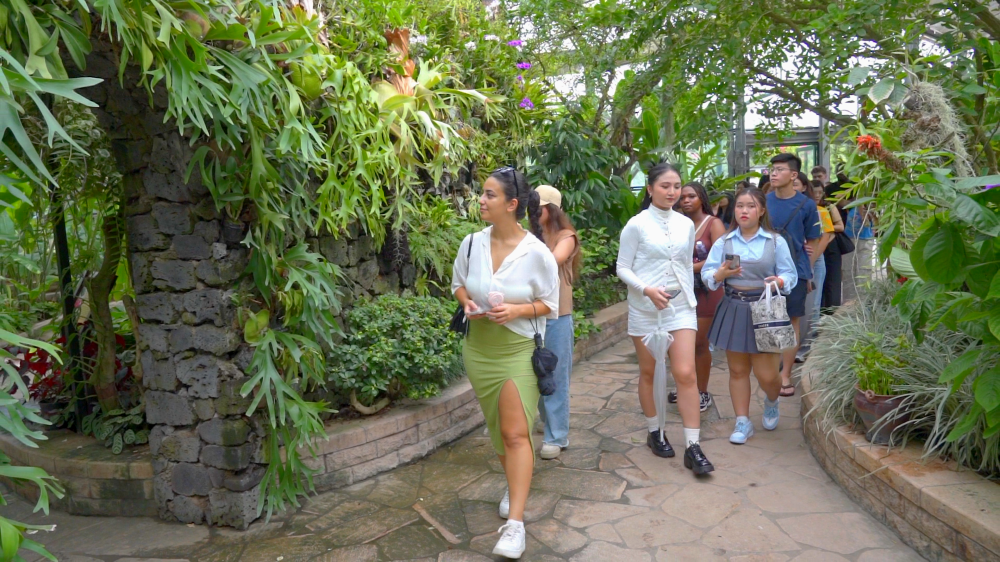 (Photo: GDToday)
After visiting the desert plant greenhouse, the students planted their own potted succulents. Hanna from Belarus said she really loved this plant and had already given the plant a name.

Officially inaugurated on July 11, 2022, the SCNBG has ex-situ protected 643 species of rare and endangered plants and 337 species of China's key protected plants. Currently it has become a major science popularization base for teenagers and college students in South China. In the first half of 2023, the total number of visitors reached 1.415 million, a year-on-year increase of 46%.
The study tour was jointly organized by GDToday and the Institute for International Education at Guangdong University of Foreign Studies.
Reporter: Ariel, Holly & Rina (intern)
Video: Jimmy
Editor: Olivia, Monica, Jerry