The cities indeed have plenty to offer, however, if you are looking for a rural getaway from the metropolises, we strongly recommend Taishan of Jiangmen, a coastal city in western part of Guangdong.
The cities indeed have plenty to offer, however, if you are looking for a rural getaway from the metropolises, we strongly recommend Taishan of Jiangmen, a coastal city in western part of Guangdong.
On January 10, a route in Taishan was selected was one of province's quality rural tourism routes. The route consists of several ancient villages, a theme park, two seafood streets, a hot spring destination and so on for you to thoroughly enjoy the rural charm of this county-level city.
Here we bring you some of the top rural destinations in Taishan for an amazing and memorable holiday!
Fushi Village (浮石村)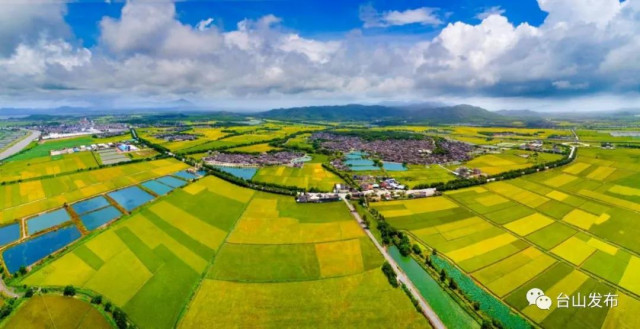 Fushi Village has a long history that can be traced back to the Song dynasty where the royal families lived. It is listed as a "famous Chinese historical and cultural village", "Guangdong Piaose folk art inheritance base" and "Hometown of Chinese folk art". Its Piaose (literally, flying color) parade is a national-level intangible cultural heritage, a treasure of Chinese culture and art. Fushi Village and Fuyue Village are similar in names. Fushi Village is famous around the world because of its "Piaose" art while Fuyue Village is home to lots of Western-style buildings that carry the history of the city.
ChenYixi Memorial Square (陈宜禧纪念广场)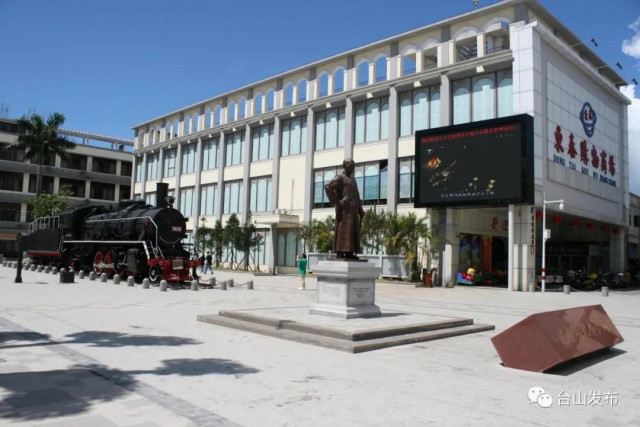 Chen Yixi was the founder of the Xingnin Railway, the first private railway in China. Themed on the Xingnin Railway, the Square highlights the "Chen Yixi spirit". You can view the ruins of Doushan station of Xinning Railway, and the creative designs such as Chen Yixi figure statue, steam locomotive, railway culture corridor and "arcade commercial and cultural block" to get a glimpse of the glorious railway transportation construction history.
Hengjiang Village (横江村)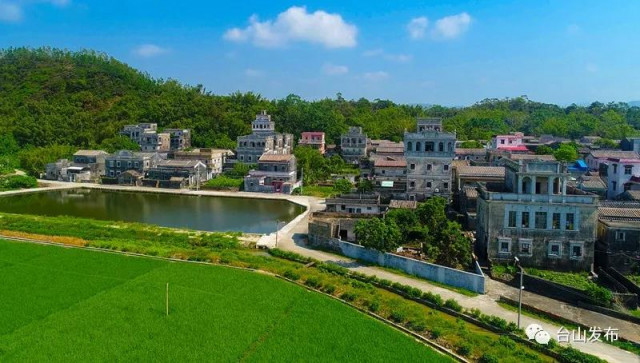 Hengjiang Village has a beautiful environment, with mountains in front and water behind. It is a good place for leisure tourism. The Village is not only an old revolutionary base but also has a fine tradition of advocating culture and education. Nowadays, there are still many private schools and studies in the village, which is known as "the first study village in China".
Fuyue Village (浮月村)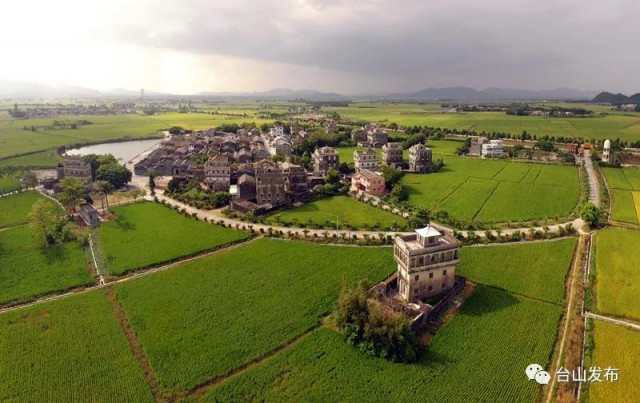 According to the legend passed down by the sages in Fuyue Village, the village got its name because it looked like a bright moon floating on the water (fu yue literally meaning floating moon). Thanks to the 15 Western-style buildings in different architectural styles, Fuyue Village is well known around the country. It is hailed as "the most beautiful garden style overseas Chinese village."
Landing point of the "victory rescue" in Dongjiao fishing village (东滘渔村)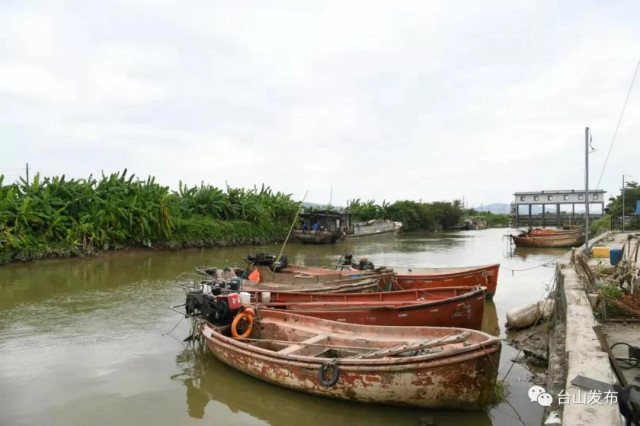 Located in the east of Duhu Town, Dongjiao Kou has been an important seaport of Taishan since ancient times. People in the Dongjiao Village live on fishing. To the east of the Village is the vast South China Sea. The Village is less than 80 nautical miles from Hong Kong and only 48 nautical miles from Macao. About 80 years ago, the fishing boat dock in the Village was the "safe landing place" for Hong Kong's evacuated intellectuals, patriots and democrats. It witnessed the shocking moments of Hong Kong "victory rescue" in 1942.
Taishan China Agricultural Park (台山中国农业公园)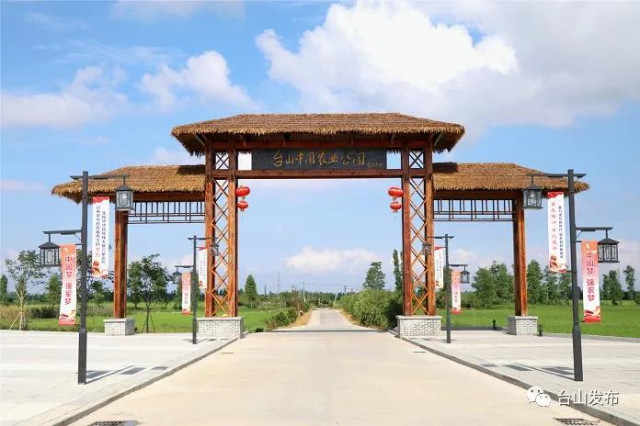 Taishan China Agricultural Park covers the five towns of Duhu, Doushan, Chixi, Guanghai and Duanfen, with a total area of 800 square kilometers and a cultivated land area of about 146 square kilometers. In the park, a paddy-themed area with agricultural culture exhibition hall was opened in March 2018. It is a theme museum that comprehensively displays and carries forward Lingnan farming culture, history and physical objects. It is also the largest and most characteristic agricultural culture museum in the Wuyi area of Jiangmen. The name of the park on the plaque on the entrance was specially autographed by Chinese scientist Yuan Longping.
Fuli Bay Hot Spring (富丽湾温泉)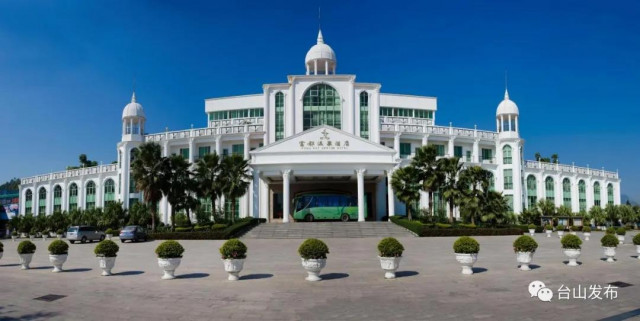 Located in Duhu town and adjacent to the Taishan China Agricultural Park's paddy-themed area, the Fuli Bay Hot Spring has luxury hotel rooms, open-air garden hot springs, large water parks and other facilities. It is a regional tourism resort integrating vacation, leisure and entertainment, hot spring recuperation and business conference.
Duhu Seafood Street (都斛海鲜街)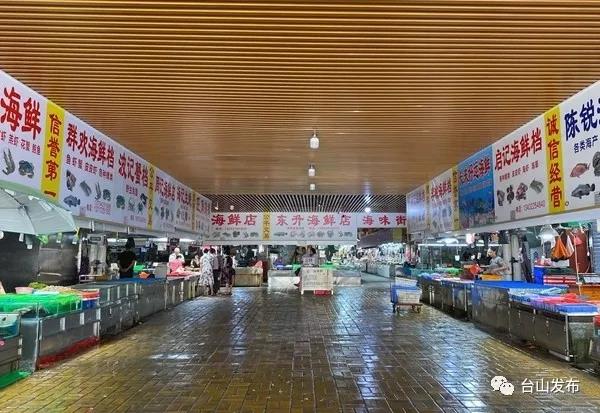 Located next to the new market in the central area of Duhu Town, the Duhu Seafood Street has a history of nearly 20 years. There are more than 50 seafood stalls on the street. In addition to local marine products, there are many seafood varieties from other places. As it is a market integrating wholesale and dining, there are not only seafood stalls, but also more than 10 restaurants selling different kinds of food nearby.
Tianhui Seafood Street (天汇海鲜食街)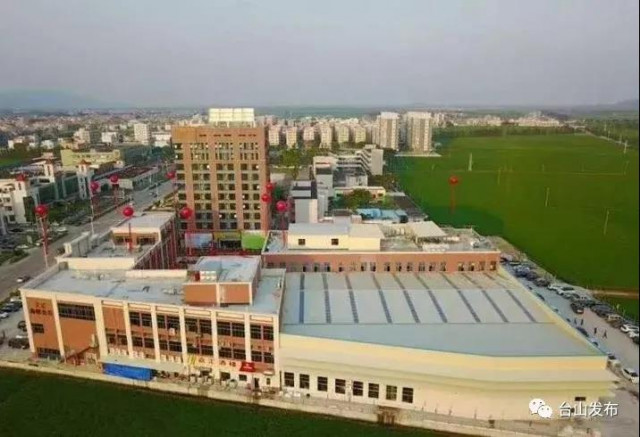 Located on the south side of Duhu Avenue, the Tianhui Seafood Street has a superior geographical location and convenient transportation. The street is positioned as the Taishan Duhu post station of Taishan China Agricultural Park. It is divided into a seafood area, a fresh meat area, and a dry goods area. Adjacent to Tianhui Holiday Hotel, the street is a commercial complex integrating shopping, catering, entertainment and accommodation.
Author | Ariel & Tonny (intern)
Editor | Monica & Jerry