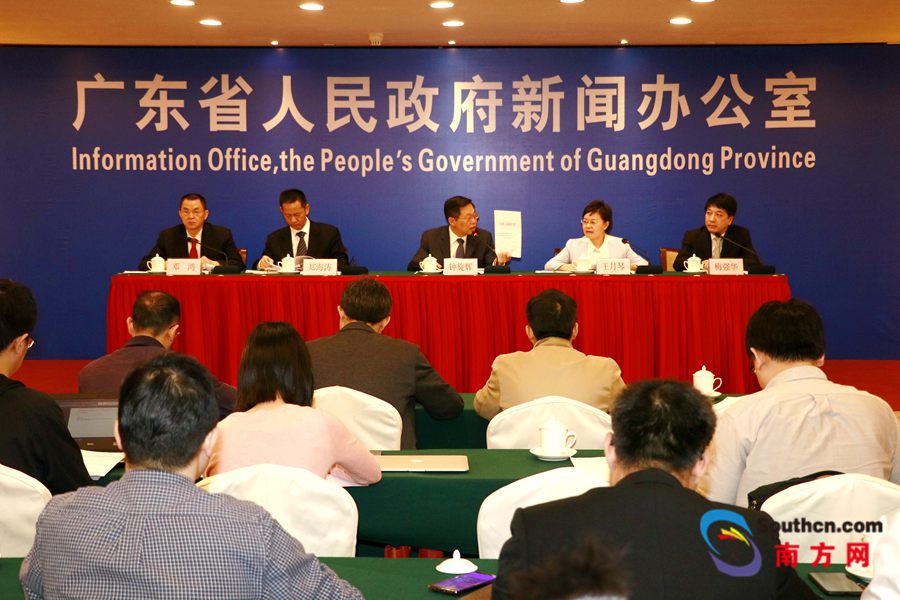 The press conference for the issue of guideline and supporting policies for industrial Internet development in Guangdong.
Recently, Guangdong released guidelines and supporting policies to strengthen so called 'Internet Plus advanced manufacturing', in a bid to enhance the province's industrial Internet sectors.
10,000 industrial enterprises will upgrade their networks with new technology and so called 'industrial Internet' models by 2020, according to the guidelines.
In addition, the province's infrastructure and industrial systems will be competitive within international markets by 2035.
The industrial Internet refers to a network of combined, advanced machines with Internet-connected sensors, which will collect and analyze data from consumers, suppliers and factories.
It has been designed to allow companies to customize products at speed and scale while boosting productivity and reducing costs.
Major tasks and projects are listed, including increasing Internet speed and reducing costs, setting industrial Internet standards, establishing innovation centers and improving network security.
Also, it is the first time local policies for supporting industrial Internet development have been issued.
According to Zhong Xuanhui, deputy secretary-general of the people's government of Guangdong, both the guidelines and policies will accelerate the development of the industrial Internet in Guangdong, boosting the province's manufacturing industry.
Two hundred thousand companies will be encouraged to use cloud and industrial Internet platforms.
For instance, from 2018 to 2020, the costs for companies to use industrial Internet technology will be decreased by at least 30%. Industrial enterprises can enjoy the benefits of the above policy when purchasing public cloud services and software.
"Priority for industrial Internet upgrades will be given to industries in the fields of: electronic information, home appliances, advanced equipment, light industrial materials and others," said Wang Yueqin, deputy director-general of the Economic & Information Commission of Guangdong.
And the related pilot areas will cover the cities: Guangzhou, Shenzhen, Foshan, Dongguan, Shantou, Jieyang, Zhanjiang, Yangjiang and Zhongshan.