A number of cross-border drug trafficking channels and distribution centers have been broken up in South China's Guangdong province after a crackdown in the first five months of 2018 that dealt with 4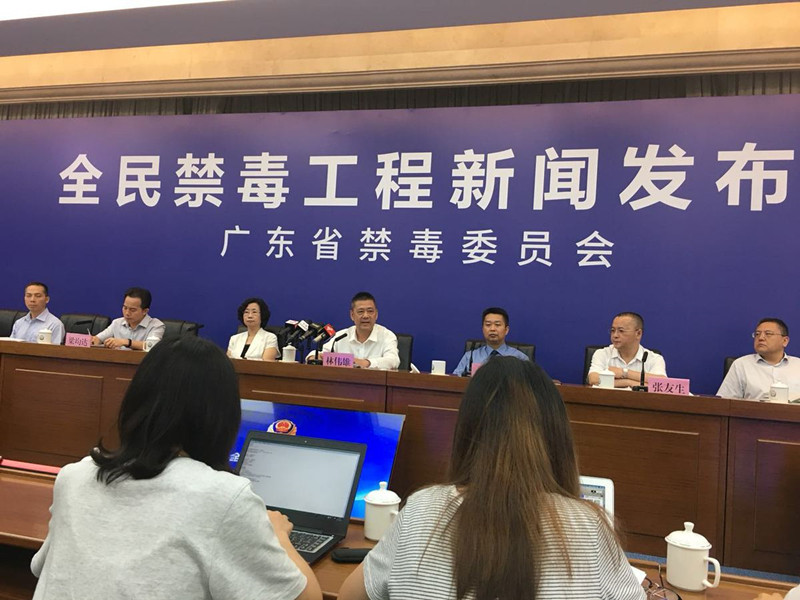 Lin Weixiong (middle), deputy director of the province's Public Security Department, at a news conference in Guangzhou on Wednesday. [Photo by Zheng Caixiong/China Daily]
A number of cross-border drug trafficking channels and distribution centers have been broken up in South China's Guangdong province after a crackdown in the first five months of 2018 that dealt with 4,655 drug and related cases, a senior police officer said.
Lin Weixiong, deputy director of the province's Public Security Department, said police seized more than 5.4 metric tons of narcotics, mostly crystal methamphetamine and ketamine, between January and May, up from 5.1 tons in the first five months of last year.
"Meanwhile police detained 5,504 suspects, including suspected foreign drug traffickers, dealing a heavy blow to drug and related crimes," Lin told a news conference in Guangzhou, the provincial capital, on Wednesday.
He said the fight against drug crime in Guangdong has achieved "significant results", with the number of drug cases falling.
But he said fighting drugs and related crime remains a tough, long-term task, with traffickers from home and abroad intent of making Guangdong — which borders Hong Kong and Macao — into a major drug transfer station and distribution center.
To this end, Lin hinted that more targeted campaigns would be launched in the months to come.
In nine operations from Dec 24 to June 5, police in Foshan, Shenzhen, Dongguan, Shanwei and Jieyang busted a major cross-border drug gang, detaining 39 suspects, including 16 Vietnamese and a Taiwan resident, and seizing 4.79 kilograms of crystal methamphetamine.
Four replica guns and 44 rounds of ammunition were also seized during the operations.