​On the mornings of weekend, the roars and drum beats always reverberate along Haizhu Lake and appeal people passing by to stop in their tracks and watch.
On the mornings of weekend, the roars and drum beats always reverberate along Haizhu Lake and appeal people passing by to stop in their tracks and watch.

These passionate sounds are uttered from Guangzhou International Dragon Boat Team (GIDB).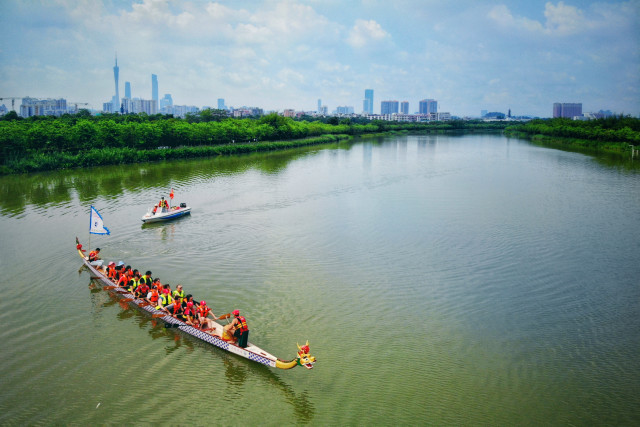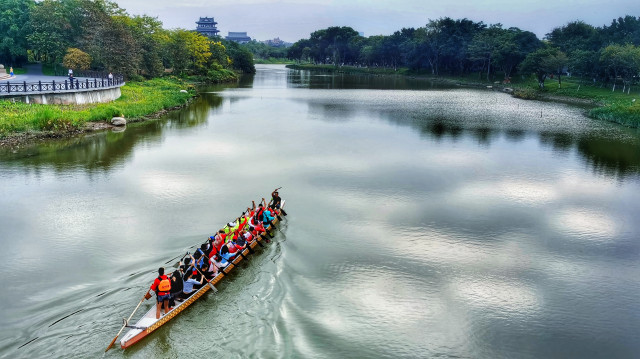 Daily training of Guangzhou International Dragon Boat Team in Haizhu National Wetland Park (Photo provided to GDToday)

Established in 1998, GIDB consists of members from all over the world: Jordan, New Zealand, Poland, France, Hungary, Malaysia, Japan, the Republic of Korea and more. People from different places and all walks of life are united as one team because of dragon boat.
According to the captain Stone, GIDB has got many medals from both China and abroad: Silver Medal of 2016 Hong Kong International Dragon Boat Festival Mixed Small boat, Bronze Medal of 2018 Philippines Boracay International Dragon Boat Invitational Mixed Small boat 250m and 500m Race, Bronze Medal of 2019 Hong Kong Lamma Island 500m Mixed Standard boat Golden Bowl, and Golden Medal of 2019 Haizhu Wetland Dragon Boat Scene Invitational Champion.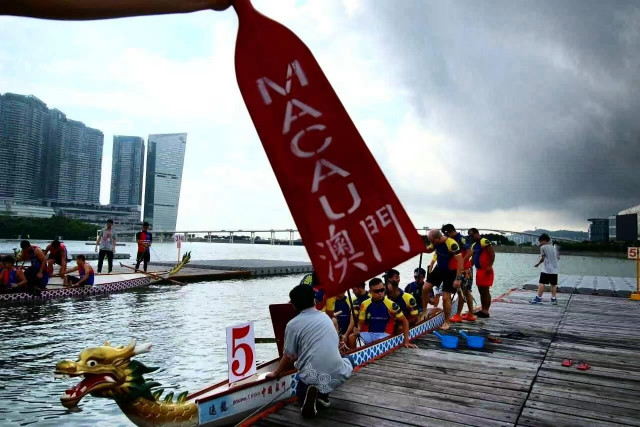 2016 Macau International Dragon Boat Invitation Champion (Photo provided to GDToday)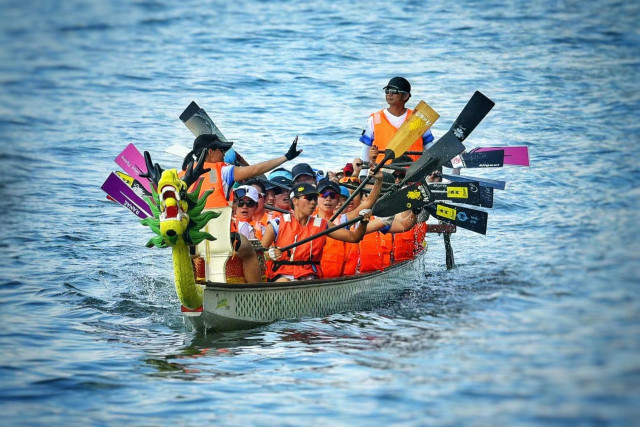 2017 Guangzhou International Dragon Boat Invitation Champion (Photo provided to GDToday)
As an ancient sport dating back to the Warring States Period (BC403-BC221), dragon boat racing is one of the most important customs of Dragon Boat Festival, also known as Duanwu Festival. It was originally held to sacrifice, bless for safety and harvest as well as ward off evil. Nowadays, this ancient sport is gaining more and more attentions from people around the world.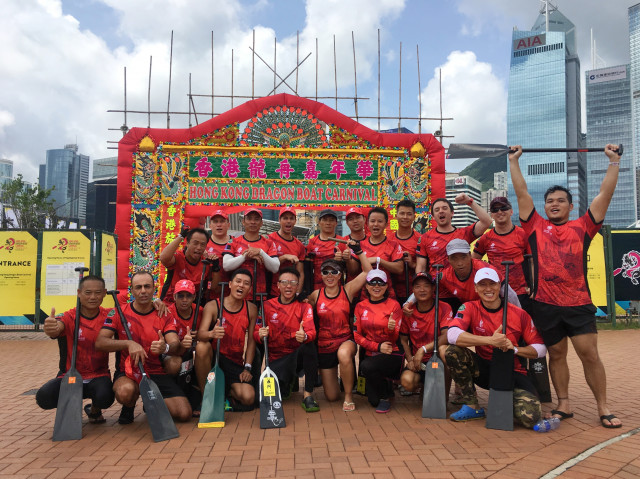 GIDB in 2018 Hongkong Dragon Boat Carnival (Photo provided to GDToday)
During this Dragon Boat Festival, let's follow the reporter from Newsgd.com & GDToday to find out how these foreigners in Guangzhou start their stories with dragon boat.
Chinese Malaysian: I found the root of my life when I joined dragon boat training
Christina CHUAH was born in Penang, Malaysia. Her family has settled down there since her grand-grandfather's generation moved out from Chaozhou-Shantou area in Guangdong Province, China. Her first impression of dragon boat came from the billboards and media about dragon boat races in Penang.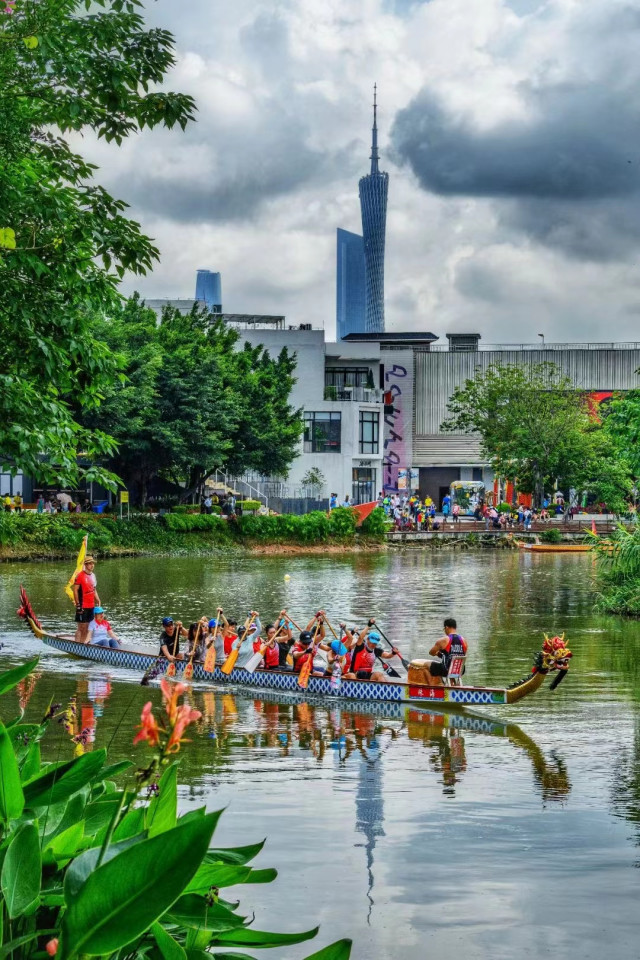 The reflections of GIDB's dragon boat and Canton Tower are mixed in Haizhu Lake. The harmony between tradition and modernity, architecture and nature in this picture is just the miniature of the feature of Guangzhou. (Photo provided to GDToday)
"In my memory, dragon boats in Penang really connect Chinese people and local residents there. They have developed profound friendships through dragon boat training and races."
Later, Christina came back to China and had the chance to engage herself in dragon boat. In 2015, she joined GIDB and she had the feeling of finding the root of where her life begins through dragon boat, "For me, dragon boat is more like a cultural inheritance than just a sport."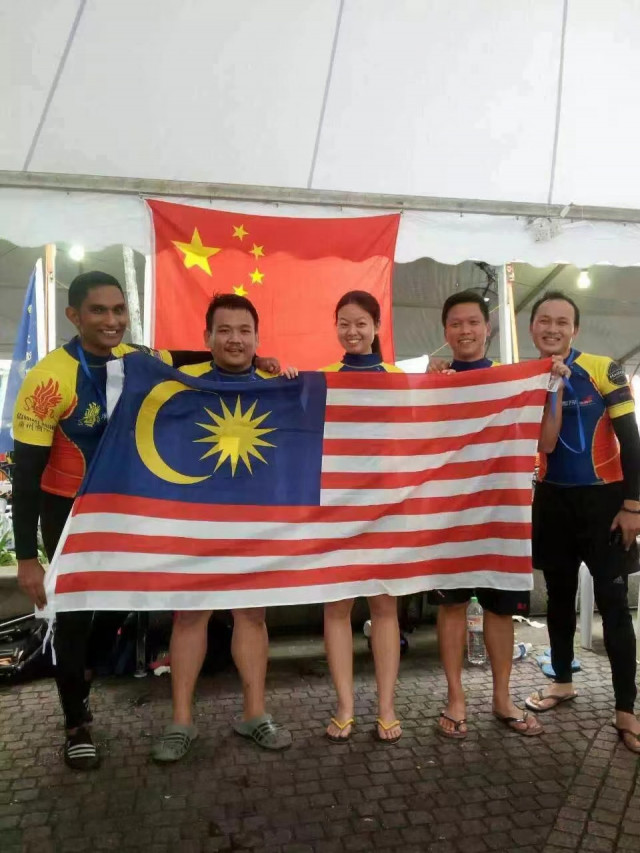 Representing GIDB, 5 Malaysian members joined dragon boat competition in Malaysia. (Photo provided to GDToday)
In 2015 and 2016, Christina went to join dragon boat races in Malaysia in the name of GIDB's member and competed with Malaysian dragon boat team. "My teammates in Guangzhou thus had the chance to visit my hometown. And my dad and mom were very proud to see I joined the race and went to cheer for me. Dragon boat brings my family in hometown and my closest people in Guangzhou together, this is quite amazing!"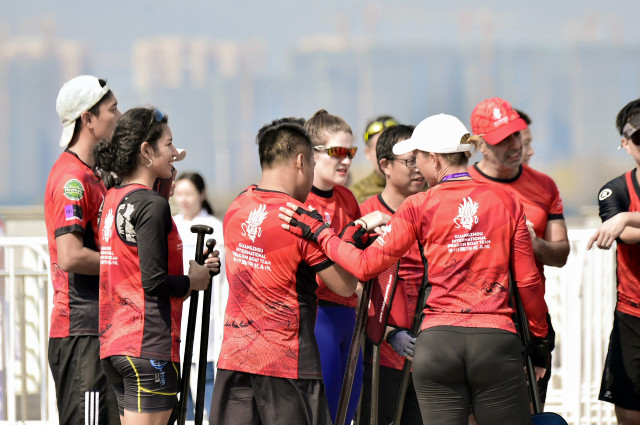 GIDB in 2019 Kunming Dianchi International Dragon Boat Competition (Photo provided to GDToday)
Jackie Ma from Republic of Korea : I hope to compete with dragon boat team in my country as GIDB's member
Jackie Ma (known to his friends as MCL) served in the government in Seoul before he moved to Guangzhou. He quit his job and moved to Guangzhou in 2016 to start his new life and realize his dream. Later on, MCL joined GIDB in 2019.
"Dragon boat is a sport that requires unity and cooperation. This sport has brought me to worldwide friends in Guangzhou, helped me to gain a deeper understanding of life philosophy, and to recover my body and be healthy."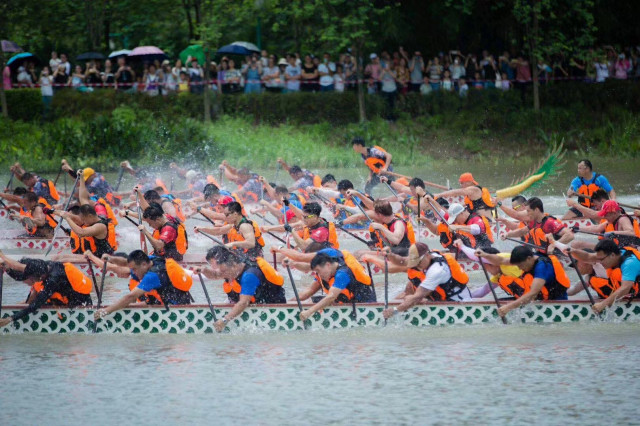 GIDB in 2019 Haizhu Wetland International Dragon Boat Scene Invitation Champion (Photo provided to GDToday)
In the following step, MCL plans to launch a dragon boat association for people from his country in Guangzhou and pass down his love for dragon boat and Chinese culture to more people.
Hungarian dragon boat lover brings dragon boat culture from the Pearl River to the Danube River
Balázs Káplár is a Hungarian who stayed in China, mostly in Guangzhou, for over 17 years. He joined GIDB in 2015 and attended many international dragon boat races. He worked a lot on promoting cultural exchanges between China and Hungary.
"Most people in China have no idea how popular dragon boat actually became in the last 30 years worldwide. For example, Hungary (a country with half of the population of Guangzhou city) has more than 50 dragon boat clubs, but you can't find a single Chinese guy or girl in the Hungarian National Championships. So, on the one hand, I come back to introduce the traditional Chinese culture behind dragon boat to westerners who already race dragon boats, and on the other hand, I'm also promoting dragon boat among the Chinese community in Hungary."
2020 Hungarian Dragon Boat National Championship (Photo provided to GDToday)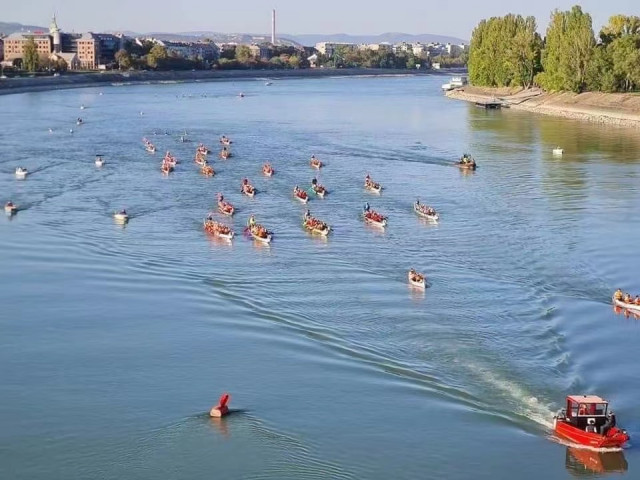 20 dragon boats crossing Budapest in October of 2021 (Photo provided to GDToday)
This weekend, the first Velence Dragon Boat Competition will be held in Velence Lake, Hungary, under the organization of Mayor Gerhard and Balázs. "In the last few weekends, more and more Chinese friends joined the training, first we had 2, then 3 and last weekend 4 boats full with Chinese paddlers. We were also able to put together a nice cultural program to the festival, lectures about dragon in China, calligraphy, dancers, singers, Sichuan opera mask performances, etc. It seems that everyone is interested in the 2022 Velence Dragon Boat Festival," Balázs shared excitedly.
In the Danube, Balázs in dragon boat training with Hungarian teenagers, whose average age is only 14. (Photo provided to GDToday)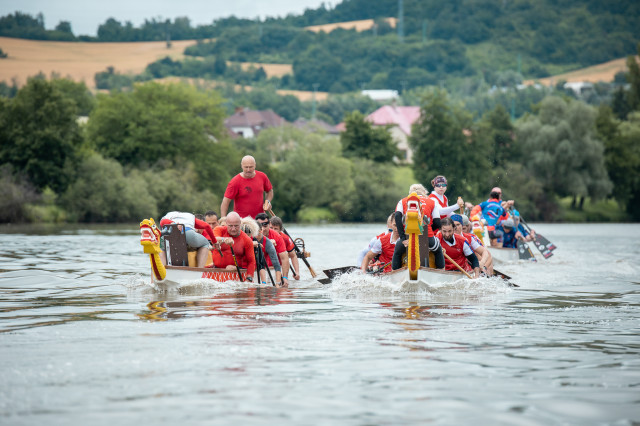 Hungarian dragon boat team at training (Photo provided to GDToday)
Rowing dragon boat is not a solo, but a symphony
Michael He, the earliest member of this team now, has been in GIDB since 2004. He has lived in Guangzhou for 20 years and enjoyed life here.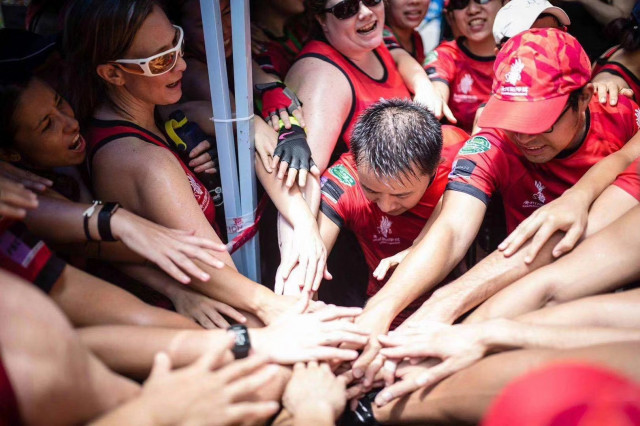 (Photo provided to GDToday)
"Rowing dragon boat is a sport that highlights unity. It's not a solo, but a symphony. If there are any discordant notes, the speed will be slowed down. Besides, inclusiveness is the other feature of rowing dragon boat, and this is also the personality of Guangzhou. Though our members are from different countries, and have different life experience, we're doing great on this boat and living harmoniously in Guangzhou."
Apart from daily training and races, GIDB is also actively engaged in charity activities and environmental protection activities to bring their love back to the lake and the city.
Planning: Zhang Chunqing
Director: Rofel Ding, Alice Fung,
Filming: Eastbrook Zeng, Liang Jiusheng
Video editor: Eastbrook Zeng, Alice Fung, Rofel Ding
Poster: Alice Fung, Wilson Tong
Writer: Rofel Ding
Editor: Wing Zhang, Olivia Yan, Ou Xiaoming, Monica Liu, Will, Jerry