"These are some of the letters my maternal great-grandfather received when he lived in my country at the time, and many relatives wrote to him. This envelope is my clue to find my relatives because it is the only one with an address."

On May 5, Eduardo Somoza from El Salvador presented letters and old photographs of his maternal great-grandfather at "My Guangdong Story" Sharing Event, with an address in Guangzhou still legible on the back of the envelope. "I came to Guangdong not only to find my relatives, but also to find my origins," said Somoza.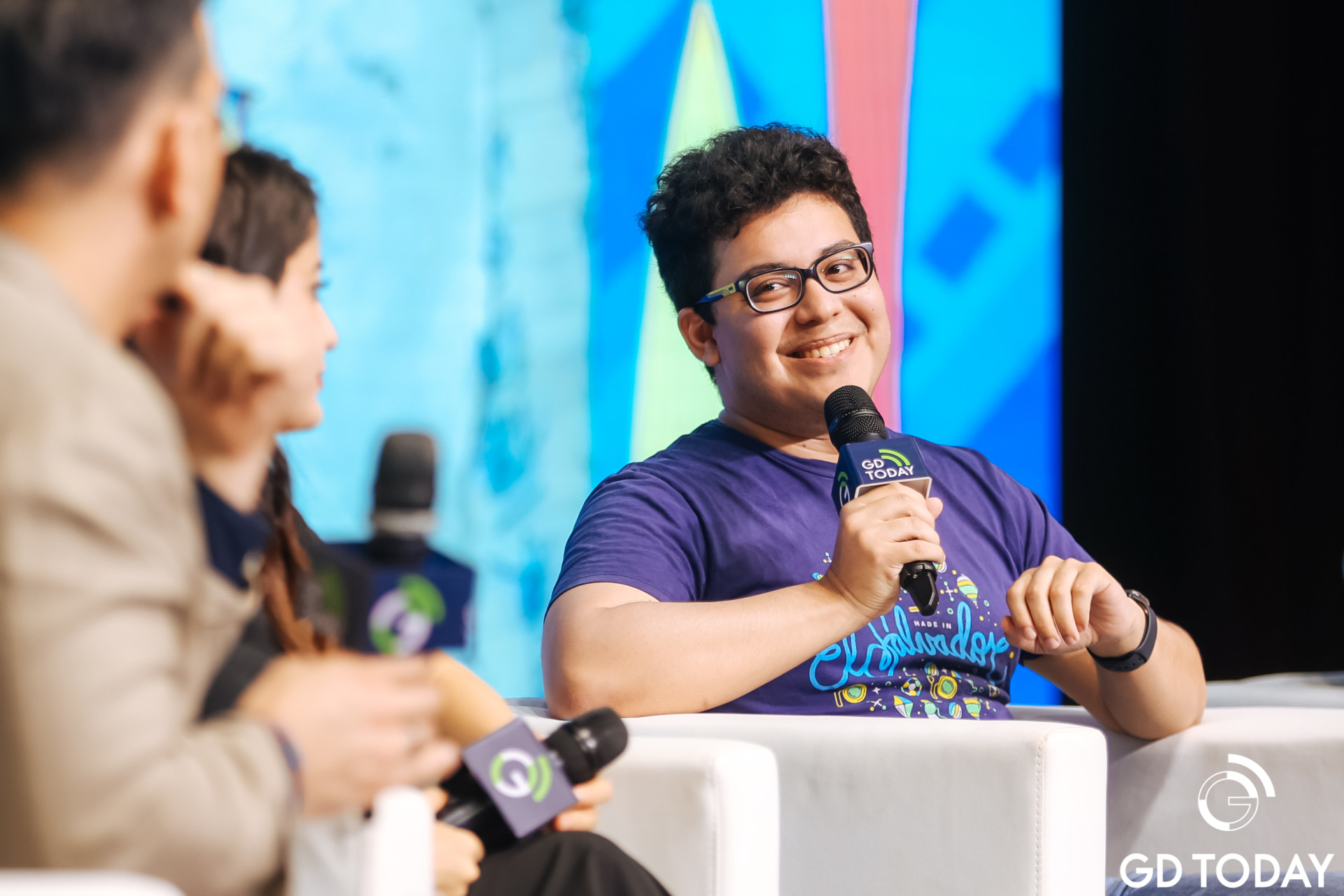 Eduardo Somoza at "My Guangdong Story" Sharing Event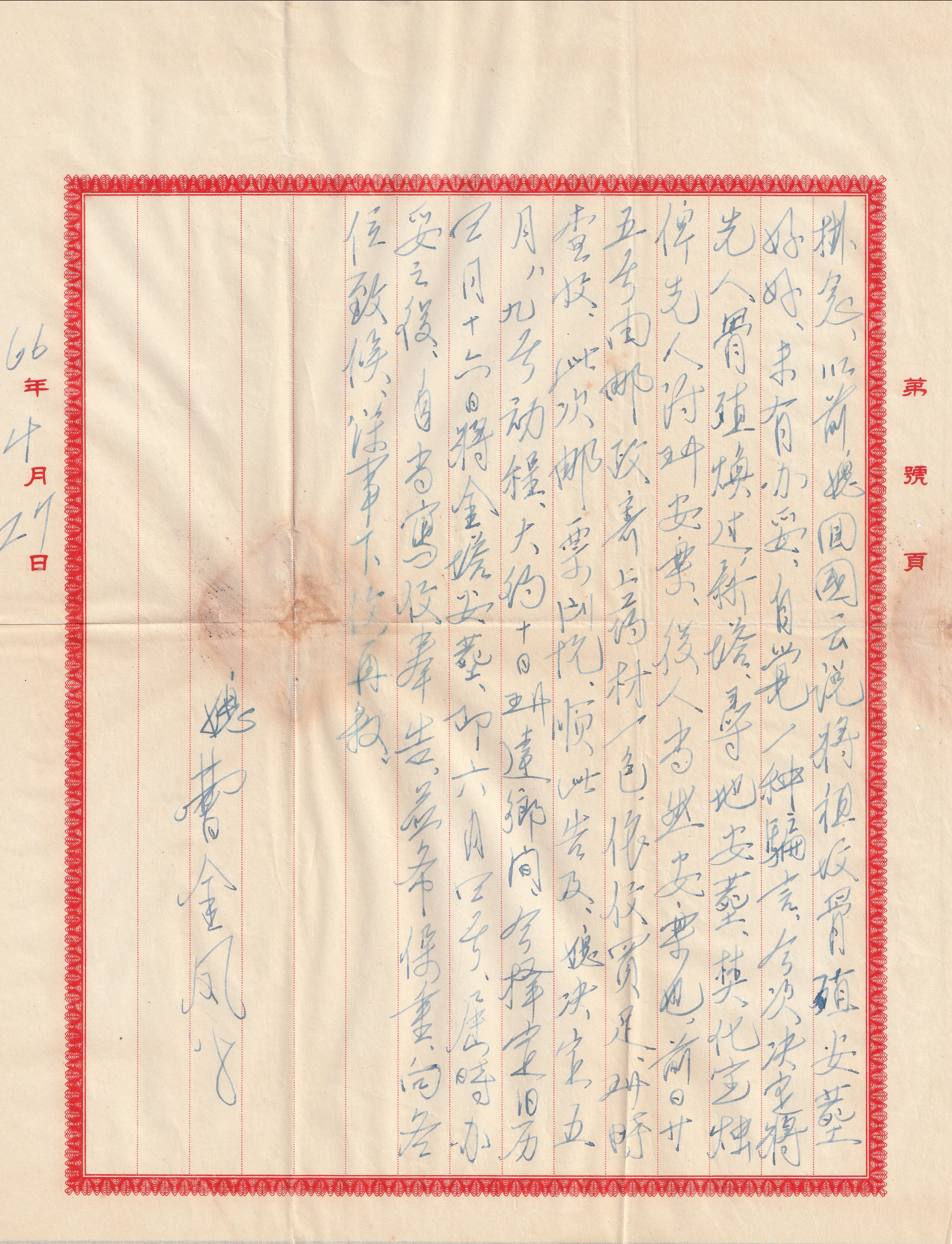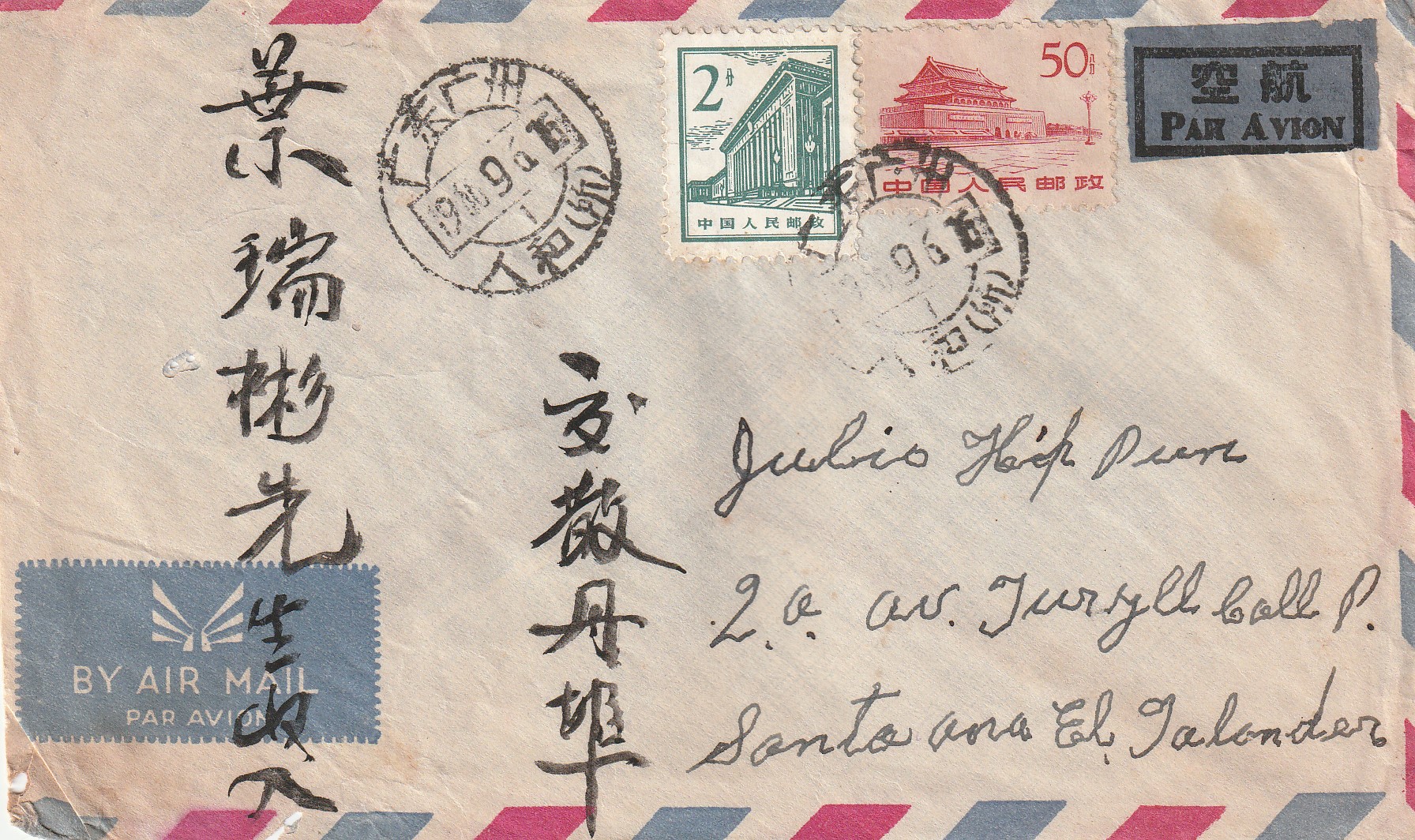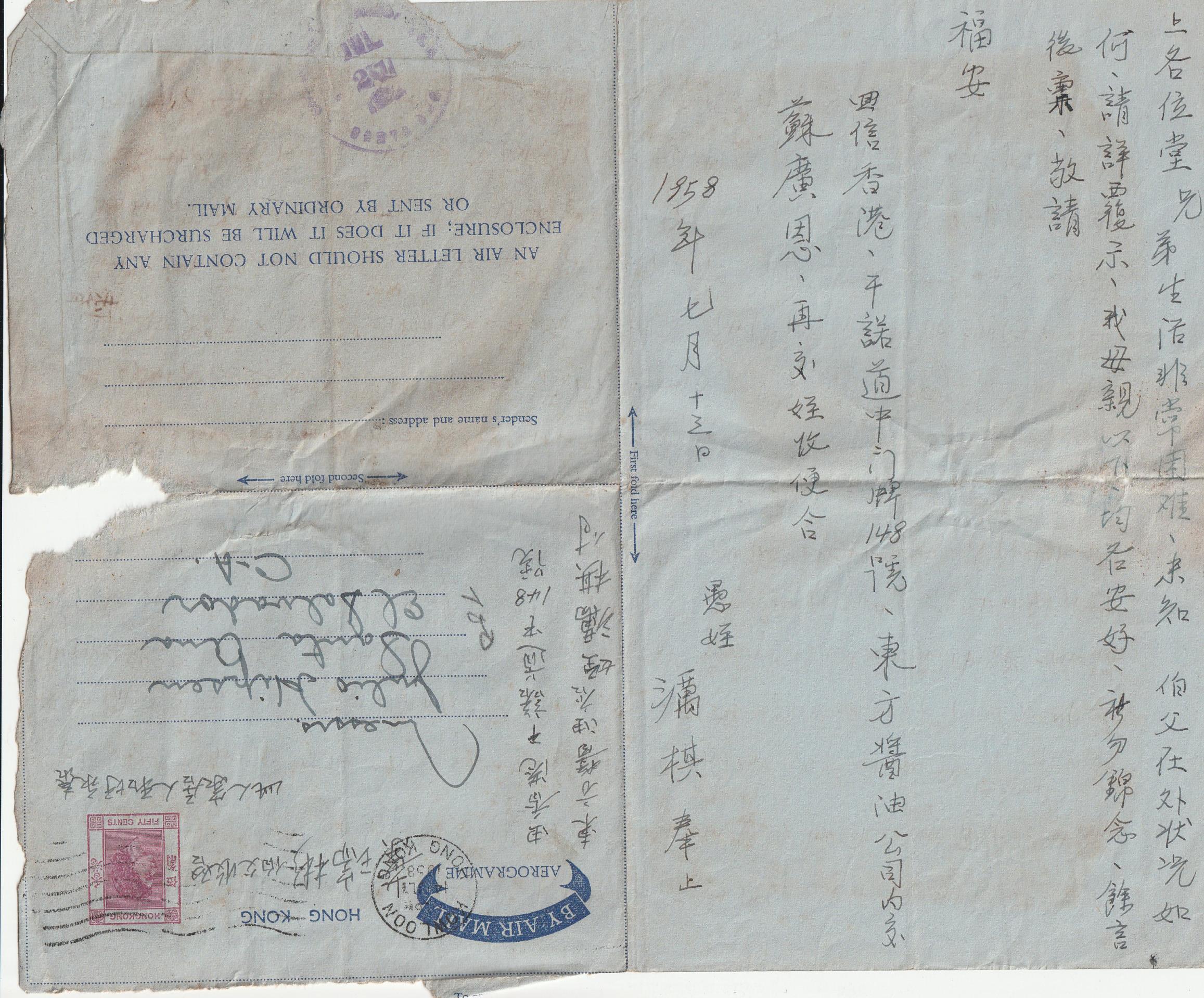 Somoza's maternal great-grandfather's letters
As the epilogue of "My Guangdong Story" Global Solicitation for Short Videos, which was held by GDToday, the sharing event attracted well-known Japanese documentary director Takeuchi Ryo and content creators from China, the US, Italy, Denmark, the Republic of Korea, El Salvador, Türkiye and India to share their stories with Guangdong.
Somoza's story is featured in the entry "Came halfway across the world to Guangdong, looking for his relatives", which won the Outstanding Video Award Nomination. The video records his journey to find his relatives in Guangdong, and with the help of his teachers, he finally reunited with his family.
Concern for relatives in China lead to a family tracing trip
Somoza is a student studying at the South China University of Technology (SCUT) in Guangzhou. His maternal great-grandfather, named Ye Chengbin, later renamed Ye Ruibin, was a native of Guangzhou and moved to El Salvador in the 1920s.
Somoza was not yet born when his maternal great-grandfather passed away. Through the memories of his mother and grandmother, he gradually drew a picture of a generous, charitable, and family-centered man. "He often wrote to relatives back home and sent them money, clothes, and daily necessities," Somoza said that his maternal great-grandfather also made Chinese medicine to treat people in El Salvador and cooked Cantonese cuisine for the family, such as spring rolls, orange chicken, steamed fish, and stuffed pepper with fish balls and soy sauce.
"We didn't have internet or WeChat in the past, and our relatives in Guangdong only spoke Cantonese, so we gradually lost contact with them after my maternal great-grandfather passed away," Somoza recalled, "I know I'm of Chinese descent since my childhood, so I'm always concerned about whether our relatives are doing well or need help."
Therefore, Somoza decided to come to Guangdong to look for his relatives who had been out of touch for decades.
"Renhe Commune" on the envelope is the only valid clue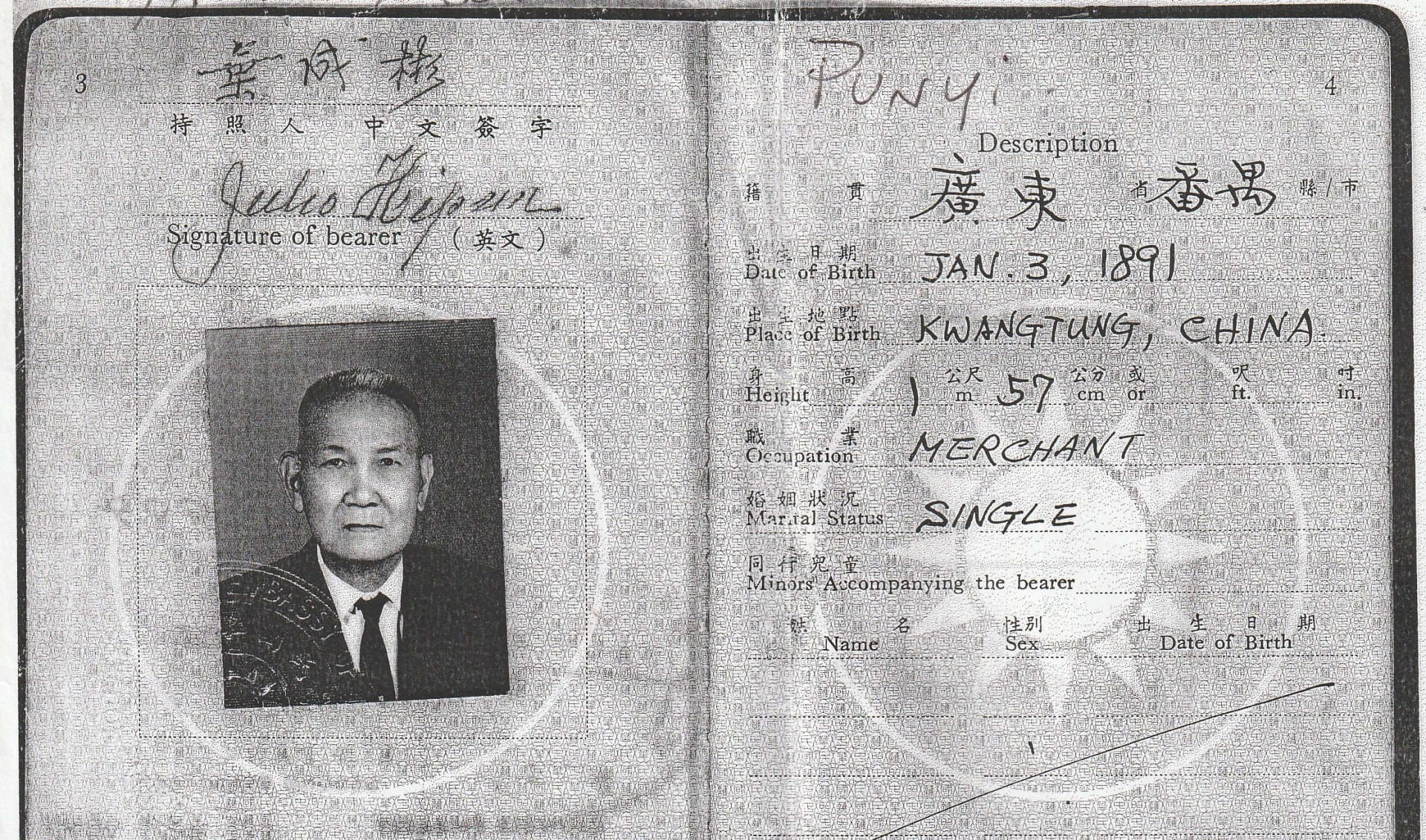 Somoza's maternal great-grandfather's passport
At first, Somoza was not clear which city in Guangdong his relatives lived in. In 2016, he was invited to Foshan to attend an event and tried to take the opportunity to find his relatives, but failed. "In 2019, I decided to apply for Chinese Government Scholarships to study at SCUT in Guangzhou, so I could study and find my relatives at the same time."
At the sharing event, Somoza showed the letters exchanged between his maternal great-grandfather and his relatives in Guangdong as well as some old photos. However, the letters were written in traditional Chinese characters, it was a bit hard for him to understand the text. As a result, he didn't find any valid information during his first seven months in Guangzhou.
"Many people advised me to give up, saying that it had been so long that my relatives should have moved and that there was little information about the household registration." But Somoza believes that nothing is impossible to a willing mind, and he finally met Gui Ying, his teacher at the School of International Education of SCUT.
"Ms Gui was from Hong Kong and she could understand traditional Chinese," added Somoza. Gui Ying spent two months identifying and translating the old letters and discovered an envelope with the address "Renhe Commune", which is now Renhe Town, Baiyun District, Guangzhou, and that became the key to his family search.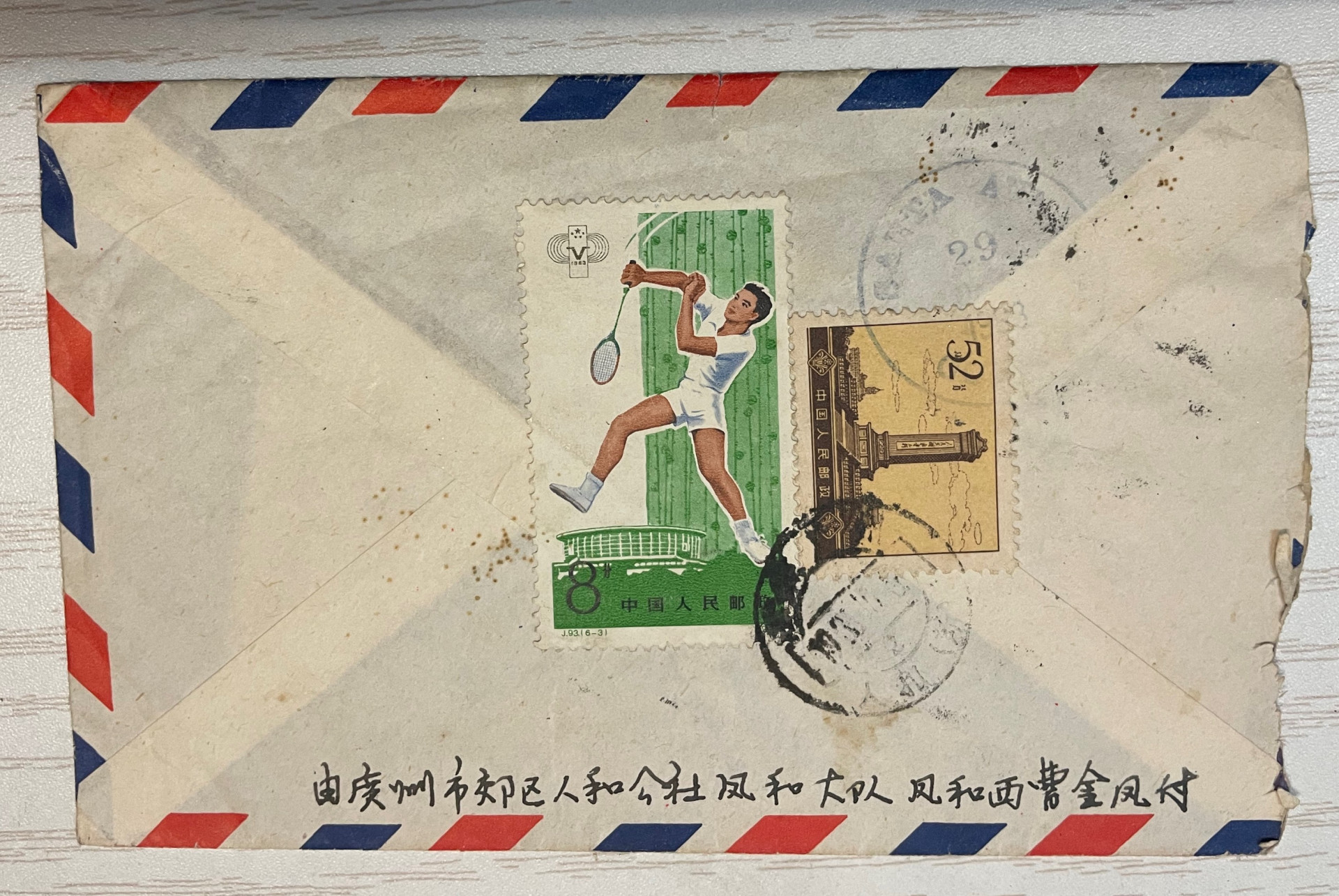 The envelope with the address "Renhe Commune"

"The baby in the photo is me"
Following this lead, Somoza contacted the local neighborhood committee. The neighborhood committee helped to ask locals with the surname Ye whether anyone recognized the old photographs or names that appeared in the old letters. Then a man in his fifties called Ye Zhicheng recognized his father's name and his family photo. After comparing that family photo with other photos of Ye Zhicheng's father, it turned out that Ye Zhicheng is Somoza's maternal great-grandfather's nephew's son, and Somoza calls him uncle.
At that time, Ye Zhicheng told Somoza, "I've never seen this picture, but I'm sure the people in the picture are my parents, and the baby is me."
"Then my uncle later showed me a certificate with his father's photo," Somoza recalled excitedly, "and then we knew he is my relative."
To cheer for Somoza, his relatives and teachers attended the sharing event. Ye Zhicheng told GDToday reporter that he was really excited when he met Somoza: "We had been out of touch for two or three generations. We are touched that he is already the fourth generation but so dedicated to the reunion."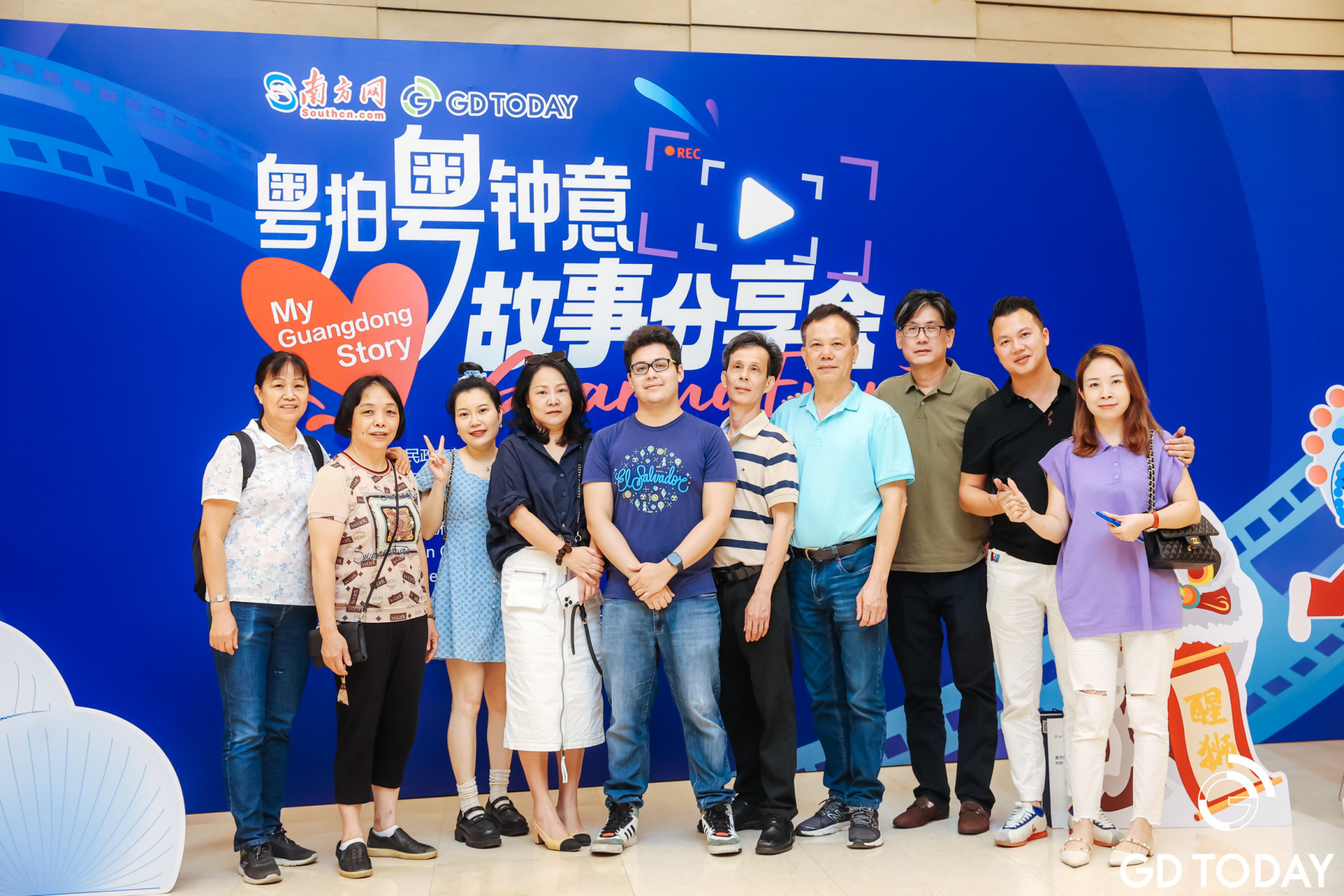 Somoza's relatives and teachers attended the sharing event
"I can recognize the old photos of my relatives. I have seen letters from Somoza's maternal great-grandfather when I was a child, and I can even recognize the handwriting. Later we went out to work and gradually lost contact." Ye Zhicheng said. Now, Somoza often visits his relatives, and they usually gather together at festivals and holidays.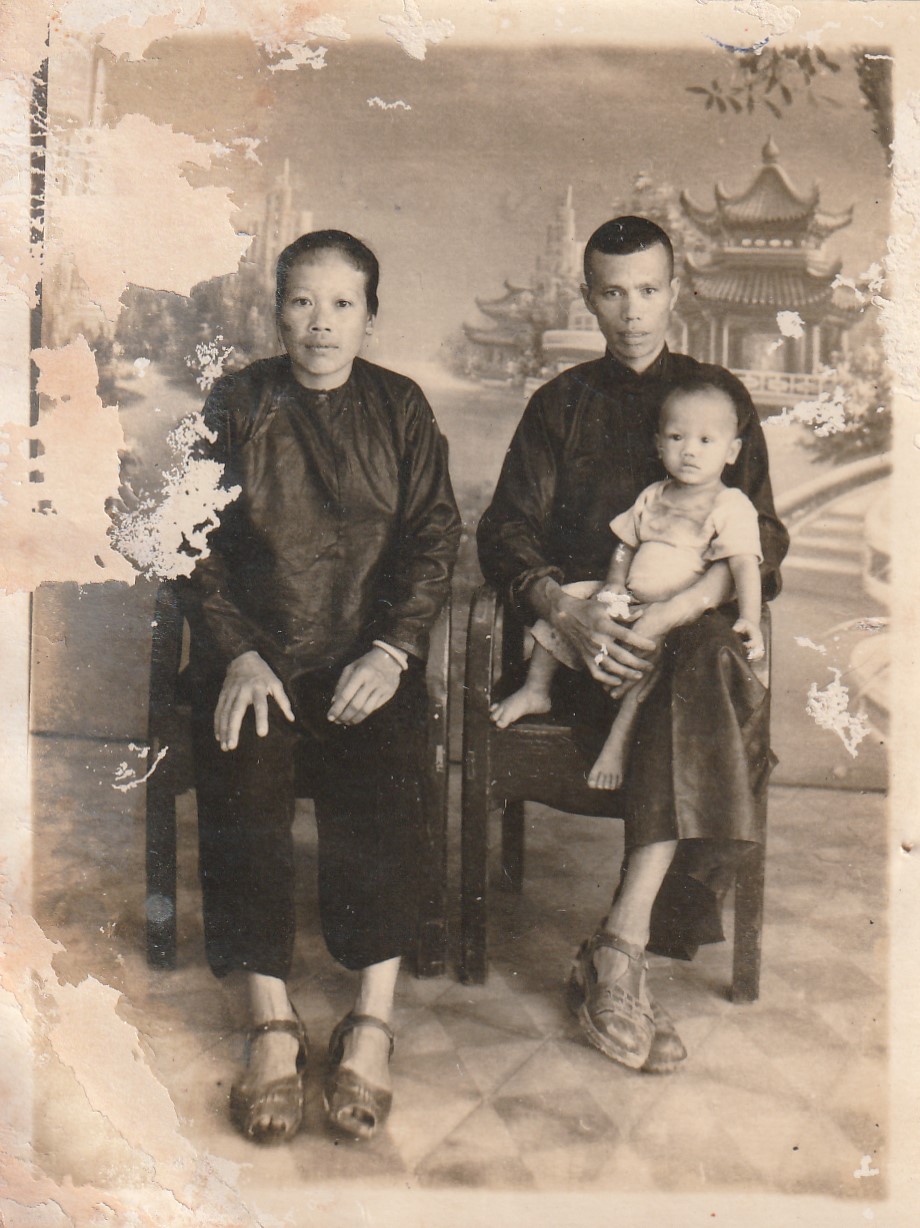 Ye Zhicheng's family photo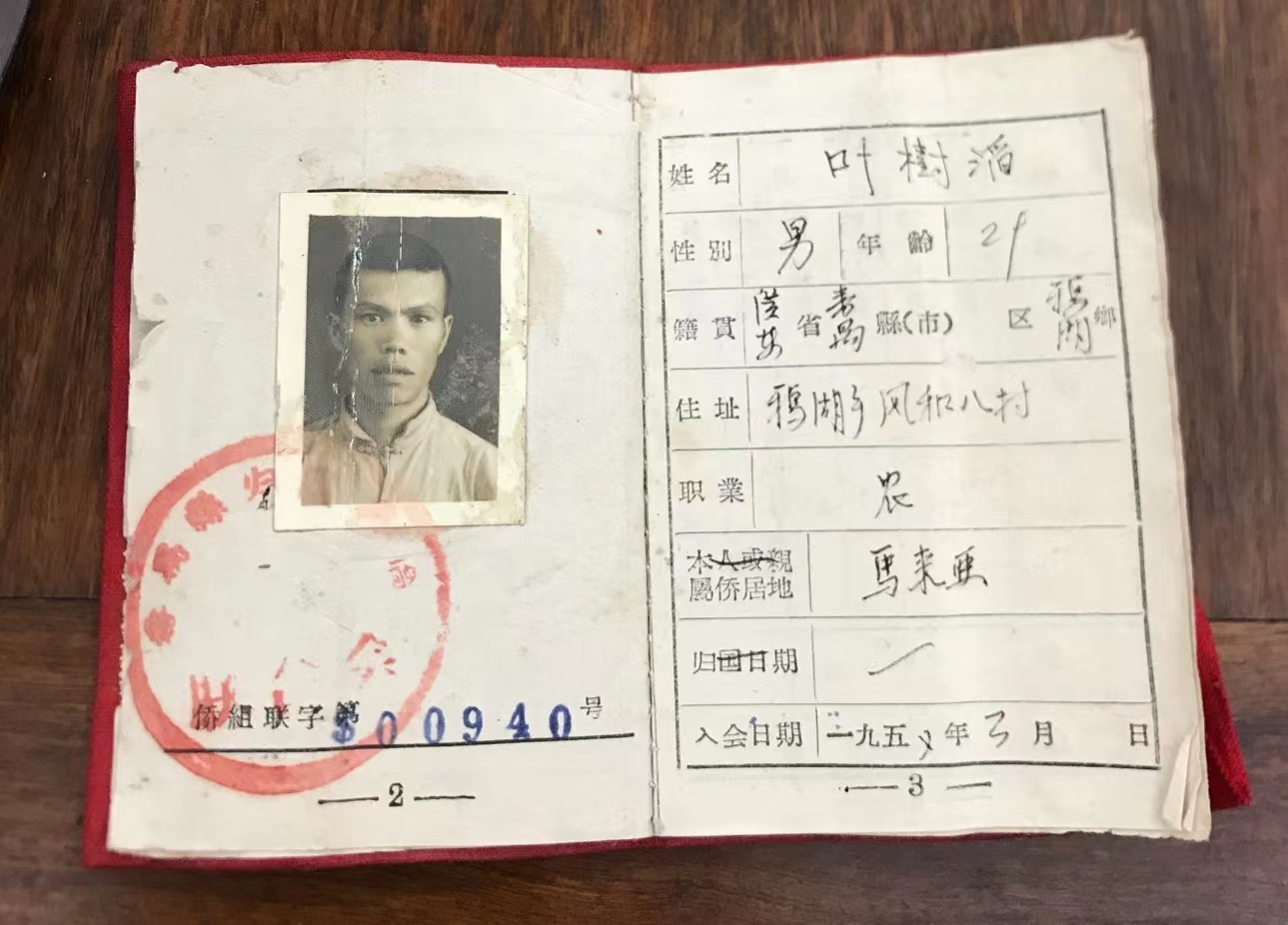 A certificate of Ye Zhicheng's father
Gains more "relatives" in Foshan
"After I found my relatives in Guangzhou, I also helped my mother's cousin find her relatives in Shunde District, Foshan." Somoza was referring to Cecibel Lau, the chairman of the El Salvador International Convention and Exhibition Center (CIFCO). Many years ago, Lau's father Lu Jianhua and Somoza's great-grandfather went to El Salvador to work together and forged a brotherhood.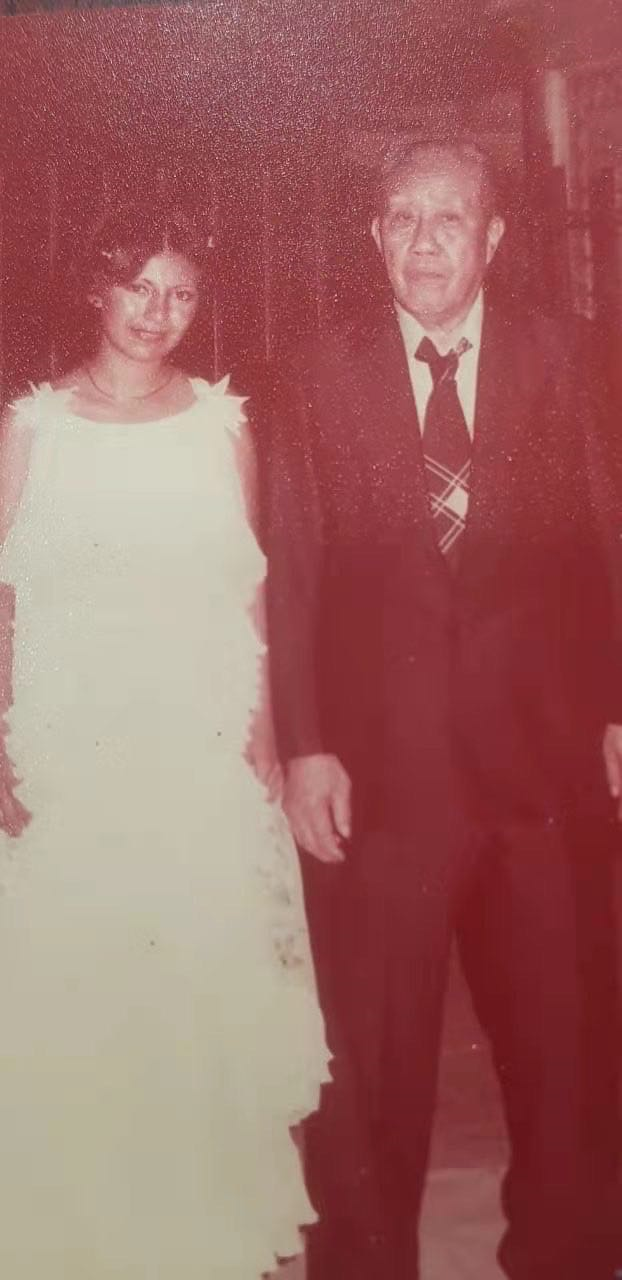 Cecibel Lau (L) and her father Lu Jianhua (R)
After learning that Somoza had found his relatives in Guangdong, Cecibel Lau also sent letters written by her father and relatives in Guangdong many years ago, asking Somoza to help find them. With the help of the teachers, Somoza found the Lu Family in Foshan and gained more "relatives".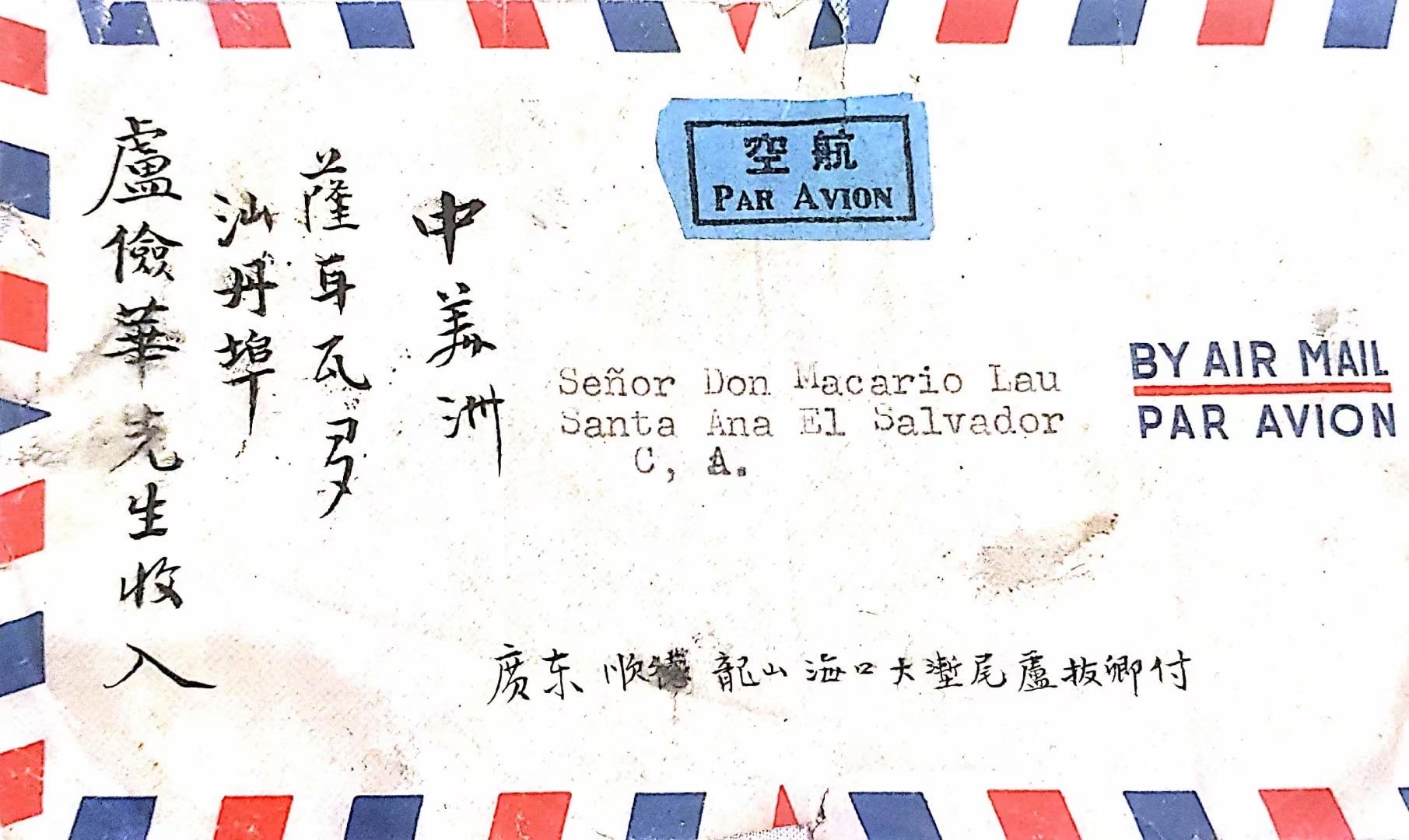 A letter from a relative in Guangdong to Cecibel Lau's father Lu Jianhua
Lu Bingqiang is Cecibel Lau's grandnephew. He brought an old envelope from El Salvador in 1950 to the event and explained that the name on it matched the name on the Lu Family Tree.
"After more than 70 years, it is very meaningful to find relatives. We, especially the older general of the family, were extremely excited when Somoza found us. Somoza is also part of our family." Lu Bingqiang said that together with Somoza, the family often makes video calls with Cecibel Lau, and hopes to meet her in person soon.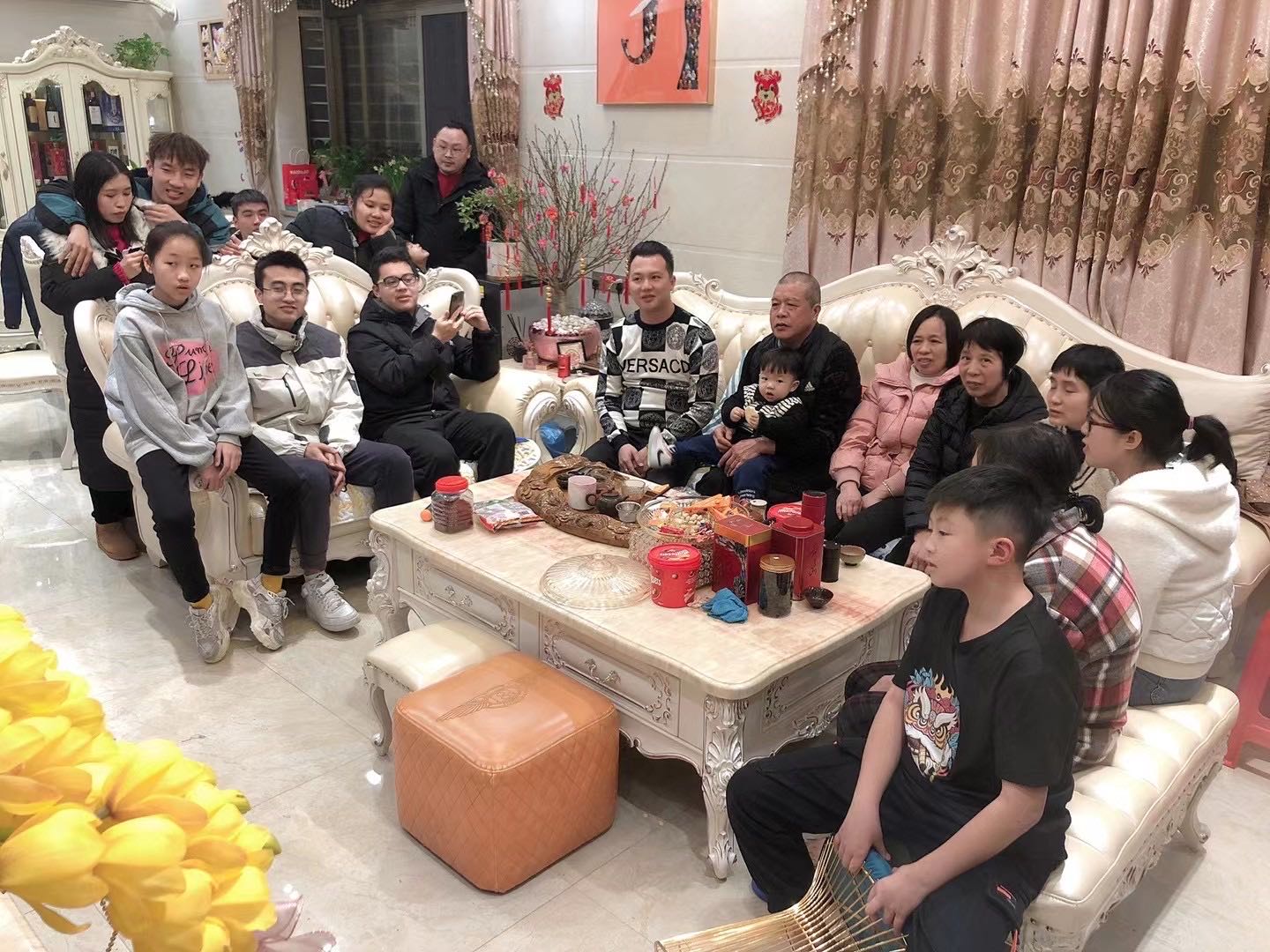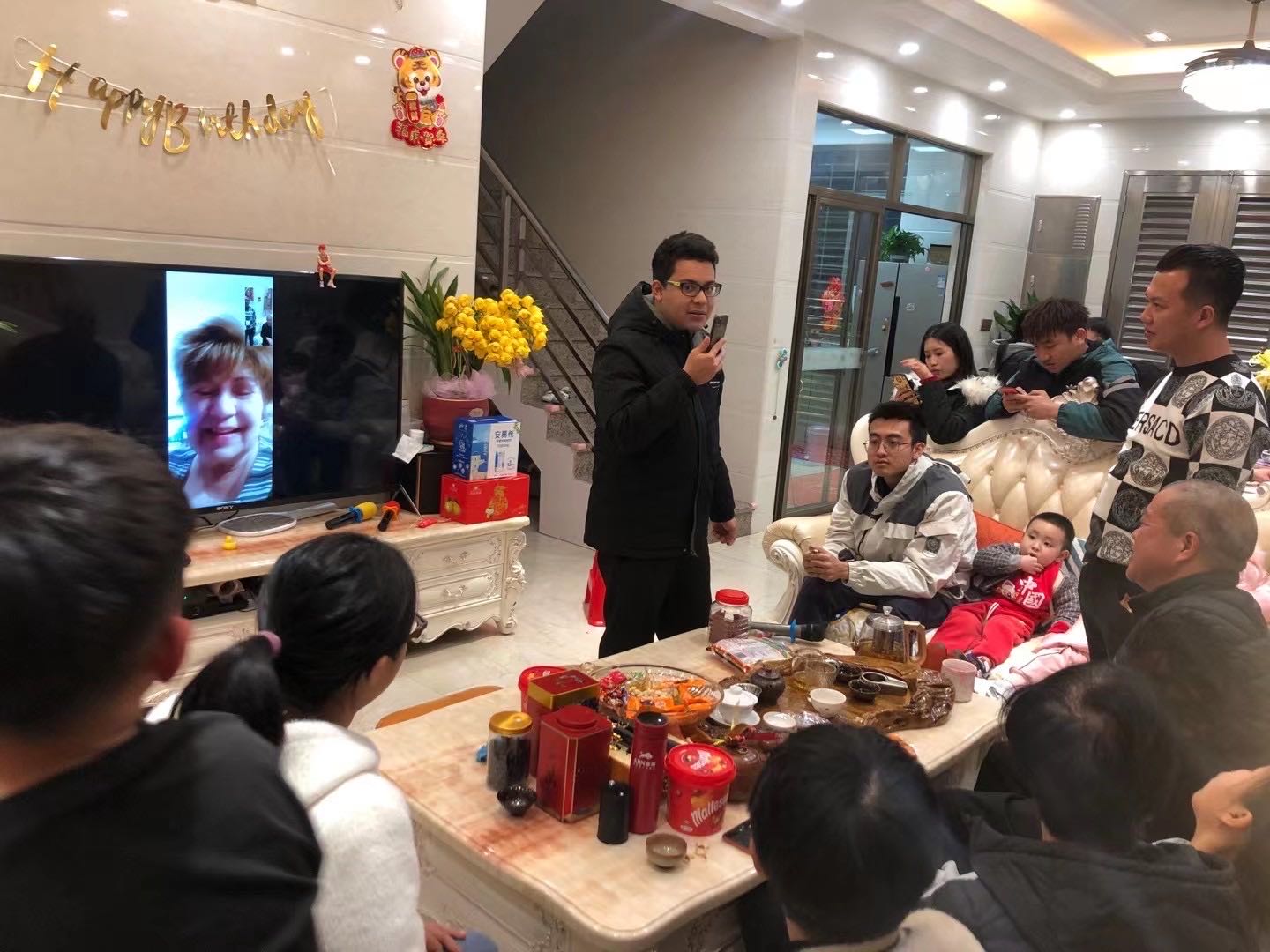 Somoza and Lu Bingqiang's family sent Chinese New Year wished to Cecibel Lau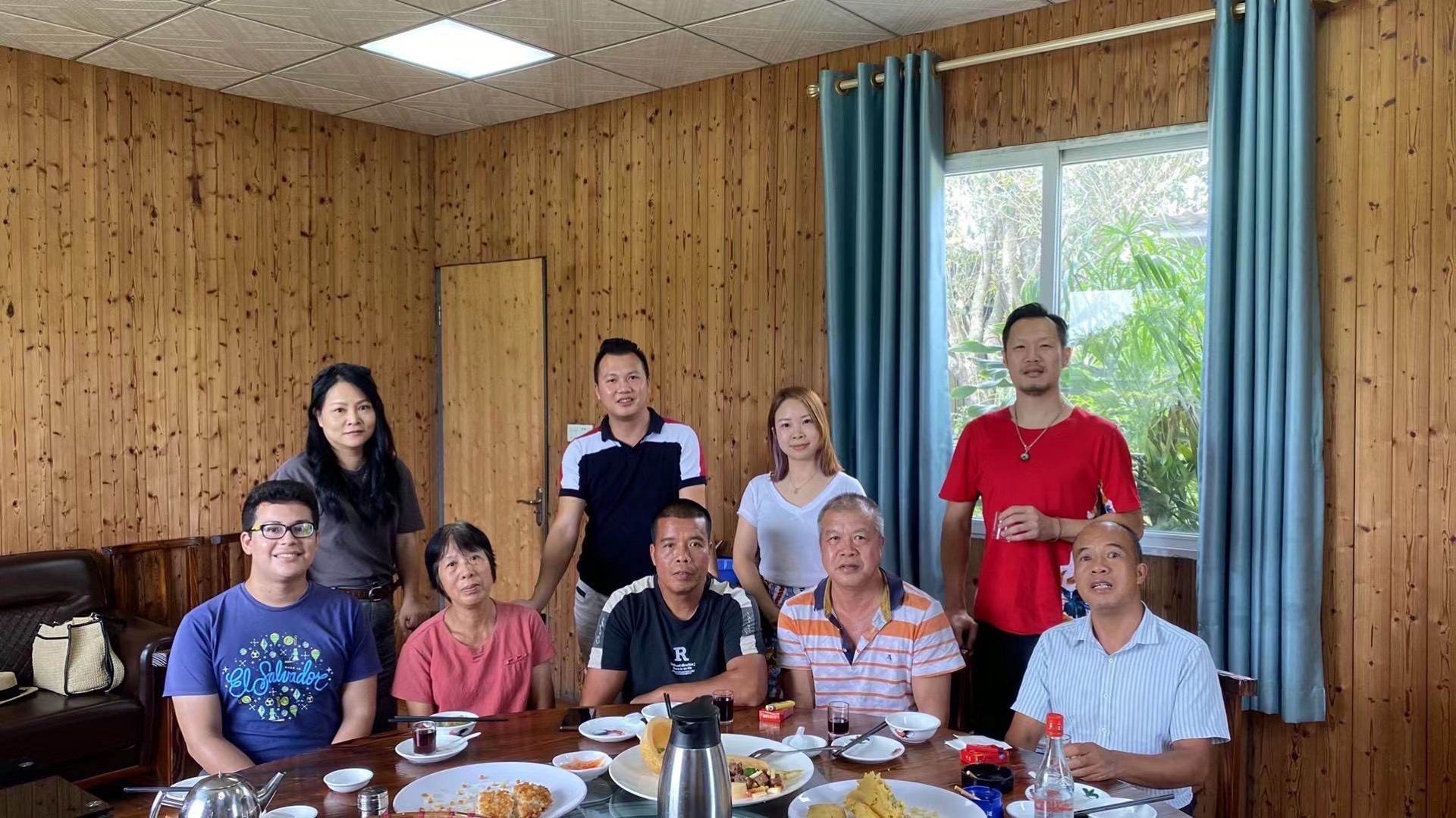 Somoza (L1) and Lu Bingqiang's family pose for a photo after having dinner together.
Become a "bridge" connecting Guangdong and El Salvador
Somoza's Chinese name Ye Chengbin is also the name of his great-grandfather. In El Salvador tradition, a son can use the same name as his father, which means that he does not want to forget his loved ones.
Somoza can speak fluent Chinese and Cantonese and has become a translator between relatives in Guangdong and El Salvador.
Over the years, Somoza has got along very well with his relatives and quickly adapted to life in Guangdong. "Although I am a foreigner, when I come into contact with Chinese culture, especially Guangdong culture, I feel that this is my home, which is very interesting."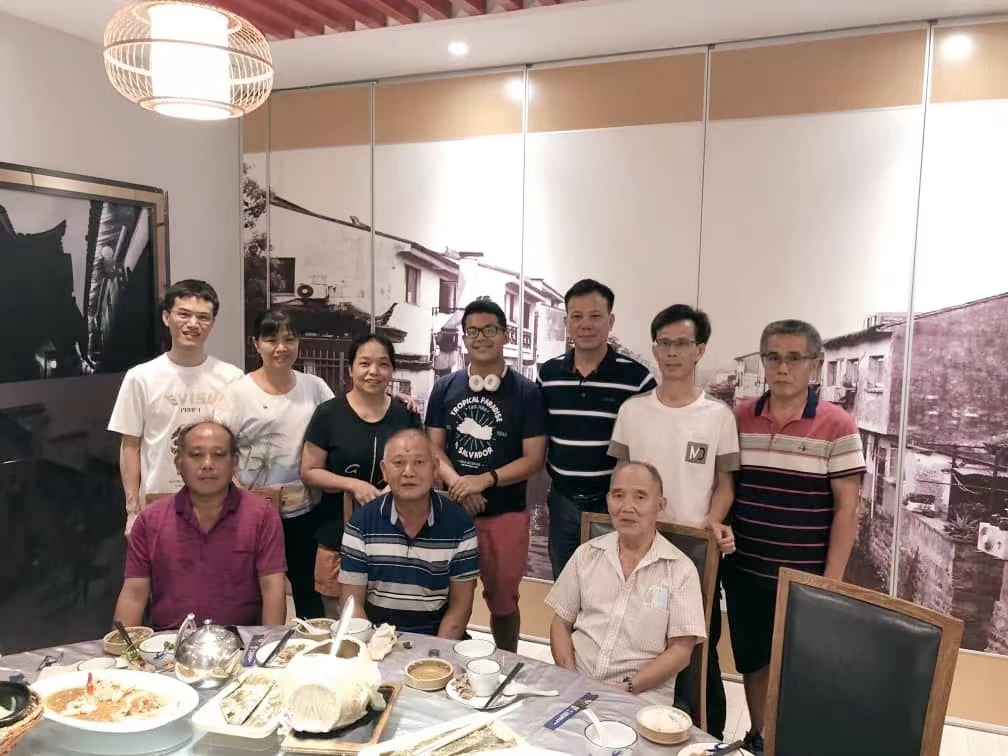 Somoza (L4, back) and the family of Ye Zhicheng
Somoza told the GDToday reporter that he plans to continue his graduate studies in Guangzhou and find a job here after graduation. "I traveled half the globe to find my family, and it would be a pity not to accompany them in the future, so I plan to settle down here."
In an interview with GDToday, Ou Yingjian, another SCUT teacher who helped Somoza with Gui Ying, said he offered help to Somoza because he was touched by that Somoza never forgets his heritage.
"I also hope that he can take on the mission and become a bridge connecting Guangdong and El Salvador." Ou Yingjian gave his best wishes to Somoza's studies and life in Guangdong, hoping that he will bring benefits to the peoples of China and El Salvador, and contribute to the prosperity and development of the two countries in the future.
Author: Monica, Holly
Video: Qin Shaolong
Poster: Lu Lu
Editor: Wing, Nan, Jerry