Editor's note: Lingnan culture is an integral part of splendid Chinese culture. In this series of reports, GDToday joins hands with the Guangdong Province Federation of Returned Overseas Chinese to provide an insight into the cuisine, folk arts, customs, architecture and other factors that lay a rich foundation for Lingnan culture.
Rice noodle soup is a traditional Chaozhou-Shantou styled dish and a favourite of people in South China. Walking on a street of Guangzhou, the commercial hub of the region, you may encounter one or two small rice noodle soup restaurants. In recent years, the original flavoured rice noodle soup dish has risen in popularity in the city.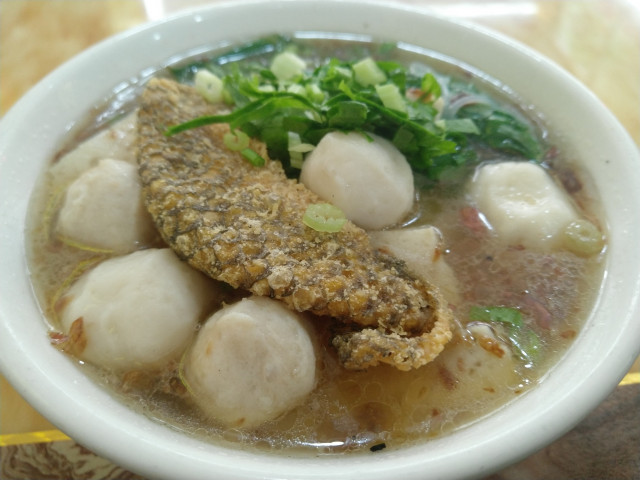 (Photo provided to Newsgd.com)
What differentiates the original flavoured rice noodle soup from other versions is that this dish begins with the white, rich, and aromatic broth mainly made of pork marrow bones. Another feature is the 'cooked to order', which means it is made fresh upon ordering. Rice noodles are heated in boiling water, and broth is cooked with meats ordered by the customer. Rice noodles are served in soup, with lettuce, diced celery, and fried diced garlic as the topping. Different sauces, such as shacha sauce, chilli sauce, and soy sauce, are available for self-service.
A variety of rice noodles and also noodle rice are offered at most such restaurants, along with pork offal, fish balls, beef balls, pork shank, marrow bones, beef brisket, etc. Some of those restaurants are open 24 hours a day.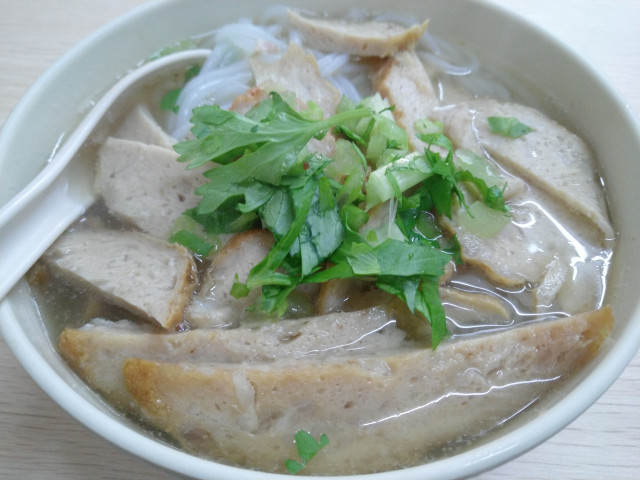 (Photo provided to Newsgd.com)
For rice noodles with fish balls, rice noodle soup is a late-comer. Rice noodles with fish balls actually include a dish of rice noodles or noodles served with broth and several authentic Chaozhou-Shantou delicacies. The broth is made of fish bones and pork marrow bones. In addition to fish balls, customers can choose to add hand-made fish dumplings, beef balls, fried pork roll, pork roll, or fried fish into the dish. The number and varieties of ingredients are up to customers' preference. They can also only order the delicious soup.
In Guangzhou, you can enjoy rice noodle soup at breakfast at very economical prices, ranging from 10-15 RMB (around 1.6-2.8 dollars), proving that great food can be affordable.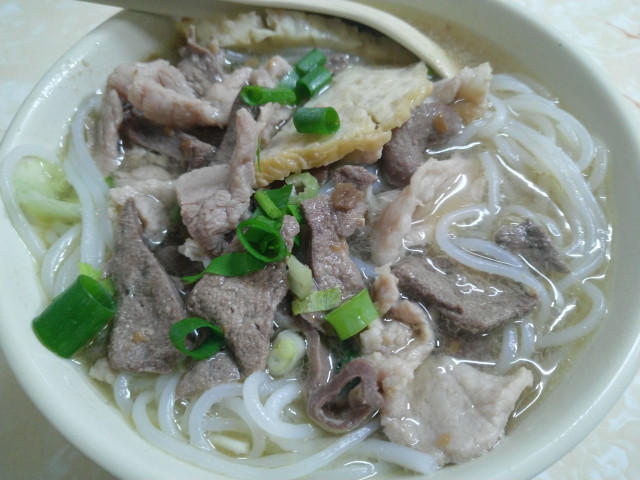 (Photo provided to Newsgd.com)
Author: Xiao Yunxian & Michelle
Editor: Monica & Jerry