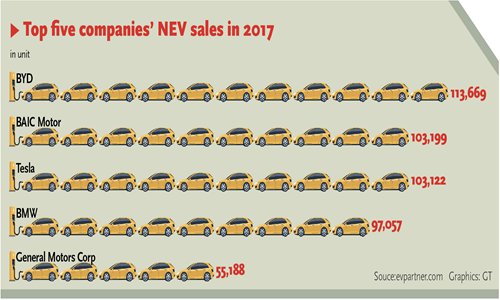 Consumers to get better products, more competitive prices
More foreign carmakers are starting to show an appetite for China's growing new-energy vehicle (NEV) market, but experts warned that their expansion in this segment may face a bumpy road as the sector's growth is strongly influenced by government policies such as subsidies.
Japan-based Nissan Motor Co has announced plans to invest 60 billion yuan ($9.5 billion) in China over the next five years with its joint-venture (JV) partner as it strives to become a top three producer in the world's biggest auto market, Reuters reported on Sunday.
Essential for such a push is Nissan's electrification plan, with the company's JV with Dongfeng Motor Group to launch as many as 20 models of NEVs in an effort to sell about 700,000 units a year by 2022. The Nissan plan involves all-electric battery vehicles and hybrids.
China released a policy in September 2017 in which it set a target of having 8 percent of automakers' sales be battery electric or plug-in hybrid vehicles by 2018, rising to 10 percent in 2019 and 12 percent in 2020. Automakers are trying to offer more electric and plug-in hybrid vehicles over the coming years, in part to comply with the production quotas for such cars.
German carmaker Mercedes-Benz said together with its partner, Beijing-based BAIC Motor, that it will make China the first country outside of Germany to build Mercedes-Benz electric vehicles and batteries with Chinese cells.
"By 2019, the EQC, a battery-powered sport utility vehicle, will start rolling off the assembly lines at our BBAC plant in Beijing," according to a statement the company sent to the Global Times Monday.
Yale Zhang, head of Shanghai-based consultancy Automotive Foresight, said almost all major carmakers rolled out agendas to boost output of NEVs as well as sales to meet China's quota requirements.
"The seemingly large figure mentioned by Nissan is not really that impressive, given the industry consensus that NEV sales will explode in the next few years," Zhang said.
Although a large number of Western carmakers have announced plans to shift away from cars powered by traditional internal combustion engines, many of the non-traditional cars mentioned by these giants don't strictly qualify as NEVs - the all-electric or plug-in hybrids - being promoted by the Chinese government.
---
Gao Jian, an independent industry observer, told the Global Times Monday that the lofty goals announced by foreign carmakers may collide with reality in China's NEV market, affected by policy uncertainty.
"Currently, domestic NEV brands dominate the domestic market, but the model offerings available to average consumers are quite limited. Many NEVs end up in local taxi fleets, which is not a market-oriented market segment," Gao said. This part of the market is subject to local taxi regulations and the preference of local governments.
"It remains to be seen whether foreign carmakers' models will be able to enjoy the preferential policies offered by China's local governments or even get NEV licenses, because localities have an interest in nurturing their own car manufacturing industries," noted Gao.
"Even domestic NEV brands face various limitations in some localities beyond those where they are manufactured. That will be even more of an issue for foreign carmakers and their JVs. Until 2020, the prospects for foreign carmakers in the Chinese NEV market are doubtful," Gao said.
Last year, NEVs sales in China stood at 777,000 units, growing 53.3 percent year-on-year, according to people.com.cn. During the same period, the country's passenger car sales reached 24.72 million units.
However, the serious participation of foreign carmakers will result in better product offerings with more competitive prices, Zhang said. "Low-quality NEVs with hefty price tags will be driven out of the market," predicted Zhang, noting that domestic players will face stronger competition.
Chinese NEV makers led the world in terms of sales in 2017. For example, Shenzhen-based major BYD Co sold 113,669 passenger NEVs worldwide, ranking No.1 globally, according to data from industry portal evpartner.com. Beijing-based BAIC was No.2 with 103,199 units, trailed by US-based Tesla's 103,122 units.
Many Chinese cities are in the process of phasing out combustion-engine taxi fleets, and domestic NEV makers are poised to benefit from this trend, so the growth of domestic NEV brands is set to continue, Gao said.