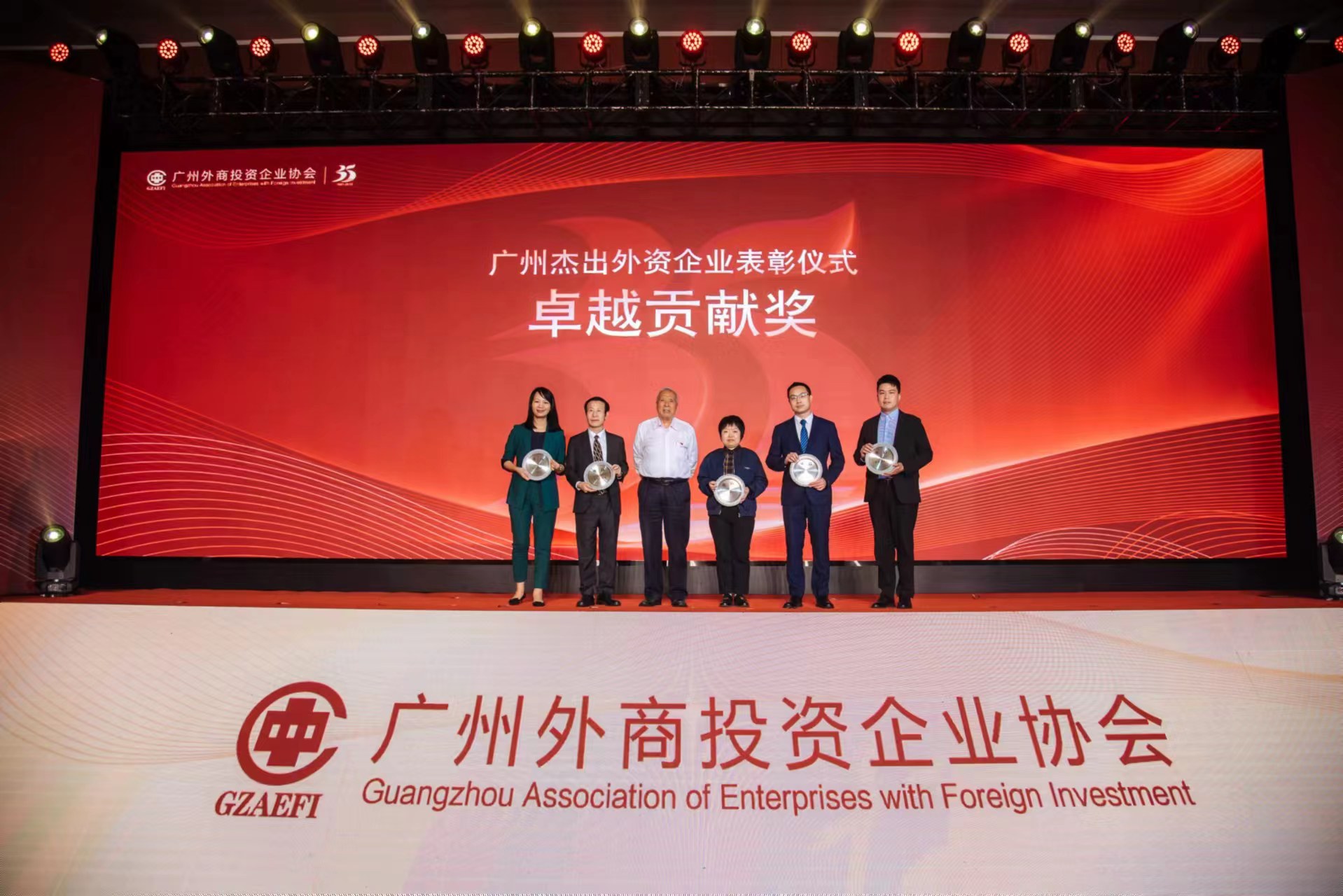 25 foreign-funded enterprises were awarded Guangzhou Outstanding Foreign-funded Enterprises. (Source: Guangzhou Municipal Commerce Bureau)

"There is no other places in the world except Guangzhou that has formed such a complete optical industry circle," Wilson Peng, President of ZEISS Optical China, told GDToday when participating in the 35th anniversary of the establishment of the Guangzhou Association of Enterprises with Foreign Investment on February 10.
Wilson indicated how Guangzhou could build its optical industry circle as the city's business card could be the city's development direction since it could distinguish Guangzhou's industrial performance.
Wilson is the current president of the Guangzhou Association of Enterprises with Foreign Investment. It is the first local foreign business association established on November 25, 1987, with the approval of the Guangzhou Municipal Government. Since the association's establishment, the total amount of contracted foreign capital introduced exceeds 700 million USD, and it has provided consulting services for thousands of foreign companies and offices in Guangzhou.
According to Liu Ye, vice president of the association, in recent years, the association has attracted more companies with foreign investment in new high-tech industries such as intelligent manufacturing, high-definition display, biomedicine, unmanned driving, and digital economy.
At the conference, 25 foreign-funded enterprises were awarded Guangzhou Outstanding Foreign-funded Enterprises.
According to the Guangzhou Bureau of Statistics, last year, the city's utilization of foreign capital was 57.41 billion RMB, a yearly increase of 5.7%. A total of 335 of the Global 500 companies invested in Guangzhou, with a total of 1,658 projects.
A senior executive from HTWO Guangzhou said that the output of automobiles in Guangzhou ranks first in the country, and the fields of electric vehicles, hydrogen vehicles, and driverless vehicles are of great potential. "Because of Guangzhou's advantages in the automobile industry, we decided to put the project in Guangzhou." HTWO Guangzhou is the Hyundai Motor Company's first foreign plant to produce fuel cell systems, starting construction in March of 2021.
Wang Yong, general manager of 3M Materials Technology (Guangzhou), said that Guangzhou is the business center of 3M in South China, "At present, the construction of the Guangdong-Hong Kong-Macao Greater Bay Area (GBA) is a major policy benefit, providing new business opportunities for multinational companies in Guangzhou. These policies have provided 3M with new development space."
According to Klaus Zenkel, Vice President of the European Chamber of Commerce in China and Chair of the Chamber's South China Chapter, EU companies investing in Guangdong are mainly distributed in manufacturing, high-tech industries, information technology, new energy and other fields, which are in line with the development of Guangdong and the GBA. He believes that the GBA has the complete infrastructure and an open business environment, which are conducive to attracting more foreign-funded enterprises to invest and develop in Guangzhou.
Reporter: Nan
Editors: Wing, Jerry