"Guangdong-Hong Kong-Macao Greater Bay Area (GBA) has achieved noticeable results in building sci-tech innovation platforms. We have seen many overseas Chinese scientists and entrepreneurs pay great attention to the sci-tech policies in GBA," said Matthew Chong, member of All-China Federation of Returned Overseas Chinese and Chairman of GBA Innovation Think Tank, when sharing with GDToday before the Overseas Chinese Entrepreneurs Investment (Guangdong) Conference (February 24 to 25).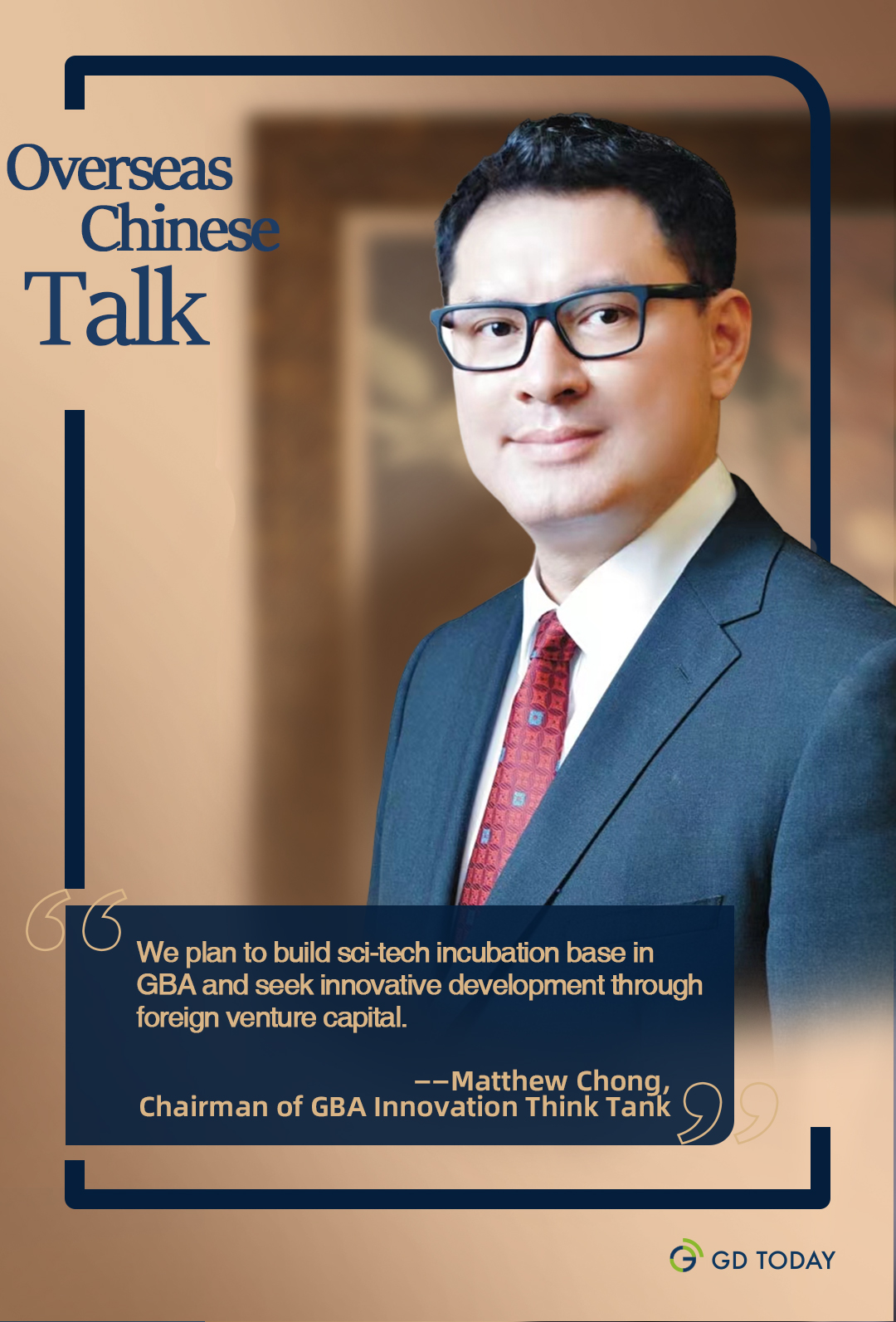 February 18 marked the fourth anniversary of the release of the Outline Development Plan for the GBA. So far, GBA has made great strides in developing an International Innovation and Technology Hub.
According to Chong, GBA will embrace new development opportunities and be vitalized again as the cross-border travel between Chinese Mainland and Hong Kong has been fully resumed.
"Overseas Chinese businessmen, especially those from Hong Kong, should seize the opportunities and give full play to their strengths in comparison with Guangdong so as to inject strong impetus into the building of an International Innovation and Technology Hub in GBA," he said.
Last September, Hong Kong University of Science and Technology (Guangzhou) officially opened its first fall semester in Guangzhou's Nansha District.
The Nansha Science City, with a planned area of 99 square kilometers, has become a major part of the comprehensive national science center of GBA. It has launched a batch of advanced and strategic scientific and technological projects on the frontiers of deep sea, space, and earth. And the major industrial cluster of intelligent connected vehicles, third-generation semiconductors, AI and aerospace is taking shape.
He stressed that with tremendous policy support for high-tech development, Nansha will attract high-tech enterprises from Hong Kong and Macao as well as overseas Chinese entrepreneurs in the future.
In February, the first Qualified Domestic Limited Partner (QDLP) pilot fund in Nansha was launched. The approved quota for its Qualified Foreign Limited Partnership (QFLP) pilot projects exceeded 15.5 billion RMB, with over 100 investment projects currently in the planning phase.
"We're paying close attention to the QDLP and QFLP policies in Nansha. In the future, we plan to establish a high-tech incubation base and drive industrial development through foreign venture capital investment," he added.
With regards to the coming Overseas Chinese Entrepreneurs Investment (Guangdong) Conference, he believed that it is of great importance to introducing relevant policies to Hong Kong and overseas Chinese businessmen and help them find a suitable development path on the Chinese mainland.
Chinese reporter: Chen Chen
English reporter: Fanny
Editor: Wing, Nan, Monica, Jerry