"Guangdong Pilot Free Trade Zone (FTZ) is serving as an increasingly significant investment platform, it has seen more than 260,000 newly registered enterprises since its establishment in 2015," said Zhang Jinsong, Director General of the Guangdong Department of Commerce and Director of the General Affairs Office of the Guangdong FTZ, at a press conference held on June 7.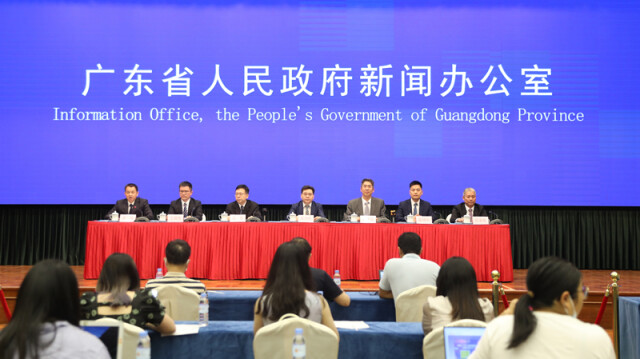 (Photo / Cao Yaqin)
According to Zhang, the actual overseas capital used has amounted to 50 billion USD, 91 Global 500 Companies have launched 465 projects in the province. Over the past three years, the total import and export volume of Guangdong FTZ has exceeded 200 billion RMB, 300 billion RMB and 500 billion RMB respectively, with an average annual growth rate of more than 25 percent.
Since its operation, a total of 24,000 Hong Kong and Macao-funded enterprises have been established in the FTZ, and the actual use of Hong Kong and Macao capital has reached 47.377 billion RMB.
According to Zhang, Guangdong FTZ has made 696 institutional innovation achievements and released 301 cases. Recently, the 15 best practice cases have been selected for the eighth anniversary of Guangdong FTZ.
In terms of the 15 innovation cases released this year, they involve investment, trade, finance, as well as cooperation with Hong Kong and Macao, and other sectors.
For instance, regarding financial innovation, the Hengqin Area of Guangdong FTZ has launched the "CLAP-U Portuguese" financial service solution to promote economic ties between Chinese enterprises and Portuguese-speaking countries. It has facilitated the settlement of cross-border payments of 250 million USD.
As for rules connection with Hong Kong and Macao, the Qianhai Area of Guangdong FTZ has adapted a more independent cross-border commercial legal system. The Qianhai Court has applied Hong Kong laws for the trial of 118 cases.
Zhang also revealed that the General Affairs Office of the Guangdong FTZ is outlining a plan highlighting institutional opening-up, international trade shipping, financial openness and innovation, agglomeration development of modern industries, in-depth cooperation between Guangdong, Hong Kong and Macao to accelerate the development of the Guangdong FTZ in the future.
Author: Will
Editor: Wing, Nan, James