Editor's note: The 134th Canton Fair is held as scheduled. Buyers across the world gather in Guangzhou for the Fair, busy with exchanging contact information, product inquiries, placing orders, and signing contracts. The Fair is bustling with businesspersons in a prosperous atmosphere. The exhibition showcases a dazzling array of products. The "China's No.1 Fair" once again witnesses thousands of international buyers and exhibitors exploring business opportunities. Journalists from Southcn.com and GDToday delved into the 134th Canton Fair venue and found international businesspersons' stories of the Fair.
Murat Kolbasi from Türkiye is an "old friend" of the Canton Fair and comes to Guangzhou to attend the ongoing session. He is the Chairman of Arzum, a Turkish household appliances company, and has been attending the Canton Fair since 1992 to find Chinese partners.
"The Canton Fair is a bridge for the outside world to access China and a window to witness China's development and changes," said Kolbasi.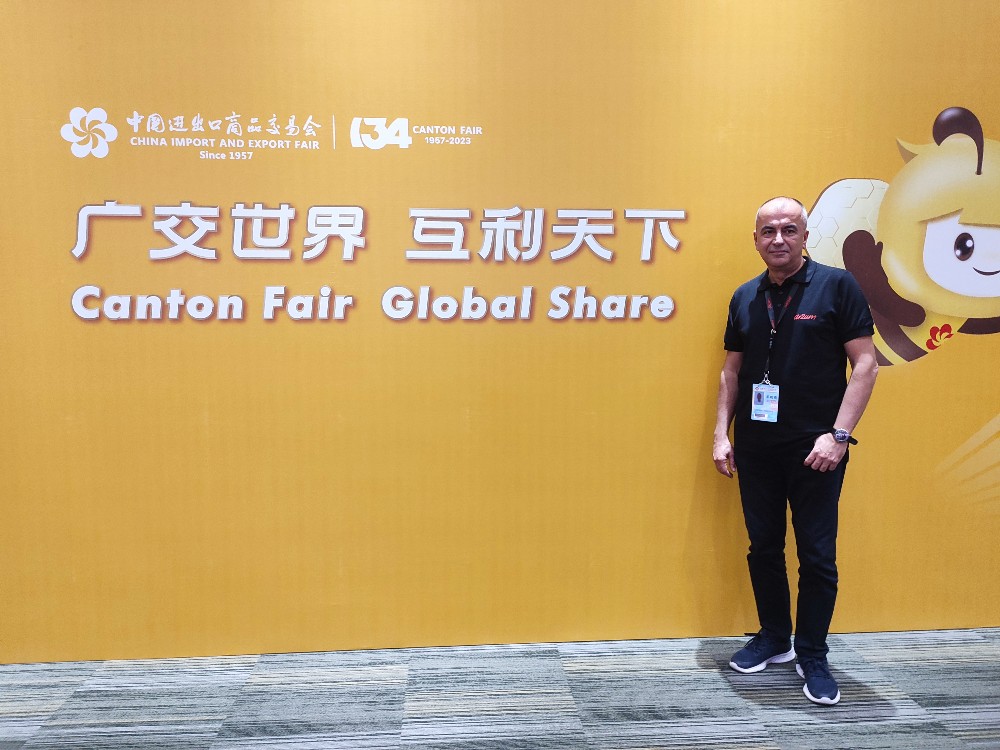 Arzum was founded in 1966 and mainly produces products such as irons, coffee machines, and food processing tools. It is well-known in Türkiye for its strong technological support and highly recognized creative design, and has successfully entered the international market.
In 1988, Kolbasi took over the company from his father under pressure and challenges. In order to achieve better brand development, he tried to export small household appliances from Türkiye to Europe, entering bigger markets.
However, in the field of small household appliances and manufacturing facilities, Chinese companies were among his competitors.
With curiosity about the competitor, he came to China in 1992 and attended the Canton Fair for the first time, hoping to understand the Chinese market through the exhibition and learn from Chinese home appliance companies.
To his surprise, the first trip to the Canton Fair changed his business.
"I was amazed by the products and technology in China, and it made me realize that Chinese companies not only are competitors but also should be partners," Kolbasi told reporters. Since then, Kolbasi has become a regular attendee of the Canton Fair.
A fair for showcasing opportunities in China
Kolbasi said, "The Canton Fair is an international exhibition and it is constantly progressing." At every session of the Canton Fair, Kolbasi can access to many innovative products and exchange with Chinese and other countries' companies.
He led his company to establish offices in Hong Kong and Shanghai, and collaborated with Chinese designers, engineers, and universities to develop new projects.
He has participated in over 60 sessions of the Canton Fair and found many partners. Through years of collaboration, they have developed a close relationship.
Kolbasi is grateful for the support from Chinese manufacturers. He also thanks the Canton Fair for the abundant resources it brings, allowing Arzum to keep providing high-quality goods to buyers.
"I look forward to the relationship between China and Türkiye getting better, and the Canton Fair becoming even better!" During this session of the Canton Fair, a smile of joy can always be seen on Kolbasi's face as he witnesses the successful completion of each order.
As the oldest, most diverse, and largest import and export trade fair in China, the Canton Fair serves merchants from all over the world as a window into opportunities in China. Through the Canton Fair, Kolbasi sees the latest achievements of China's manufacturing, services, and innovation.
"I will continue to attend the Canton Fair because I have friends, partners, and dreams here," Kolbasi said.
Producer: Yang Chenggang
Executive producers: Lu Zebing, Cui Zheng
Planner: Luo Wei
Reporter: Yang Zhiming
Co-authors:Huang Qiyun, Jiang Xianghui
Graphic designer: Huang Chengshuang
Editors: Wing, Steven, Will, Jerry