From January to May, the total volume of foreign trade in Guangdong reached 3.21 trillion RMB, an increase of 1.9 %, according to the latest statistics released by Guangdong Sub-administration of the General Administration of Customs of the People's Republic of China (GACC) on June 20, 2022.
Of the total, exports rose 6.4% to 2.03 trillion RMB, while imports were down 4.9% to 1.18 trillion RMB.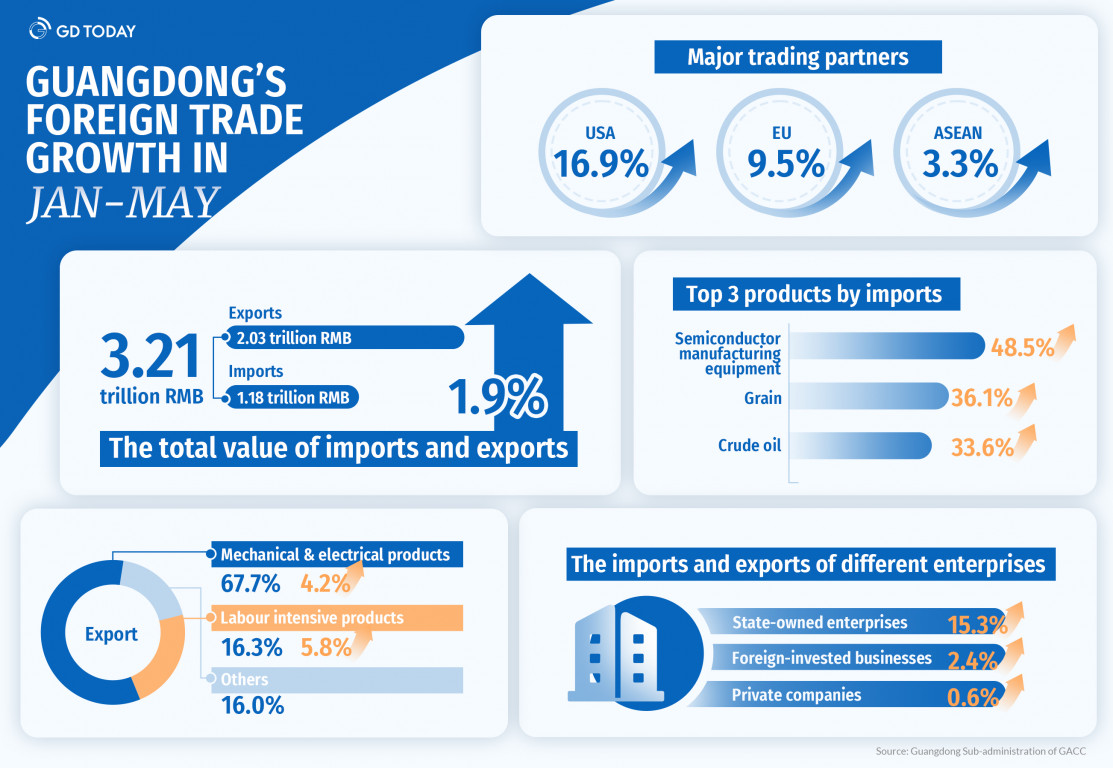 [Poster: Mia]
The exports of some mechanical and electrical products achieved significant growth with an increase of 4.2%. And the imports of semiconductor manufacturing equipment, grain, and crude oil also registered rapid growth, up 48.5%, 36.1% and 33.6% respectively.
During the period, the import and export of foreign-invested enterprises in Guangdong gained a growth of 2.4 %, while that of the private enterprises was up 0.6 %.
In terms of major trading partners, the Association of Southeast Asian Nations (ASEAN) is the largest trading partner of Guangdong province.
In the first five months, Guangdong's foreign trade with ASEAN stood at 505.61 billion RMB, up 3.3%. And that with the United States and the European Union grew by 16.9% and 9.5% respectively.
Author | Fanny
Poster | Mia
Editor | Wing, Steven, Will, Jerry