Born in 1979, William Hong from Malaysia, the Managing Director of Wing Huong Group, is a frequent visitor to the Canton Fair with a history of 24 years of participation. At the 133rd Canton Fair, he led 15 Malaysian post-90s to explore business opportunities.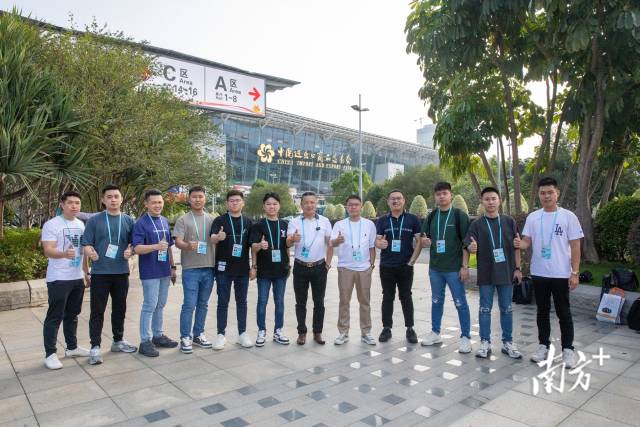 The post-90s took a photo with William Hong (seventh from left) in front of the Canton Fair Complex.
After two-days of participation, the Canton Fair impressed those Malaysian youths a lot with novel experiences.
"It is a very valuable experience to participate in the Canton Fair, and I was deeply impressed by its scale," said Jordan Kho Chun Ann, who was born in 1997 and nephew of William Hong, currently in charge of purchasing business in his uncle's company. Most of the Malaysian youths coming to the fair are his friends.
"I have never seen so many merchants gather together, and it is very shocking," Jordan added. At this fair, they have collected a lot of information and manufacturer business cards about car modification and electronic products. "There are many old vehicles in Malaysia, using new products to transform them can improve the driving experience, that will bring a new market," he said.
As a Malaysian youth, Jordan is also very optimistic about the prospect of China-Malaysia trade, said that "The products made in China are very popular in Malaysia, and there is a good development prospect in cross-border logistics."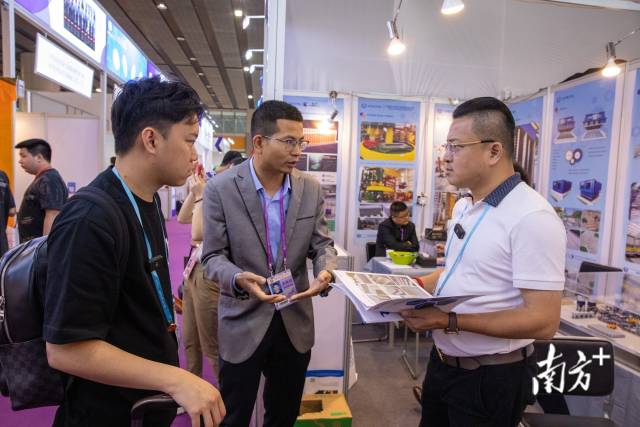 William (right) and Jordan (left) were talking with exhibitor at the fair.
As for Jared Kho Chun Haw, through talking with exhibitors, he learned about the market trends in different countries and regions, that created experience for future trade cooperation.
Tang Wee Han focused on the market trends of electronic products at the fair, he said he hopes to work with Chinese business people and build a better Malaysia in the future.
"Although the Internet is very developed now, the Canton Fair is still a good platform. Here we can see the actual products and exchange information with suppliers face to face," said William. He hoped young people could enrich their knowledge and seek opportunities through the fair.
"This trip lets us have a good impression on many exhibited products, and we are full of confidence in the products made in China," William added.
Reporter: Wang Jin
Video: Zhang Ling, Zhou Xinyu, Zoey, Hu Yuejun (intern)
English version: Will
English editor: Olivia, Steven, Jerry