Starting from May 15, the 50 fast lanes at the T2 exit and entry hall of Guangzhou Baiyun International Airport fully resumed operation to further facilitate cross-border travel. The average clearance time is within 30 seconds.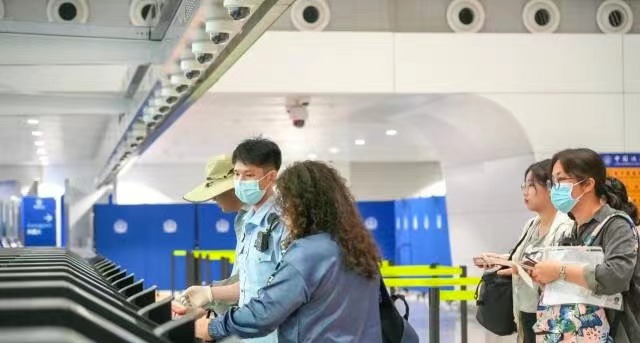 [Photo:Nanfang Plus]
"It's very quick and smooth. It's really getting more and more convenient,"said Mr. Chen, the first passenger who finished the exit-entry procedures through the fast lane.
In the first hour after the resumption, nearly 400 passengers used the fast-lane services at Baiyun Airport, including about 250 inbound passengers and over 140 outbound passengers.
Notice:
1. Chinese citizens over 7 years of age and above 1.2 m in height with a Chinese e-passport, electronic exit-entry permit for travelling to and from Hong Kong SAR, Macao SAR and Taiwan (except group travel endorsement) can use the fast-lane service.
2. Chinese citizens with the Mainland Travel Permit for Hong Kong and Macao residents, the five-year valid Mainland Travel Permit for Taiwan residents, and the China Entry and Exit Permit valid for several times a year shall register at the border check-in counter before using the fast-lane services.
3. Passengers with children, mobility-impaired seniors, children under seven years old, and those with too much carry-on luggage shall choose the staff inspection channel.
4. After passing through the fast lane, passengers can print out the latest exit or entry record certificate at the nearby printing device, which has the same effect as the seal of China's border inspection authorities.
For further information, please feel free to call the 12367 service platform of the National Immigration Administration.
Author | Fanny, Poster (Intern)
Editor | Olivia, Will, Jerry