The Hong Kong section of the Guangzhou-Shenzhen-Hong Kong Express Rail Link restarts operation at 5:45 am today (January 15), with a ribbon-cutting ceremony held by MTR (Hong Kong metro) at the Hong Kong West Kowloon Station.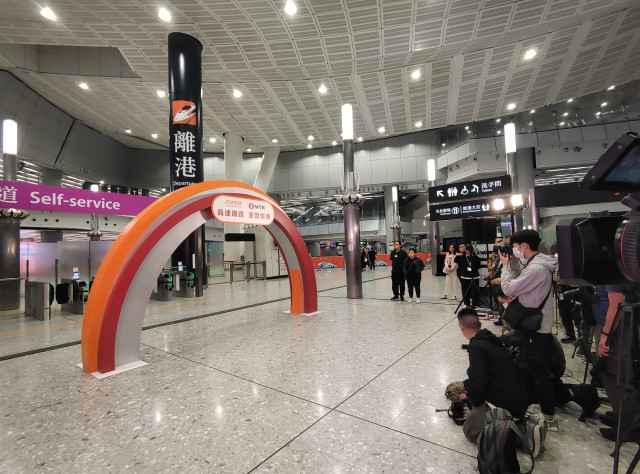 At the initial stage, services between Shenzhen's Futian, Shenzhen North and Guangzhou South stations will be resumed, while services to and from Guangzhou East Station will be newly introduced.
The first train to Chinese mainland today is G5624, which arrived Shenzhen North Station at 7:03 am. Many passengers arrived at the station at 5:00 am and waited for departure.
Representatives of MTR including its chairman Rex Auyeung Pak-kuen gave souvenirs for passengers after the ceremony.
Now the equipment of the West Kowloon Station has been improved, including the use of automatic passenger service equipment and more electronic screens. The station has also fully introduced electronic tickets, so passengers can enter the gate directly with their travel documents for boarding the train, said Auyeung Pak-kuen.
A total of 10,000 tickets (with 5,000 tickets each to mainland and Hong Kong) for the high-speed rail will be available each day at the initial stage of service resumption, according to Hong Kong SAR government. The SAR government will consider whether to increase the sale of tickets according to the situation of the resumption.
Passengers can purchase tickets online through train ticket booking platform "12306", via travel agencies, or in person at the Hong Kong West Kowloon Station.
Related links:
First train after border resumption departed from Hong Kong West Kowloon Station
First train from HK after border reopening takes 18 mins to arrive Shenzhen
Author: Will
Editor: Wing, Nan