The route from Pazhou Ferry Terminal to Hong Kong International Airport (HKIA) will start trial operation on April 28.
Upon opening, passengers will be able to go straight to the SkyPier at Hong Kong International Airport and check in beforehand at the Terminal, with no need to go through entry/exit formalities in Hong Kong.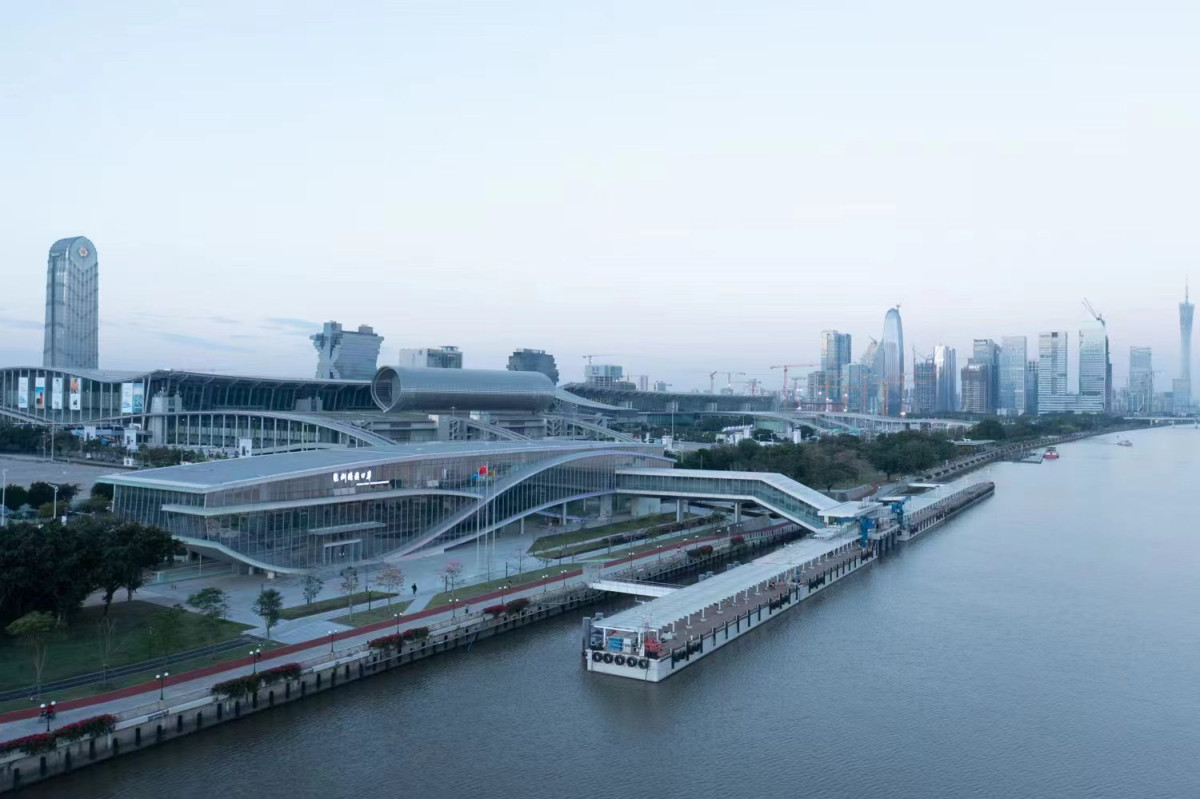 [Photo provided to GDToday]
The check-in counter is located at the Departure Hall on the second floor of Pazhou Ferry Terminal, allowing passengers to check their luggage through to their destination.
Passengers taking cross-border ferries to Hong Kong International Airport for connecting flights are exempted from Air Passenger Departure Tax. They can receive cash refunds by showing the refund coupons at the Departure Tax Refund Desk.
Ferry schedule:

Note: Passengers must arrive at the check-in counter at least 90 minutes before departure for the relevant procedures.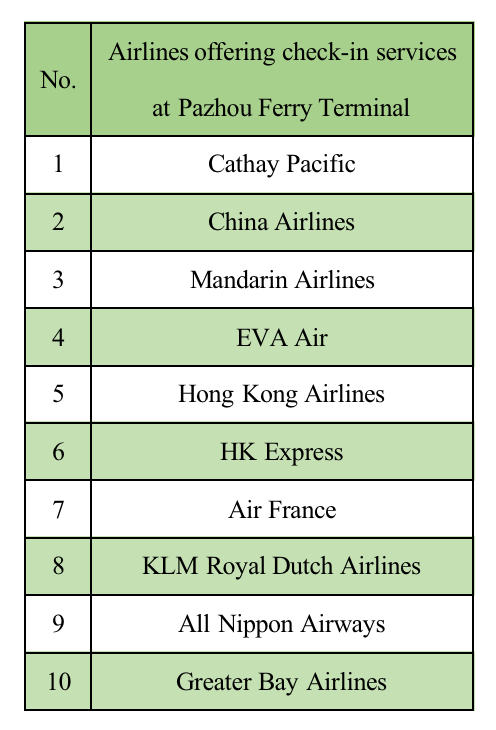 Ticket Price:


Note: Hong Kong dollar price is applicable in the Hong Kong Airport only.

How to buy a ticket?
Step 1: Follow the WeChat official account of Pazhou Ferry Terminal (Chinese: 琶洲港澳口岸)and click the "buying the ticket" (Chinese: 一键购票) button in the bottom left.
Step 2: Select the route and date before submitting the order.
Step 3: Fill in your name and ID number, and verify your information through your mobile phone.
Step 4: Pay and get the ticket QR Code.
Note: To save time, passengers need to log in to the mini program "China Customs Service for Passengers" (Chinese: 中国海关旅客指尖服务) to submit an entry/exit health declaration within 24 hours before departure.
From April 28 to May 5, global visitors and traders can enjoy a free return trip after buying a ticket for the Pazhou Ferry Terminal to Hong Kong International Airport route on-site with their valid certificates of the 133rd Canton Fair.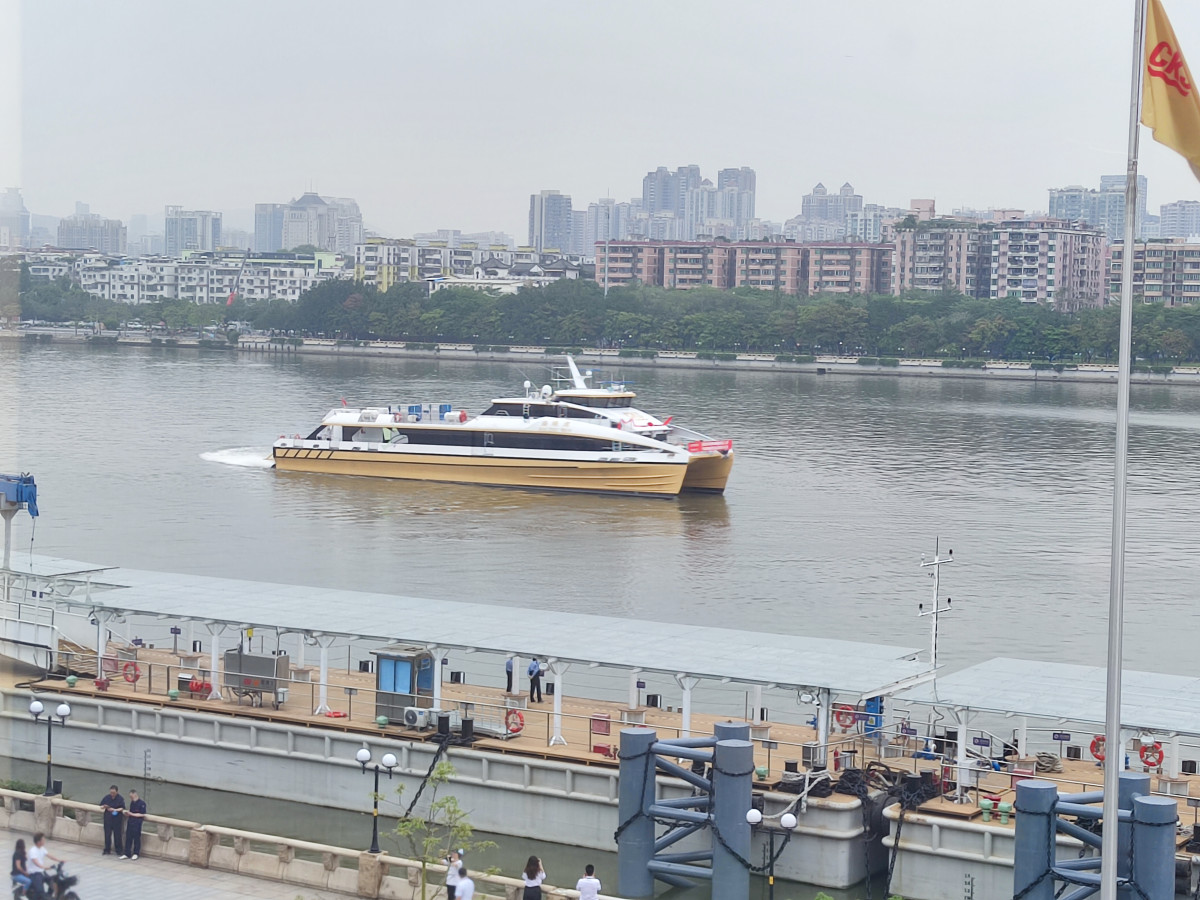 [Photo provided to GDToday]
How to get to the Terminal?
The Terminal is located at No. 499 Yuejiang Zhong Road, Haizhu District, Guangzhou (广州市海珠区阅江中路499号).
1) Take a taxi or online ride-hailing car to the North entrance.
2) Take Tram Haizhu Line 1 (THZ1) to the Canton Fair Complex East station.
3) Take Metro Line 8 to Pazhou station and then walk for about 15 minutes.
4) Take Bus 303A, B7, Night 108, or Sightseeing Line 1 to the Canton Fair Complex North station.
For more information, please come to the Pazhou Ferry Terminal service counter (Area A 3-6) at the Canton Fair Complex, which will continue to offer travel services until May 5.
Author | Fanny, Poster (Intern)
Editor | Wing, Nan, Monica, James