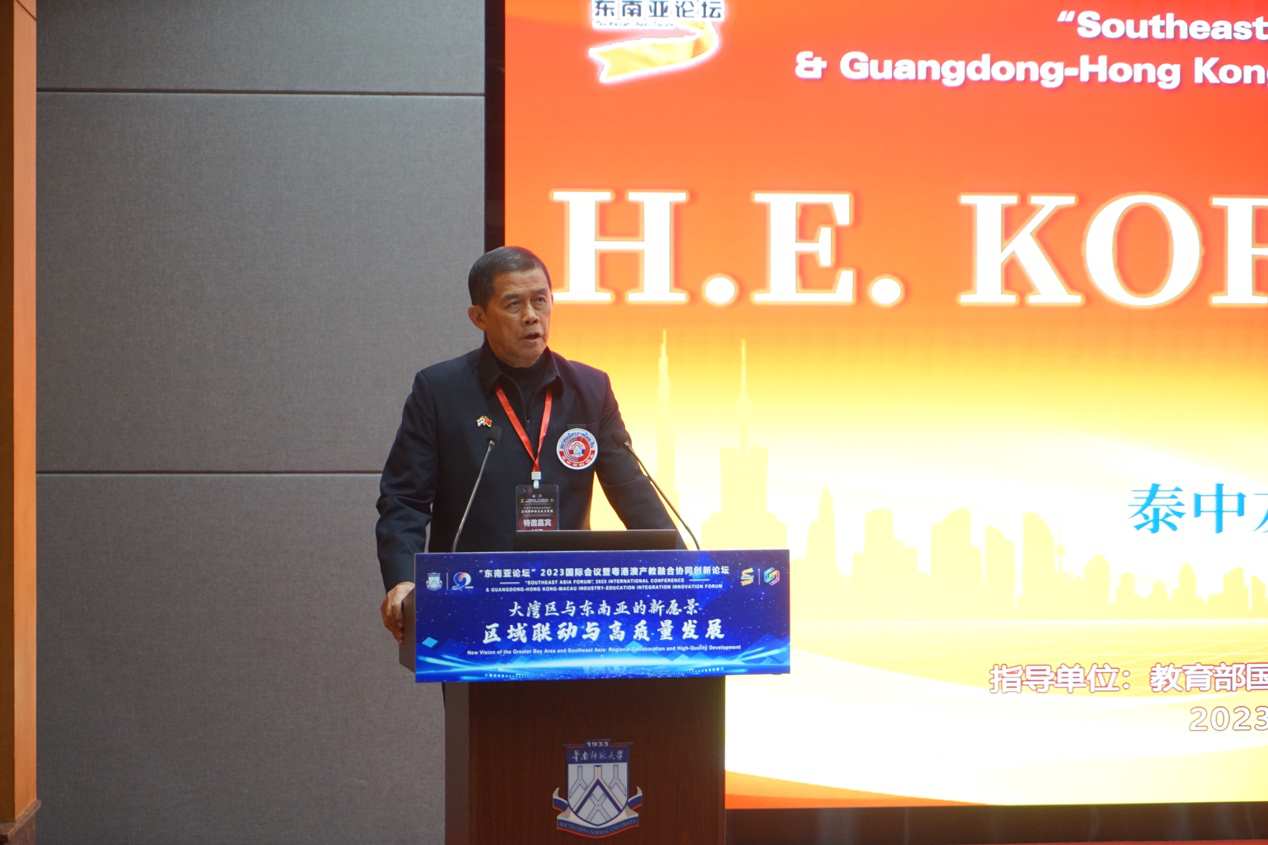 "I interpret the Belt and Road Initiative (BRI) as a belt of peace, and the road to prosperity," H.E. Korn Dabbaransi, Chairman of the Thai-Chinese Friendship Association and Former Deputy PM of Thailand, told GDToday at an interview during the "Southeast Asia Forum" held by the South China Normal University (SCNU) in Guangzhou.
Korn visited China for the first time in 1975, the year when China and Thailand established diplomatic relations, and he was working for the Foreign Ministry of Thailand. Since then, Korn has been closely observing the policies China applied to achieve development and improve the livelihood of its people over the past 48 years.
"I was very fortunate to meet Deng Xiaoping in 1978 and heard from him about China's reform agenda confined to a better life for Chinese people. After the successful execution of this new economy in Shenzhen, China opened up city by city until all the 'flowers' bloom around the country, and now it has lifted its people out of extreme poverty in only four decades," he said.
In Korn's opinion, the success of Chinese policies in improving people's livelihoods is a convincing precondition to promoting the BRI in the international community and bringing peace and prosperity.
"If I were able to translate the BRI in my own sentence, Chinese President Xi Jinping is telling the world that 'please work together for peace'. Prosperity will come only after peace because no nation on the planet can prosper and have their people happy unless it's at peace," he added and considers projects such as the China-Laos-Thailand round-trip freight train tangible results of BRI that improved regional connectivity with peace.
Korn is very proud that 'ASEAN+China' is the most peaceful area in the world, as a result of which, regional cooperation has been tightened under initiatives such as BRI and Regional Comprehensive Economic Partnership (RCEP).
According to the Chinese Academy of International Trade and Economic Cooperation, China has remained ASEAN's largest trading partner for 14 consecutive years, while ASEAN has been China's largest trading partner for three consecutive years. As of July 2023, cumulative bilateral investment between China and ASEAN countries exceeded 380 billion USD, with more than 6,500 direct investment enterprises established in ASEAN.
As the head of the Thai-Chinese Friendship Association, Korn highlighted people-to-people exchanges covering economy, education, culture and sport. "When I visited Xishuangbanna of Yunnan province, which is home to the Dai ethnic group, I communicated with local people in the Thai language. They could not tell whether I'm Chinese or Thai, which is proof of the long-standing people-to-people bond between China and Thailand," he said.
To facilitate bilateral exchanges, Korn said the Thai-Chinese Friendship Association signed a cooperative agreement with Hanban to send Chinese students to teach Thai people Chinese 20 years ago. "Now I'm very proud to say every school throughout the 77 provinces of Thailand has Chinese teachers teaching Thai students Chinese," he said.
Reported by Jasmine
Edited by Olivia, James