"Shenzhen-Hong Kong science and technology zone is the only state's level platform to promote collaboration on sci-tech innovation among Guangdong-Hong Kong-Macao Greater Bay Area," Zhu Wei, Deputy Director of Guangdong Provincial Development and Reform Commission, said at a press conference held by the Information Office of People's Government of Guangdong Province on September 12.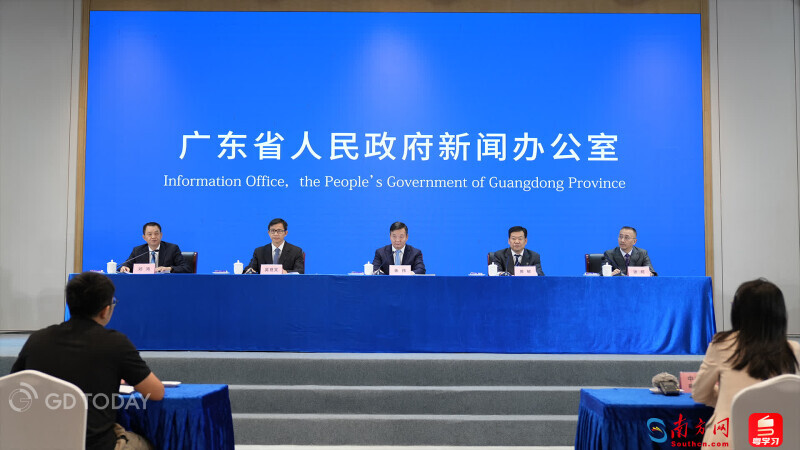 The press conference invited officers of the Guangdong provincial government and Shenzhen municipal government to elaborate on the strategies to take place under the Development Plan for Shenzhen part of the Hetao Shenzhen-Hong Kong Science and Technology Innovation Cooperation Zone issued by China's state council on August 29.
According to Zhu, the Guangdong government will roll out four key tasks.
To push forward international scientific and technological cooperation, Guangdong will work with Hong Kong and improve the basic research and application capability of the Hetao zone by supporting the construction of a world-class innovation hub in Hong Kong and the development of Hong Kong's Northern Metropolis, focusing on such fields as information, materials, and life science and technology.
In terms of boosting the application of innovation technologies, Guangdong will establish pilot scale studies and transformation bases and facilitate breakthroughs of key technologies in the fields of new generation of information technology, advanced biomedicine, artificial intelligence, and digital economy.
As for international collaboration mechanisms, Zhu said Guangdong will accelerate the establishment of a scientific research management system that is in line with Hong Kong and international standards and establish an open regulatory system covering scientific research project evaluation, expenditure, and process management. Cross-border flow of personnel, materials, information, technology, and data will be facilitated. Enterprises of encouraged industries in designated areas will be levied an income tax of 15 percent.
In addition, Zhe indicates that Guangdong will strengthen connections with innovative cities worldwide and introduce more international tech companies, labs and talents to Hetao through matchmaking of collaboration mechanisms, platforms, and projects.
Zhu noted that although the physical space of Hetao is relatively limited compared with other GBA collaboration platforms such as Hengqin, Qianhai, and Nansha, Hetao has advantageous conditions to develop sci-tech innovation.
Straddling the boundary between Shenzhen and Hong Kong, the Hetao cooperation zone covers an area of 3.89 square kilometers, among which the Shenzhen portion covers 3.02 square kilometers. Hetao has convenient transportation networks, connecting with research resources in Shenzhen Guangming Science City and Hong Kong Science Park by half-hour travel, and connecting with industrial resources in Guangzhou, Dongguan, and Huizhou City by one-hour travel.
Zhu elaborated that the Shenzhen part of Hetao will collaborate with Shenzhen Guangming Science City to promote technology innovation and mechanism innovation. It also aims to achieve synergistic development with the Hong Kong part of Hetao, supporting universities in Hong Kong and Macao to introduce their dominant disciplines and expand their state key laboratories in Shenzhen Park. Guangdong will also stimulate cooperation among cities along the Guangzhou-Shenzhen-Hong Kong Science and Technology Innovation Corridor and Guangzhou-Zhuhai-Macao Science and Technology Innovation Corridor, facilitating the flow of scientific research factors.
"Shenzhen part of Hetao has introduced more than 150 high-end scientific research projects and has been developing industrial clusters of information technology, quantum science and technology, and biomedicine. About 800 thousand square meters of space has been renovated for scientific research, while 11 professional parks have started operation," said Huang Min, Vice Mayor of Shenzhen.
He indicated that Shenzhen is accelerating the formulation of new rules for space planning, transportation planning, and sci-tech innovation planning based on the latest Hetao plan issued by the State Council.
Wu Shiwen, Vice Head of the Department of Science and Technology of Guangdong Province, said that Guangdong will make use of the advantageous policies and do scientific research under joint organization with Hong Kong. He furthered that innovation factors such as scientific research capital, equipment, and data resources will facilitate cross-border flow and be open to share.
Zhang Ke, Deputy Director of the Guangdong Sub-Administration of General Administration of Customs of China, said that Guangdong will establish a "whitelist" management system to provide more convenient and efficient customs clearance services for scientific researchers and their belongings.
Reporter丨Nina, Nico(intern)
Editor丨Olivia, Jasmine, James