The Guangdong-Hong Kong-Macao Greater Bay Area (GBA) which is a national initiative aims at building a world-class city cluster. It has drawn the world's attention to this region in the areas of business development, science-technology innovation and infrastructure, said Ade-Peters Oba Kingswill, the President of the Association of Nigerian Community China (ANCC) in a recent exclusive interview with GDToday.
Having lived in China over 20 years, and having also operated business in many places in the country, finally Kingswill chose to settle in Guangdong and now mainly engages furniture, building materials and machinery business.
"Opportunity" is one of the important reasons to attract him here. He mentioned that there are a lot of business opportunities in Guangzhou, such as clothing, car accessories, building materials and other sectors. "This is the best place for my business. And I can see some of my countrymen (here). We are all prospering in Guangzhou," said Kingswill.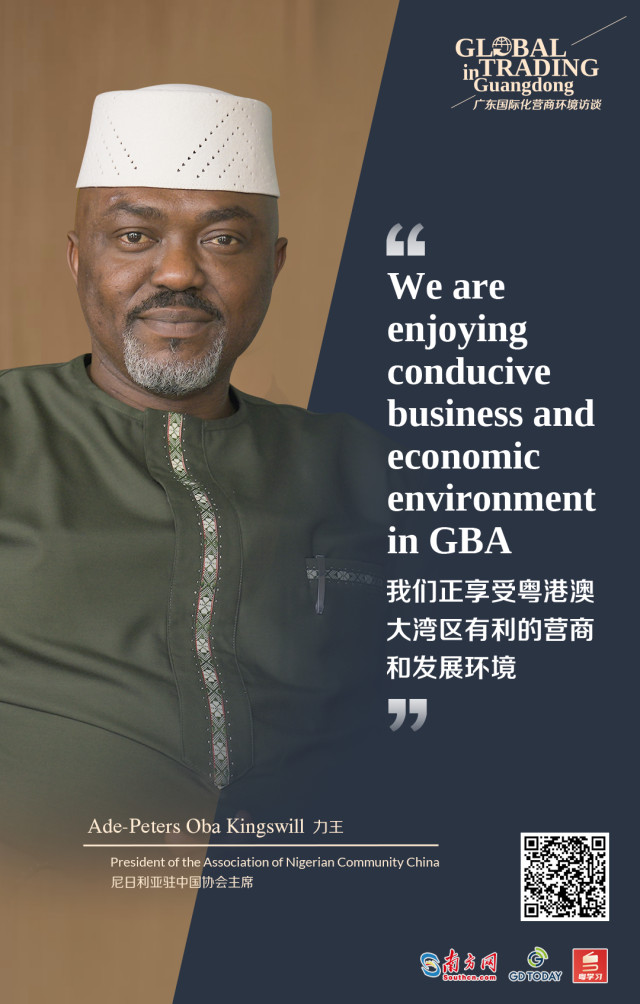 GBA's economy, business environment and infrastructure are amazing
(Data by the World Bank)
Talking about the GBA, Kingswill praised that its economy, business environment and infrastructure are amazing. The GBA ranked the third largest bay area in the world in 2021, behind New York, Tokyo, and is the 10th biggest economy in the world (the GBA's GDP stood at $1.97 trillion in 2021) . "So, on these notes, the business is highly favorable in GBA," said Kingswill.
Thanks to that conducive business environment, Kingswill thinks registering new businesses and companies are more convenient now. "In the past, it took maybe two weeks to one month and a lot of protocol to register a company in Guangdong, but now it can be done at most five working days," he said.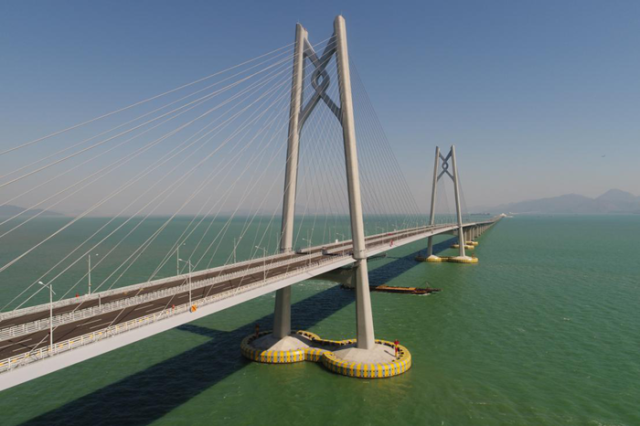 The Hong Kong-Zhuhai-Macao Bridge. (File Photo)
He also praised the infrastructure in the region. For instance, the 55km Hong Kong-Zhuhai-Macao Bridge has made the logistics and people flow very easy. Besides, the expansion of Guangzhou airport and Foshan airport, which will position the two cities more as gate way into China. "I'm sure, we are enjoying this conducive business and economic environment," Kingswill added.
He hopes the province can see an increasing influx of foreign investors in the future, through holding more seminars, investment promotion meetings and reach win-win relationship.
Foreign investors get thoughtful support to operate in Guangdong
On March 1, the Regulations on Protection of Rights and Interests of Foreign Investors in Guangdong Province came into effect, aiming to improve its business environment and encourage more foreign businesses.
Kingswill thought highly of that regulations which stress to implement equal policies for foreign investors and foreign enterprises such as on land use, bidding and transferring. And on Article 20 of the regulations, the government makes sure that they will provide convenient services to foreign investors and foreign enterprises.
Foreign investors always urge for efficient approaches to dispute resolution, while the Article 23 helps to establish a diversity of dispute settlement mechanisms that is particularly praised by Kingswill. Since they encountered some trade disputes before, and the new measures will enable them to solve that issue.
Kingswill and ANCC members also suffered from the COVID-19 Pandemic, with more expenditure to do business under the pandemic. However, Guangdong government helped them to actively respond to the situation by offering special training for online business and other assistance.
Kingswill recalled that they went for an online business workshop and quickly adapted to it. He said, "this has really helped us. Now we can make deals with our customers in Nigeria."
Also, the government tried all their best to help Kingswill and his nationals during the pandemic. "They gave some of our citizens free accommodation, we have free test, free masks and many other kits to protect ourselves," said Kingswill.
Author: Will, Lynette (Intern)
Video: Axin, Eastbrook
Poster: Mia
Editor: Wing, Olivia, Nan, Jerry