In the second season of Master, Nanfang Plus invites several guest presenters, who are passionate about Chinese opera, to have a closer glimpse of the operatic techniques of Guangdong's operas.
Today (May 4th) marks China's Youth Day.
Traditional operas serve as a mirror of the spiritual world of many Chinese people. With arduous efforts, vigorous imagination and enthusiasm for operas, young opera artists have presented a number of fabulous performances for audiences.
In addition to three major varieties named Cantonese Opera, Hakka Opera and Chaoshan Opera, Guangdong also features a lot of local operas, such as a Tea-picking Opera, Lechang Huagu Opera, Leizhou Opera and Zijin Huazhao Opera. All these different varieties work together to form the treasury of Lingnan operas.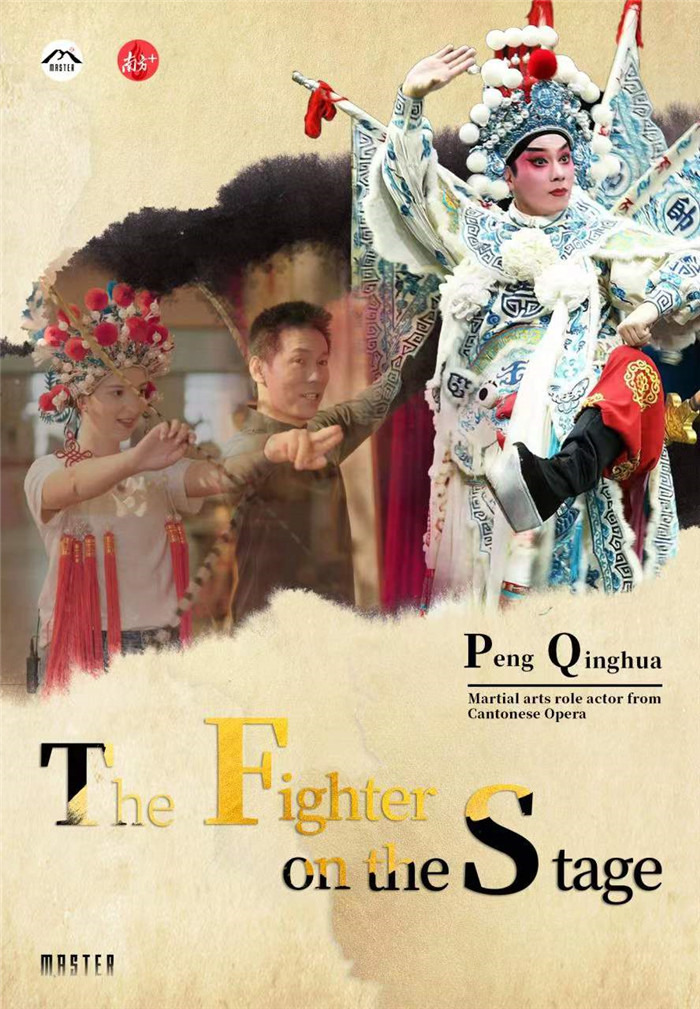 In the second season of Master, Nanfang Plus invites several guest presenters, who are passionate about Chinese opera, to have a closer glimpse of the operatic techniques of Guangdong's operas. Under the guidance of five opera masters, they will try wearing the customs and makeups, and practicing performing skills. What will their performances be like? Let's have a look!
Peng Qinghua is a national-level actor and Wusheng (male warrior role) of Cantonese Opera, featuring acrobatic moves as his stunts. It takes a lot of efforts for Peng to become a successful martial role. In order to pull off the acting moves on the stage, Peng has been practicing countless times. Peng not only excels at traditional martial arts moves, but also creates his own stunt "ben teng" (literally meaning galloping). In addition to Peng, only two other actors can pull off this set of actions for now.
With handsome appearance and endless vigor, middle-aged Peng Qinghua is very strong as a martial actor.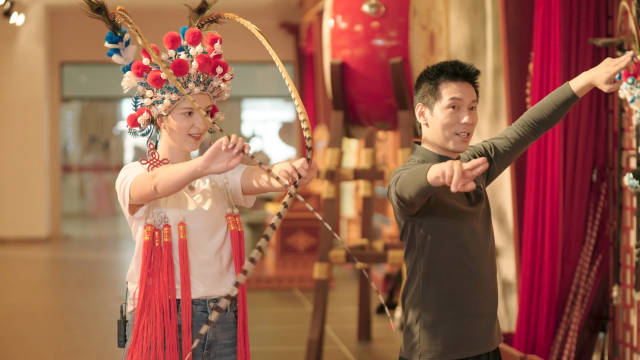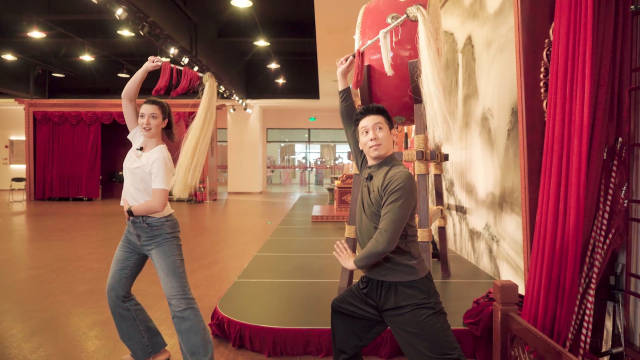 Peng Qinghua (R) (Photo provided to Newsgd.com)
Since becoming a Cantonese Opera actor at the age of 13, Peng Qinghua has kept training for two to three hours a day, no matter what the weather is like. Having been acting as a Wusheng for 30 years, he has been accompanied by a high incidence of injury and illness. Each injury occurring is likely to stop his career as a Cantonese Opera performer.
In 2015, Peng Qinghua sprained the meniscus of his knee accidentally when performing in Shanghai. In the following nearly half a year, he was completely unable to bend his left leg, and for three to four years, he was unable to squat. This sudden injury almost depressed Peng, who has always been proud of his leg movements. "For some time, I felt very regretful and worried whether I could continue my career as a Cantonese Opera actor," he recalled. He once considered playing other role in the operas, but he never put down his obsession on playing Wusheng.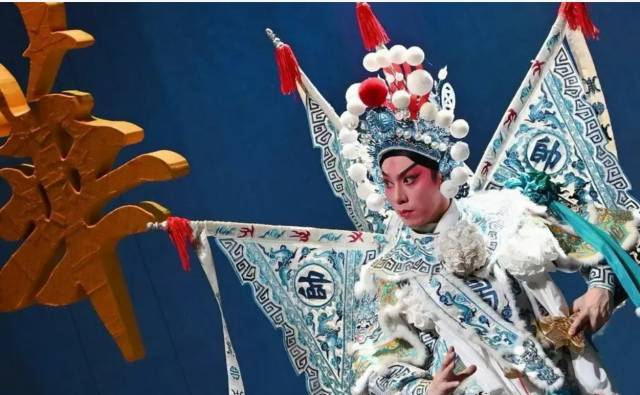 Peng Qinghua (Photo provided to Newsgd.com)
At that time, the Cantonese Opera piece entitled Wu Song's Adventure at the Lion Pavilion was about to go on tour in Hong Kong SAR. For this performance, Peng Qinghua changed all his two-leg movements into one-leg, trying to flip and land with a single leg. In the years after getting injured, he has performed this piece hundreds of times and has never failed to show his acrobatic moves "ben teng". There has never been another actor who can replace him to play Wu Song for this opera. "In the past, renowned Cantonese Opera artists used to say with confidence, 'If I premiere in an opera, then no other artist can outreach me to play the role; If I play other actors' roles in any other pieces, then no one can surpass me to play them,'" Peng said with a smile. "This principle has also become my own requirement for Cantonese Opera performances."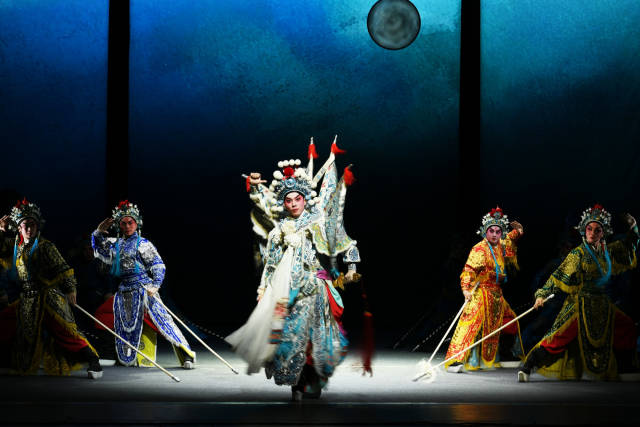 Peng Qinghua (M) (Photo provided to Newsgd.com)
As a Wenwusheng (Literally, civilized martial man, this role is known as a clean-shaven scholar-warrior), Peng Qinghua not only focuses on the characters and roles of the plays, but also pays attention to the inheritance and development of Cantonese Opera. Apart from studying operatic techniques painstakingly, Peng also thinks about how to make young people familiar with and fall in love with Cantonese Opera. In 2015, Fighting for the Great Tang Empire, a new Cantonese Opera adapted from a popular online game named JX Online 3, was debuted. To attract more young audiences, Peng Qinghua visitedcartoon exhibitions to get inspiration for his creation and adaptation. In his spare time, he went to theaters to watch various dramas adapted from different works. Moreover, he also visited Seasun, the workshop who created the online game, to ask the game developers for their suggestions.
In the end, the play Fighting for the Great Tang Empire succeeded in gaining a great reputation and attracted flocks of audiences. In its national tour, nearly 50 performances have attracted about a total of 220,000 audiences to watch the shows in theatres and the performance also gained more than 5 million fans online.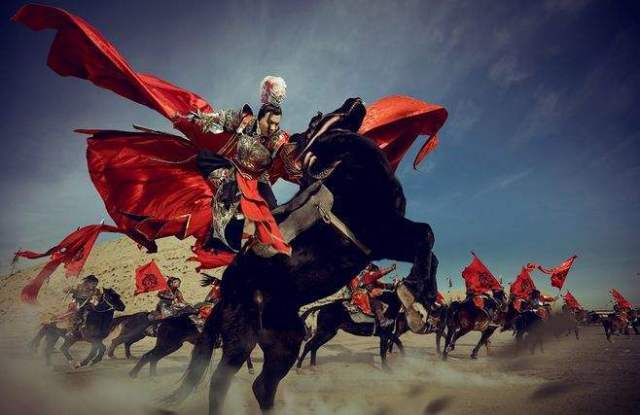 A still photo of the play Fighting for the Great Tang Empire (Photo provided to Newsgd.com)