"Both the central and local governments tend to enhance the resilience of economy when formulating economic policies to confront the challenges brought by the continued impact of the Covid-19 pandemic and China-US trade conflict," said Wang Jun, Former Director of the Economic Committee of the Chinese People's Political Consultative Conference (CPPCC) Guangdong Committee.

Wang summarized three major trends, saying, "Guangdong has been shoring up weak links in its industrial chains to reduce the risk of disruptions; It's seeking more diversified global partnership; It puts more emphasis on international rules and standards especially in terms of energy saving and emission control."
"International partnership is highlighted under this context," said Wang during an interview with GDToday on the report of the 12th CPC Guangdong Provincial Committee which unveils the government's development blueprint for Guangdong, one of the most economically vibrant regions in China.
Cooperation with multinational enterprises emphasized in future plan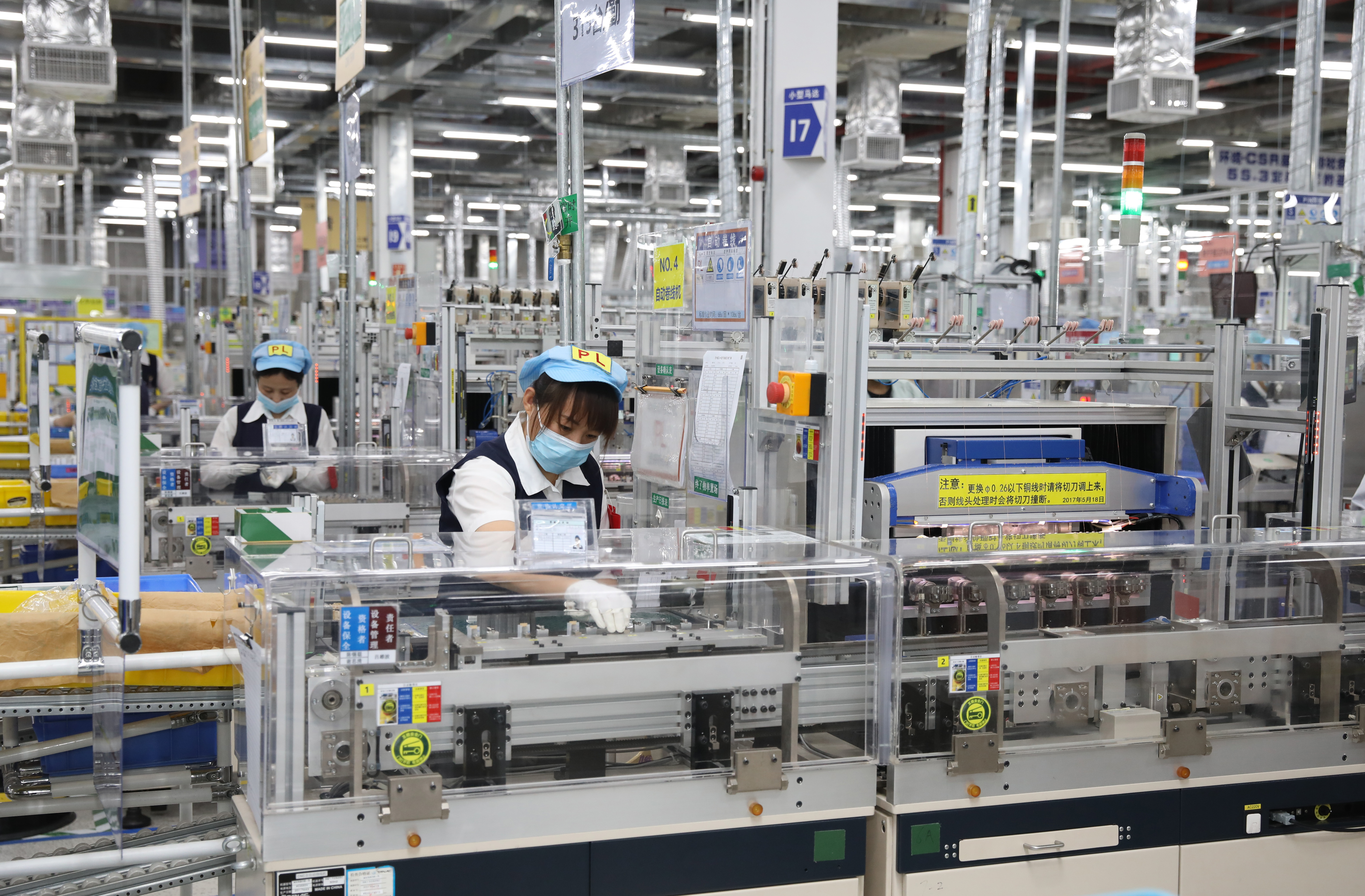 The Panasonic factory in Zhuhai [Photo/ Nanfang Daily]

"The aim to enhance cooperation with multinational enterprises has been involved in the report for the first time, which I found impressive," said Wang, "It indicates a change that Guangdong is trying to encourage and attract long-term investment from multinational enterprises since its business environment has been optimized through the ongoing reform and opening up."
According to the report, the government will deepen strategic cooperation with multinational enterprises and introduce more premium projects.
"Multinational companies are of larger scale and with higher technologies and market share. They focus on long-term benefit instead of short-term investment payoffs," Wang analyzed.
"Multinational enterprises started entering Guangdong since China's entry to WTO, some of which might relocated to the ASEAN countries for lower costs due to companies' strategic plans and the global pandemic, said Wang, "But Guangdong has an irreplaceable attractiveness to them, that is, its well-developed supply chain and strong industrial support ability."
"To attract more projects from multinational enterprises, Guangdong is expected to further improve its institutional transparency and facilitate the flow of production factors," he said, "The multinational enterprises have higher demand for high-end talent and technological professionals as well, which means the province should come up with more attractive talent policies."
In addition, Wang stressed the energy and data safety in international cooperation, saying, "Enormous effort has been put to better the flow of factors, especially the data flow, but in the meantime, we have to make sure the property rights are well-protected. I believe these aspects will be the focus for future development," he said.
Guangdong to reinforce weak links in industrial chains of key industries
Wang considered Guangdong is more vulnerable to the global supply chain disruptions than other provinces due to its industrial structure.
"Industries in Guangdong deeply involve international division of labor. For example, the electronic industry and auto industry, two of the province's pillar industries, produce products that are so refined and consist of parts that are imported from global suppliers. These industries took up 42.7 percent of the value-added of industrial enterprises above designated size in Guangdong, according to the statistics in 2019."
He said the Guangdong government has been gearing up to reinforce weak links in industrial chains especially in the fields highly reliant on international markets since 2016, aiming to improve the resilience of economy.
The report suggested that the government would develop industrial chains that are well connected with both domestic and overseas suppliers. To build a more internationally competitive modern industrial system, it would maintain manufacturing industry as its pillar industry, and contribute to more stable, diversified and stronger industrial supply chains.
"The weak links not only include high technologies but also the links mostly committed to suppliers overseas and affected by the pandemic. Reinforcing these links does not mean to rule out international players either," Wang elaborated, "The government will put up with advantageous policies to foster suppliers in the region, but it's the enterprises that make the decisions, and their decisions are mainly based on market interests instead of policies."
According to the Guangdong Industry and Information Technology Department, it will help 8500 industrial enterprises to upgrade their technologies in 2022, and invest 50 billion RMB in the development of advanced manufacturing industry. The funds for technological upgrade are open to private companies, state-owned companies, Hong Kong, Macao, and Taiwan-funded companies as well as foreign-funded companies.
Wang anticipated Guangdong would focus on the upstream and downstream supply chains of three main industries considering the purpose to transform and upgrade the local economy.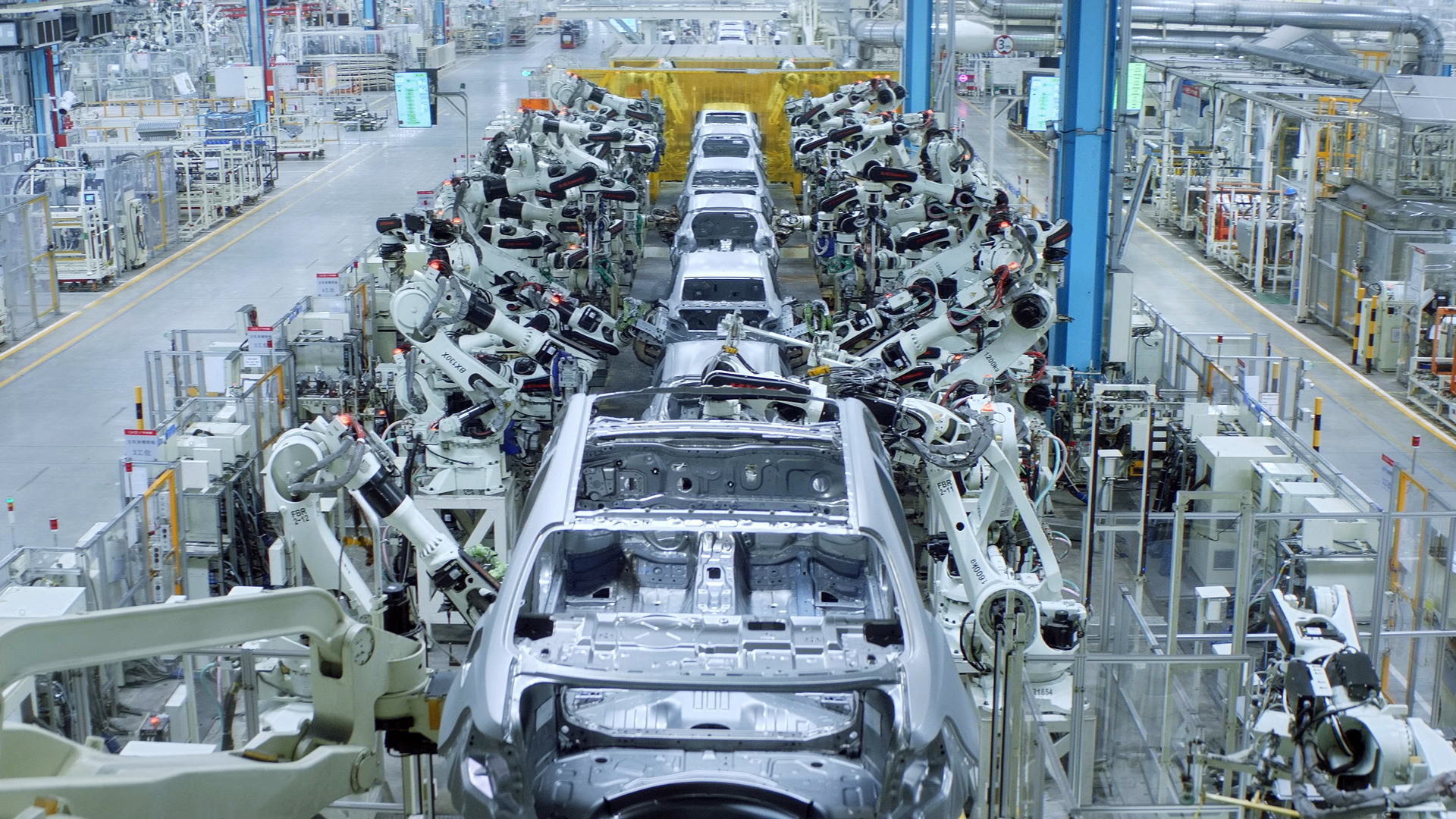 Auto factory in Guangzhou's Nansha [Photo/ Nanfang Daily]
"Firstly, it will be the semi-conductor industry due to the Internet economy and the province industrial base. Secondly, new energy vehicles will continue to grow, as Guangdong has been the biggest auto manufacturing center nationwide while it clustered major auto brands and upstream companies such as the EV battery supplier, CATL. Last but not least, the green industry will develop rapidly out of the need to reduce emission and control pollution," he said.
Nansha, a vital platform to connect global counterparts
Wang highlighted Nansha would be a strategic platform for global cooperation, and this platform will be jointly developed with Hong Kong and Macao when asked about the blueprint for Nansha District of Guangzhou released by China's State Council recently.
"The district will be more open to the globe in two major fields. On the one hand, the district is planned for high-level technological cooperation. On the other, covering an area of 800 sq km, Nansha district has the space and potential to cultivate industries that can support the development of each other. For example, more financial enterprises could be introduced to support the development of the tech industry and yacht industry."
To form a global partnership, Wang considered Nansha should put more efforts into the connection of international rules, establish platforms for high-end cooperation of research and development, and facilitate its talent policies and the development of a more convenient living environment for global professionals.
"Establishing connection" will be a trend for the future development of Guangdong, according to Wang. He elaborated the connection will be improved through infrastructure construction and connection of rules, especially with Hong Kong and Macao considering the Greater Bay Area has the tax and legal frameworks of three jurisdictions.
Institutional opening up is a focal point in Guangdong's future development, and will be pushed forward through the development of Nansha, Qianhai and Hengqin Free Trade Zones as well as the implementation of high standard trade agreements such as the RCEP.
Wang considered China's plans for Hengqin, Qianhai and Nansha will not only bring opportunities to Hong Kong, Macao but to the global counterparts.
"If we look into the policies for Hengqin, industries conducive to the diversified economic development in Macao are subject to the preferential corporate income tax rate of 15 percent, while short-supplied employees and high-end professionals enjoy individual income tax exemptions on the part of income that exceeds the 15 percent individual income tax rate. These policies are open to all enterprises and employees no matter where they are from," he said.
Author: Jasmine
Editor: Wing, Keane, Jerry