"The Chinese miracle is - transform poor people into consumers, because the most important drive to the growth of a country is consumers. In 5 years, China will have doubled the number of consumers as the United States," said economist Paulo Feldmann in an exclusive interview with GDToday.
In 2004, Feldmann came to China as a number of the group with Brazilian President Lula. He had been to China as a tourist in 2013 and a scholar in 2017. During those trips, Feldmann saw a innovative, dynamic and diverse country.
Paulo Feldmann is now Professor of Economics at University of São Paulo, and also one of the authors of the book China and Latin America: Paths to Overcoming the Middle-income Trap.
.
It's better for Brazil to learn from China than other developed countries
GDToday: In 2017, you represented University of São Paulo to sign an agreement with Fudan University and then you also became a researcher in Fudan. Why did you choose to be a researcher in Fudan?
Paulo Feldmann: We have an agreement with Fudan and we will exchange professors, students, and researchers. We are doing many researches between different countries of Latin America and China. China has many similarities with Brazil, so I think it is better to learn from China than from other developed countries.
I'm studying the entrepreneurship in China - why small companies are so developed here? I'm studying the factors that enable China to be among the most important countries in terms of start-ups and entrepreneurship. It's very important for Brazil to understand how to create entrepreneurship, especially technological start-ups. Therefore, the agreement with Fudan is very useful and I'm proud to be a researcher in Fudan.
China took some important measures that should be imitated by Brazil. Among them is poverty reduction, because 60% of Brazilians are poor. The second is China's industrial policies. China prioritizes important sectors through incentives, fiscal reductions and human resources. This is another method that Brazil should imitate. The third is the investment in high-level education. In China, people can receive education of high level. That's the reason why China has high-quality human resources. China was one of the leading countries to produce vaccines against COVID-19, and that cannot be done without education investment.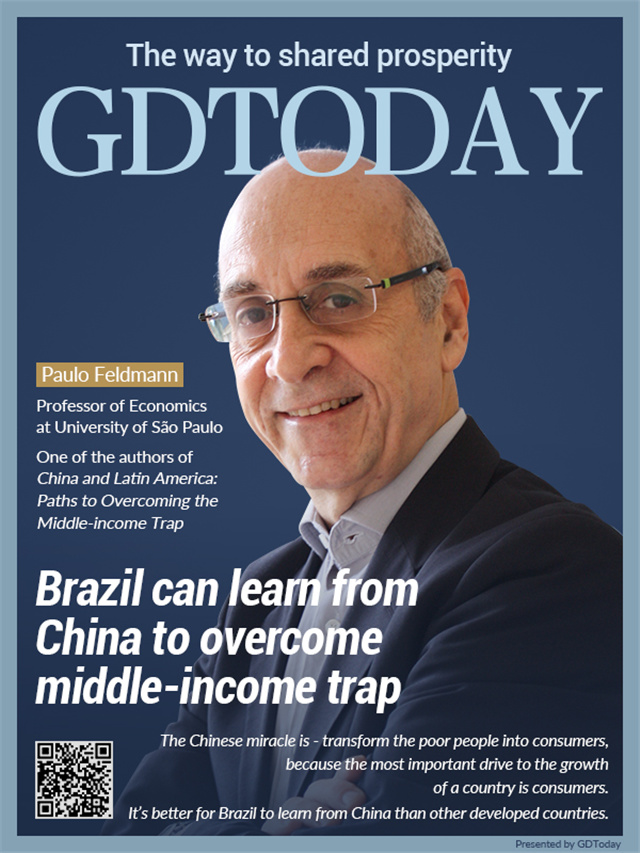 A new model for global governance is needed
GDToday: In order to better achieve the Sustainable Development Goals (SDGs) and shared prosperity in the post pandemic era, what are the pressing problems for the world, as we can see there are tensions underlying between the 'Superpowers'?
Paulo Feldmann: I think the most important problem is global warming. We need to reduce pollution and cut emissions. We need to substitute oil and gas with renewable energies like solar and wind energy. China is one of the most developed country in terms of these two energies. One thing that impresses me is the development of electric cars. China has a huge company called BYD. It has a branch in Brazil which produces electric buses there.
The second problem is the lack of global governance. A different kind of governance should be developed to allow countries to cooperate, reduce the differences between countries, because there are a lot of aspects to be exchanged among countries. And we should avoid the possibility of wars.
The third is poverty and hunger. It's a terrible problem especially in Africa, India, and some Asian countries. We need to transform poor people into middle class and consumers, like China is doing.
Education and infrastructure investment is the solution to the middle-income trap
GDToday: You are one of the authors of the book China and Latin America: Paths to Overcoming the Middle-income Trap, can you introduce a little bit of your book?
Paulo Feldmann: It's very difficult for a middle-income country to became a rich country. In my view, China will become a rich country in 10 years. But Brazil is in the middle-income trap. We need to invest in infrastructure. Infrastructure is very important for developing and improving conditions for local companies. Education should be invested, and we need to eliminate poverty and create a huge number of consumers. This is the way to become a rich country.
Planning | Zhao Yang
Reporter | Keane, Hannah, Sherry(intern)
Video | Jason (intern)
Editor | Wing, Ou Xiaoming, Jerry
Art Design | Mia
Huang Yanting (intern) also contributed to this report.