Officials from the consulate generals of 20 countries in Guangzhou visited Huadu District of Guangzhou City, aiming to explore the latest trends of its industrial development and green development.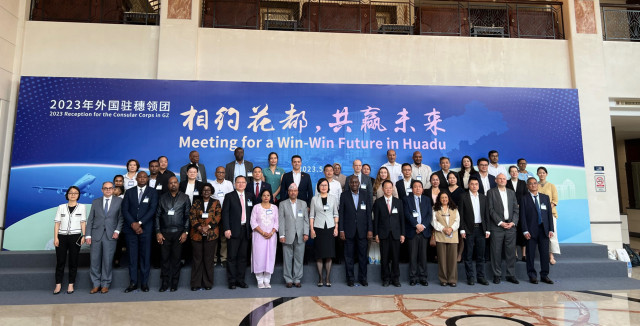 (Officials from the consulate generals of 20 countries in Guangzhou)
Li Xiaodong, Head of Huadu District, introduced at the event that Huadu District is located in the northwest of Guangzhou. It's an essential place to connect the Pearl River Delta with the inland areas, with well-developed transportation networks consisting of more than 400 air routes, 21 rail routes, and 13 expressways and highways. Baiyun International Airport and Guangzhou North Railway Station are also located in Huadu."
According to Li, the key industries of Huadu include automobile, leather goods, cosmetic, and stereo equipment industries. "The district is also a livable place with a beautiful ecological environment and rich tourism resources," said Li, adding "Huadu has a forest cover of 35.45 percent and is one of the first batch of Carbon Neutrality Pilot Demonstration Areas in Guangdong."
Organized by Guangzhou Foreign Affairs Office and the Huadu government, members of the Consular Corps visited Guangzhou Aircraft Maintenance Engineering Co, Ltd (GAMECO) and Guangzhou Emissions Exchange (CEEX). They also visited Guangzhou Sunnac Resort, Maling Botanical Garden, and Zhudong Village.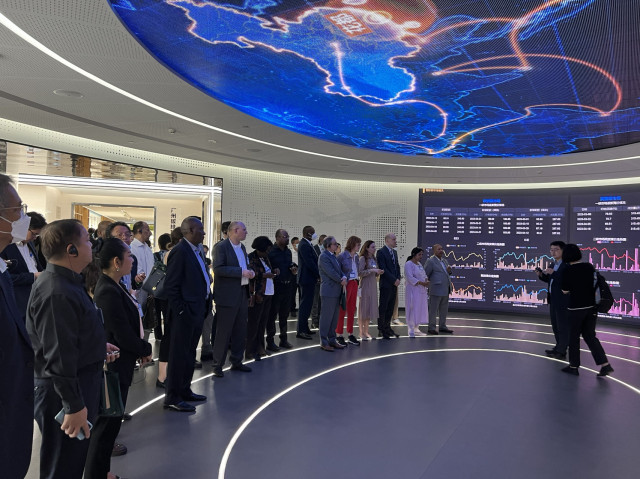 (Guangzhou Emissions Exchange)
Sylvain Fourrière, Consul General of the French Republic, said, "I have a new vision of Huadu, which is on the trend to upgrading its industries." He elaborated that the district develops various innovative industries, which is a good environment for people to work. He also considered the culture of leisure in Huadu makes it an ideal place to live in.
"I was especially impressed by GAMECO due to its capability in aircraft maintenance," said Birgit Murr, Consul (Commercial Affairs) & Head of the Austrian Consulate General in Guangzhou. She learned that the joint venture is approved as a maintenance organization by over 20 global aviation authorities and has more than 6 thousand qualified staff, and hope to further exchanges between Austria and the company in the future.
Birgit Murr was also interested in the CEEX, which is the National Carbon Trading Pilot and the Green Finance Reform and Innovation Pilot. Established in 2012, CEEX's trading scale takes the lead in the country.
"It's important to increase the costs for environmental pollution. Austria has a lot of environmental technologies to make production energy-efficient," said Birgit Murr. After learning about the carbon exchange market in China, she believed that there's potential for cooperation.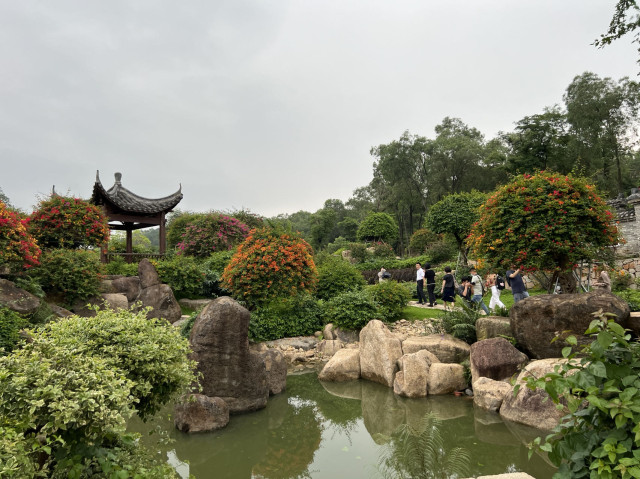 (Maling Botanical Garden)
Covering an area of 2 square kilometers, the Maling Botanical Garden carries out plant breeding, scientific research, and develops tourism. " I'll introduce the garden to my country and we can learn the garden's operation strategies," said Mom Chanthon, consul of the Kingdom of Cambodia Consulate General Guangzhou.
Reporter丨Nina
Editor丨Wing, Jasmine, Jerry