The main structure completion ceremony of the Knowledge Tower, a landmark project in the China-Singapore Guangzhou Knowledge City (CSGKC), was held in Guangzhou's Huangpu District recently.
Located beside the Jiulong Lake at the CSGKC, the Knowledge Tower has a height of 302 meters and a total floor area of 400 thousand square meters after about a three-and-a-half-year construction.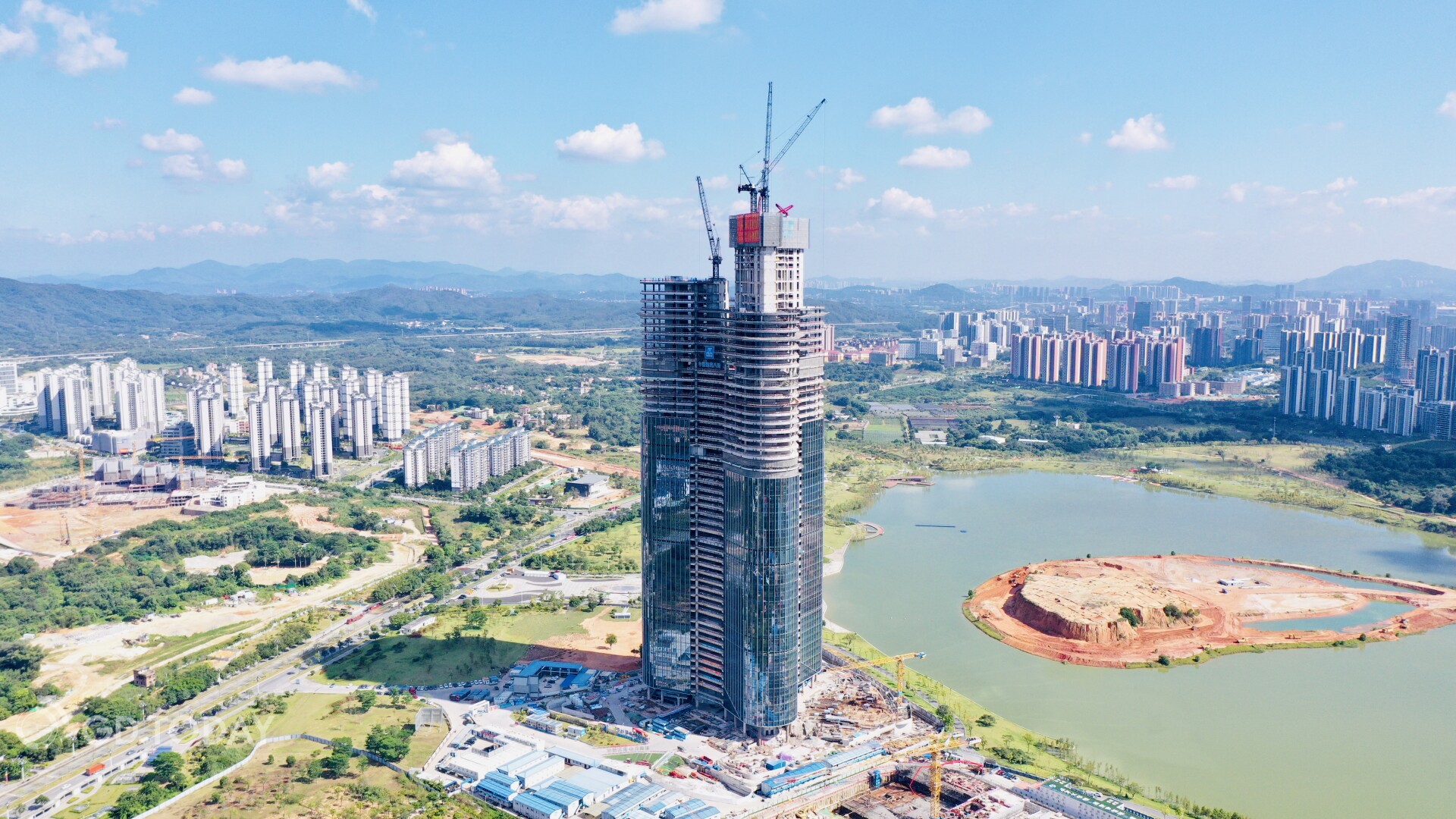 (Photo provided to GDToday)
The building's height of 302 meters makes it the highest landmark building in Huangpu District, which ranks among the top 15 of the highest buildings in Guangzhou.
According to the Huangpu government, the Knowledge Tower is the first key project of the China-Singapore International Sci-tech Innovation Cooperation Demonstration Zone (Sino-Singapore Cooperation Phase II). The construction of the Knowledge Tower started in July 2020, with 53 floors above ground and five floors underground. It is planned to be put into operation in 2026.
The project is invested and constructed by China-Singapore Guangzhou Knowledge City Investment and Development Co., Ltd, and jointly built by China Construction Eighth Engineering Division Corp., Ltd., Singapore DP Architects, and Architectural Design Research Institute of SCUT.
The Knowledge Tower is set to introduce a range of facilities, including offices, hotels, banquet halls, multi-functional exhibition halls, conference halls, and commercial enterprises. This development will address the current absence of five-star hotels in the CSGKC and will significantly enhance international business and travel services.
The Knowledge Tower project will use the cooling microgrid system, which aims to reduce air conditioning energy consumption for a low-carbon environment.
"The Knowledge Tower will realize the collaborative development with other commercial, scientific, and educational projects in CSGKC.
It will promote China-Singapore cooperation in the fields of sci-tech innovation, urban construction, intellectual property rights, talent exchange and training, and investment attraction," said Chen Changxin, China-Singapore Guangzhou Knowledge City Investment and Development Co., Ltd.
As a state-level bilateral cooperation project, the CSGKC has been a platform promoting collaboration between Guangdong and Singapore. According to the Huangpu government, over 90 enterprises invested by Singaporeans have established themselves in the CSGKC. Additionally, 73 China-Singapore cooperation projects have been signed, with notable involvement from Singapore Power Group, Development Bank of Singapore (DBS), NCS, Nanyang Technological University, and the National University of Singapore.
Reporter丨Nina
Editor丨Olivia, Steven, Jasmine, James