Delegates in exquisite costumes of different ethnic groups can be seen during the ongoing 13th CPC Guangdong Provincial Congress. Delegate Pan Jinsheng is one of them. He is from Liannan Yao Autonomous County in Guangdong's Qingyuan and the principal of Liannan Tianjiabing Minzu Middle School.
As a Congress delegate, Pan pays close attention to rural education and ethnic culture promotion. He proposed to build boarding schools so that more students could go to school regardless of distance and promote Yao's culture in elementary and middle schools.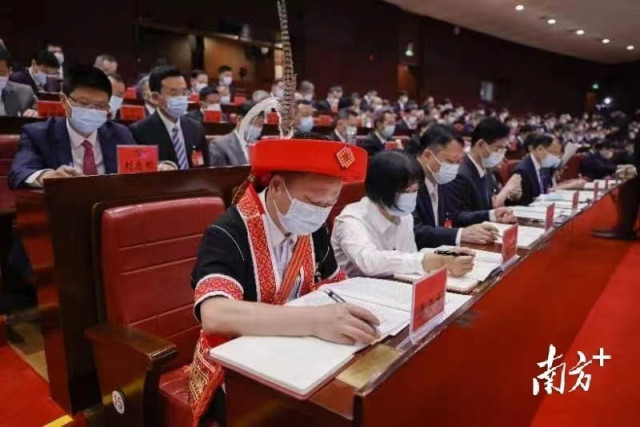 Pan Jinsheng in the 13th CPC Guangdong Provincial Congress (Photo: Nanfang Daily)
An educator dedicated to his hometown
The population of Guangdong covers all of the 56 ethnic groups in China, as shown on the official website of Guangdong Government. As of November 1, 2020, 4.75 million people of ethnic minorities have resided in the province, accounting for 3.77 percent of its total population, according to China's Seventh National Population Census.
"Liannan Yao Autonomous County, founded in 1953, has the largest population of ethnic minorities among Guangdong's three autonomous counties. It's also the only region in the province where Pai Yao people congregate," Pan said.
Born and raised in Liannan, Pan returned to the county after graduating from a normal school in 1993. "I wanted to do something for the hometown that raised me," Pan said. In the past 29 years, Pan has taught in 6 schools in 4 villages and towns. Most of his students are Yao people.
"In the first few years, the biggest difficulty was the long journey we took to visit our students. We had to travel as far as 30 kilometers away from the school," Pan furthered, "We needed to ride a bike first and then walk for around 4 hours for home visit."
In Pan's opinion, home visit is an efficient way to learn about students and their families, despite all of the difficulties. "Some parents thought their children could drop out of school. But we successfully persuaded them to send their children back to school after face-to-face communication," Pan recalled.
Pan told the reporter he feels proud to see many of his students have become teachers, entrepreneurs, and civil servants. "When returning to Liannan, they often come and visit me. Some told me that they still keep my calligraphy works from almost 20 years ago."
A promoter of Yao people's cultural heritage
According to Pan, Liannan Tianjiabing Minzu Middle School has been receiving strong support from the local government and community in recent years. The campus has been enlarged and renovated to meet the standard of a modern school. The number of teachers has increased to 203, which almost doubles that of 2008.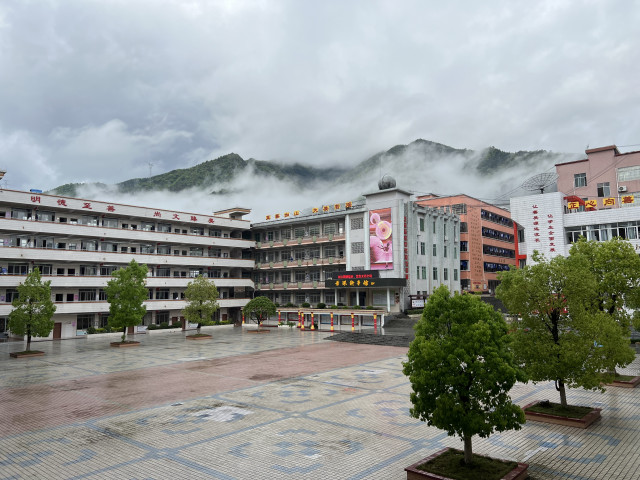 Liannan Tianjiabing Minzu Middle School (Photo provided for GDToday)
"Education helps build a talent pool for rural revitalization and gives students from poor families more chances to get employed," Pan said. "To provide quality education, we need more good teachers. They are more important than hardware facilities."
"I stick to being a principal that helps teachers grow and succeed. Many of our teachers have built a reputation in the county or even in the province," Pan noted.
In addition to improving the teaching abilities of teachers, Pan is devoted to the conservation of Yao people's traditional culture. "Apart from the regular curriculum, we also teach students Yao's folk culture such as songs, long drum dance, Yao embroidery, and traditional rituals. Meanwhile, we invite inheritors of intangible cultural heritage to train our teachers in a bid to better promote the culture."
"We want our students to not only be good at exams, but gain an all-rounded development and become good inheritors of Yao culture," Pan said
Reporter | Jasmine, Lydia Liu, Li Runfang, Peter (intern)
Video | Zhang Ruilin, Axin
Graphic designer | Mia
Editor | Wing, Steven, Monica, Jerry
Nanfang Daily contributed to part of the video.