GDToday reporter, Jasmine, gained a rare opportunity to have a closer look into how this Annual Legislative Session works and to explore the reasons why the people's congress system is so important to China's democracy.
"I bring a proposal on the third child policy, trying to seek strategies to ease the education, medical and housing pressure faced by the young generation. This is my main purposes to attend this year's Legislative Session," said Xia Huimin, a deputy to the Guangdong People's Congress and Party Chief of Guangzhou Women and Children Medical Center.
The Fifth Annual Session of the 13th Guangdong Provincial People's Congress was held from January 20 to 22. More than 700 deputies attended and broadly represent all ethnic groups, all walks of life, and all of the 21 cities of the province.
GDToday reporter, Jasmine, gained a rare opportunity to have a closer look into how this Annual Legislative Session works and to explore the reasons why the people's congress system is so important to China's democracy.
Persistence required to fulfill responsibility as deputies
"I was nominated by the local community and hospital and elected as a deputy of the Guangdong People's Congress by the Municipal People's Congress ten years ago. They voted for me among different candidates," said Xia Huimin, "there is an election every five years so this is my second term of service."
The Guangdong People's Congress is the provincial legislature. It supervises the government and judicial system and determines major social issues. Deputies to the Congress are elected, and are responsible to and accept supervision by the people.
Xia Huimin put forward his proposal during the group meeting. [Photo/Jasmine]
According to Xia, his major responsibility is to collect opinions from the people, make these voices into proposals or motions, bring them to the annual Legislative Session and attract attention from government officials and make sure strategies are implemented.
Rooted in the medical sector, Xia Huimin has already put forward more than 23 proposals and 1 motion during his services. Compared to proposals, motions becomes legally binding when they are adopted. When asked the proudest thing he has done, Xia said, "There are many!"
The most impressive achievement to Xia is that he managed to increase the number of pediatricians together with fellow deputies. He put forward a proposal in 2013 when Guangdong was experiencing a severe shortage of pediatricians and parents met great difficulties in taking children to doctors.
"We analyzed the reasons behind this issue and successfully drew the attention from government officials as well as other deputies because the matter is closely related to each family and each child," said Xia.
"It took us six years of endeavor for some good results. You can see pediatricians get better paid than before. The government also encourages medical students to become pediatricians and waives their university tuition fee while giving hospital subsidies if they recruit pediatricians or related experts."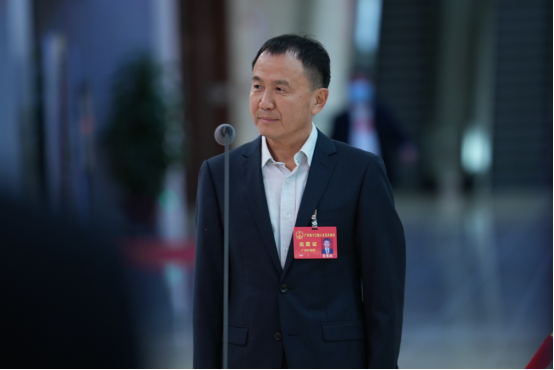 Xia Huimin accepts media interview on Jan 21 during the meeting. [Photo/Yang Hai]
Apart from the Annual Session, Xia Huimin said there are many ways to fulfill his responsibility. "Our hospital has more than 15 thousand visits every day. They come from different cities and represent different backgrounds. They create the most important channel for me to collect opinions," he elaborated.
Xia has quantities of channels to push forward the proposals as well. "I have chance to talk with governments officials and CEOs of hospitals and companies. If the Committee agrees that the proposal is important, they will also put every force onto it to work together."
"We cannot expect good results with just a one-year effort. We have to do it year by year and step by step. But we are not alone, we are working together."
Proposals urge solutions to social issues faced by people
The deputies were separated into groups based on cities and had meetings with provincial government officials through out the three days. What these deputies did at the meetings were nothing like "rubber stamp", but targeting at real-life challenges faced by the people they represent and asking for attention and responses from the officials.
Cheng Guiqin, Committee Director of Foshan's Langui Community, said she brought three proposals that are respectively about epidemic control on international travellers, information management on Hong Kong and Macao residents and hospice care.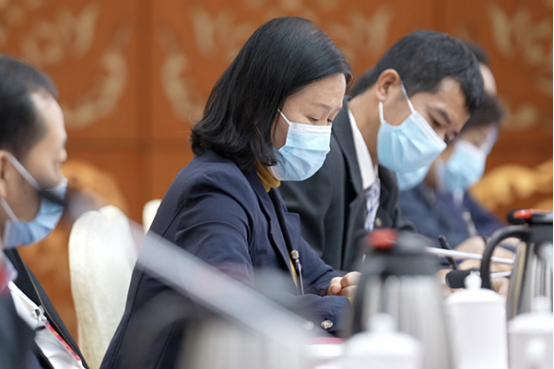 Cheng Guiqin at the Foshan group meeting [Photo/Jasmine]
"As a social worker, I focus more on people's livelihood. Our community is home to people from more than 20 countries overseas. I found them had little knowledge of our culture and policy, and met difficulties in blending in the community," she said, "We gather resources to organize different cultural activities and provide services with the understanding of their needs. Now I'm happy that they enjoy their life here and can become friends with other community residents."
As of January 21, the deputies have submitted a total of 763 proposals, about 60 percent among which are related to finance and economy while others are about people's livelihood issues such as education, medical care, urban and countryside development, according to Li Yuanlin, Director of the Foreign Affairs Committee of the Guangdong People's Congress.
"This year's proposals show people's desire for economic recovery and better life after the Covid-19 pandemic. And we see more proposals on economic development as enterprises are wondering how the government will support their development and help push forward their projects," Li introduced.
Based on the statistics, the Annual Session involves deputies from state-owned companies, Chinese-foreign joint ventures as well as SMEs.
"The proposals indicate deputies have done abundant research and unveil the social issues people focus on" Li Yuanlin highlighted, "How deputies carry out their duties also sheds light on the whole-process people's democracy in China, which is rarely known by people outside China."
Author: Jasmine
Video: Axin, Yang Hai
Editor: Zhao Yang, Wing, Jerry
Shen Chen also contributed to the story